A full used car buyer's guide on the Toyota Auris covering the Auris Mk2 (2012-2018)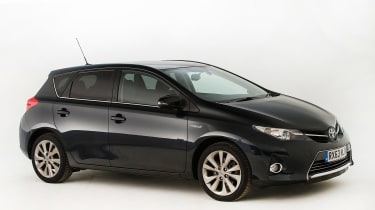 The Toyota Auris was never the most inspiring choice in the family hatch market, but it actually does a very good job and is worth checking out for used buyers. It was offered in petrol, diesel and hybrid forms – making it unique in its class at the time – plus it's reliable, cheap to run and practical. But the anonymous styling and so-so driving experience mean you'll rarely hear an Auris owner getting excited by their car. Still, if you're after affordable and dependable transport with an easy ownership experience, look no further than a used Toyota Auris.
Models covered
The Toyota Auris was launched in 2006 as a replacement for the Toyota Corolla. The Mk1 was then replaced by the Mk2 in 2012, and it's this model that we're concentrating on here. A facelift was introduced in 2015, so we'll detail the changes and improvements below. In 2019 Toyota launched a new model replacing the Auris that returned its family hatchback to the Corolla name, and the Corolla is now exclusively available as a hybrid.
Toyota Auris Mk2 (2012-2018) – Dependable family hatch is a solid second-hand choice
Toyota Auris Mk2
Prices from £4,000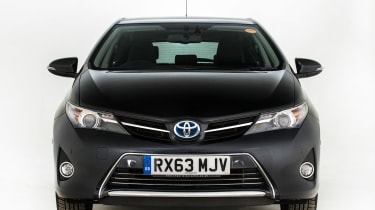 History
The second-generation Auris reached UK showrooms in January 2013 with a choice of 1.33 or 1.6-litre petrol engines, alongside a 1.4-litre diesel and 1.8-litre Hybrid model. At first, there was a five-door hatchback bodystyle only, but from spring 2013, a Touring Sports estate joined the range.
More reviews
Car group tests
Toyota Auris vs SEAT Leon
In-depth reviews
Toyota Auris Hybrid 2012-2018
Toyota Auris (2012-2018) review
Toyota Auris Touring Sports (2013-2018) review
Road tests
Toyota Auris 1.2 2015 review
New Toyota Auris 2015 review
From June 2014, the Icon Plus replaced the Sport trim, with privacy glass and heated front sport seats. A revised Auris hit showrooms in July 2015. Alongside an overhauled 1.4-litre diesel engine was a new 1.2 turbo petrol unit and a 1.6-litre diesel. Interior and exterior designs were also refreshed, refinement was improved plus the steering and suspension were revised, too. At the same time, the cabin was fitted with higher-quality materials.
Toyota Auris Mk2 reviews
Toyota Auris 1.2 (facelifted) review
Toyota Auris Hybrid (facelifted) review
Toyota Auris 1.6 review
Toyota Auris Hybrid review
Toyota Auris Touring Sports review
Which one should I buy?
If you do a lot of motorway journeys, the diesel model is the best bet, as it will munch up the miles happily. Otherwise, the petrol engines are fine, if not especially zesty, while the automatic gearbox is loved and loathed in equal measure by owners. The hybrid versions provide an excellent alternative to diesel models, due to their smoothness and impressive fuel economy but they lack a little in terms of pulling power.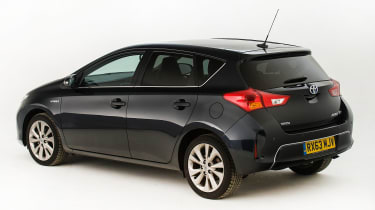 Entry-level Active trim features climate control, electrically adjustable, heated door mirrors and powered front windows. The Icon adds 16-inch alloys, DAB radio, touchscreen multimedia, Bluetooth, a parking camera and powered rear windows.
Sport spec comes with 17-inch wheels, sports seats and privacy glass, while the range-topping Excel has dual-zone climate control, cruise control, automatic lights and wipers plus heated front seats.
Alternatives to the Toyota Auris Mk2
The Volkswagen Golf is hugely popular thanks to its wide range of engines, trims and bodystyles, plus it has a strong image – which is why values tend to be high, despite the company's recent woes. More fun to drive and better value is the Ford Focus, which is also very well equipped.
The Vauxhall Astra is cheaper to buy than the Toyota, and while it isn't generally as reliable, it's still a great-value family car. The Renault Megane, Citroen C4 and Peugeot 308 are all more affordable than the Auris, but none typically offers the same incredible levels of dependability.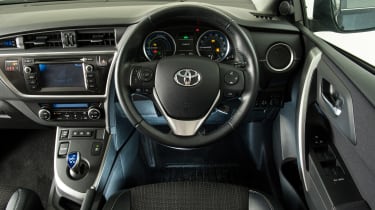 If this is top of your list of requirements, the Hyundai i30, Kia Cee'd and Honda Civic are all well worth a look, along with the hugely underrated Mazda 3. If you're after an alternative to the Toyota Auris Touring Sports, most of the rivals we've just mentioned are also available as longer and more practical estate models.
What to look for:
Economy
The Auris Hybrid claims 74mpg, but in the real world it's often closer to 50mpg. In really cold conditions, economy can drop closer to 45mpg. The 1.2 petrol model may well struggle to meet 40mpg, while the 112bhp diesel claims 67.3mpg – but, as with the hybrid, take that with a pinch of salt.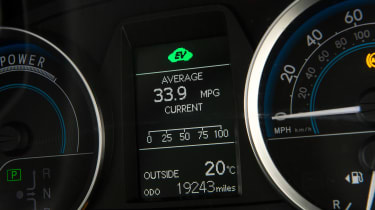 Doors
It's not unusual to hear a grinding noise when opening or closing the front doors. The door stays need to be greased well to prevent the annoying din.
Leaks
The seals for the rear light clusters and tailgate can fail, allowing water to get into the boot. This then leads to the windows misting up.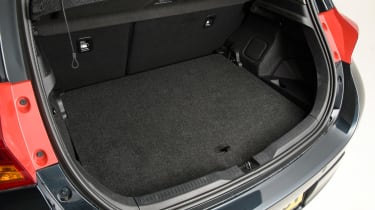 Spare wheel
There's no spare wheel fitted to the Auris, although some owners have paid extra for a space-saver. The wheel has to be stored in the boot, though.
Interior
The dash is easy enough to use, but some of the interior materials don't look or feel very upmarket and the design is rather functional. There's plenty of rear seat space, though, and the 350-litre boot expands to 1,200 litres with the back seats folded – these figures apply to Hybrid editions, too. Estate models feature a useful 530 litres of space (1,658 with the seats folded), and have a lower lip than hatchback models so it'll be easier to load bulky items.
Running costs
All Auris Mk2s need to be serviced every 10,000 miles or 12 months. There are minor, intermediate and major schedules; or in Toyota speak it's Intermediate, Full and Full+. For petrol and diesel versions, these are priced at £145, £205 and £275 respectively, while for Hybrids, the costs are pegged at £169, £219 and £279.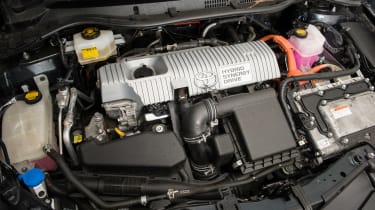 All Auris engines are chain-driven, so there's no cambelt to replace, but the brake fluid should be renewed every two years at a cost of £39. The coolant has to be changed every 10 years or 100,000 miles – expect to pay around £65 to have this work done. 
Recalls
There have been a few recalls affecting the Mk2 Auris so far. The first was issued in January 2015 and was aimed at diesel cars built up to September 2013. These could suffer from oil collecting inside the turbocharger then getting into the cylinders and damaging the powerplant.
Another recall came in August 2015. Affecting Auris Hybrids manufactured between May 2013 and May 2014, the issue centred on the powertrain's inverter overheating, leading to the car going into limp mode.
A recall in October 2018 aimed to rectify some software issues in the ECU, and hybrids built up to November 2014 were affected. Since then, there have been small recalls for the fuel suction plate and leather seat covers. Another ECU recall was initiated in June 2020, for cars built between February 2014 and November 2018.
Driver Power owner satisfaction
The Auris came 45th in our Driver Power 2015 satisfaction survey, with lots of mid-range category rankings – like 46th for running costs and 49th for ease of driving. Reliability is the highlight (28th), while 136th for performance dragged the overall score down. It finished 64th for build quality and 77th for seat comfort.
Toyota tends to do rather well in our Driver Power survey. In 2020 the brand finished sixth out of 30 manufacturers, with running costs and reliability especially praised.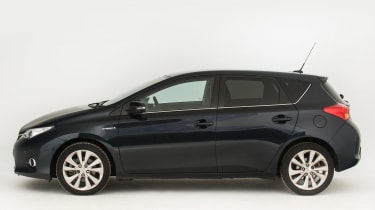 Verdict
When you've got rivals such as the well rounded Volkswagen Golf or dynamically excellent Ford Focus, why should you settle for something that doesn't sparkle more than the Auris does? The simple answer is that the car isn't bad in any one particular area, and it's usually as impressive as you'd expect a Toyota to be in terms of dependability and running costs.
That's as much as some motorists want out of a car, and when you consider that the Auris is reasonably priced – if not the cheapest choice in its class – it's well worth a closer look. If you can afford it, go for a facelifted model (launched in July 2015), as these are better to drive.
Next Steps
Source: Read Full Article