Everything you need to know if you're buying a second-hand Suzuki Ignis. This buyer's guide covers the Ignis crossover (2016-date)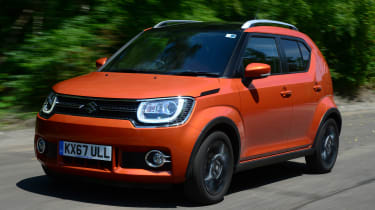 Some may remember an earlier version of the Suzuki Ignis, which was a small boxy hatchback produced between 2000 and 2008.  You'll be forgiven if you don't, as that older model wasn't nearly as remarkable as the mini-SUV/crossover launched bearing the same name in 2016.
This Ignis proved an instant hit thanks to funky styling that picked up retro design cues from an even older Suzuki, the tiny SC100 'Whizzkid' from the 1970s. The latest model is a thoroughly contemporary package though, combining a practical and spacious interior that belies the car's diminutive size with a fashionable SUV-inspired high-riding stance.
Under the skin the Ignis is less innovative, and although it arrived on an all-new platform, the 1.2-litre petrol engines were carried over from the Swift hatchback. However there is a mild-hybrid version too, and unlike some of its rivals, the Ignis lives up to its beefy image with a 4×4 option.
All in all, the Ignis is a good value, easy to drive, practical and cheap to own package, which is also stylish, contemporary and characterful. All those qualities apply whether new or used, making the Suzuki Ignis a second-hand option that's definitely worth considering.
History
The Ignis was launched in 2016 with two versions of Suzuki's 1.2-litre K12C four-cylinder engine. The standard unit was the 89bhp Dualjet, but Suzuki also offered the car from launch as a mild hybrid badged SHVS which features a modified starter motor that provides additional power during acceleration. There's a battery under the back seat that's kept charged by regenerative brakes. If you want the 4×4 Allgrip model, it came with the hybrid SHVS system by default.
Trim levels for the 2016 Ignis ran from the SZ3 entry model, through SZ-T, Adventure and SZ5. All grades above the SZ3 feature alloy wheels and touchscreen navigation, plus parking sensors, rear-view camera and sliding  50:50-split rear seats. 4×4 is only available in range-topping SZ5 trim, but the front-wheel-drive-only Adventure looks the part with an added spoiler and front and rear skid plates. Early cars were fitted with an automated manual five-speed AGS gearbox as the auto option, but the Ignis switched to a CVT auto box as part of a 2020 facelift.
The 2020 update also brought a modified grille while the hybrid system was enhanced with more power and became standard across all models. The line-up consisted of the SZ3, available only with manual transmission, the SZ-T which has the CVT auto option, and the SZ5 which can be 2 or 4WD – the latter with manual gears only.
Models covered
Suzuki Ignis (2016-date) – The small SUV offers funky looks and city car dimensions
Which one should I buy?
A limited engine range makes some aspects of choosing your used Ignis relatively simple, but you'll need to decide whether you want to stump up extra cash for the privilege of four-wheel drive, which is only available on top-spec models.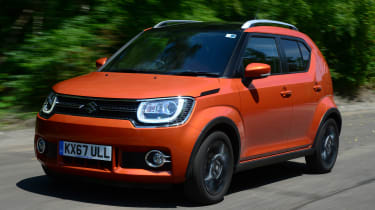 Because the Ignis is a road-focused model, the 4×4 drivetrain won't take you far off-road but it will provide a reassuring level of grip in wintry conditions for drivers who live in the countryside where the going can be challenging. Urban users are better-off sticking with two-wheel drive, and may also want to look at the automated gearbox option. The official figures suggest the auto shouldn't dent fuel economy and it makes for an easy life around town – although it may not shift as smoothly as you'd like in stop/start traffic.
Otherwise, unless you're of a puritanical persuasion we'd simply advise giving the entry-level SZ3 a miss, as it doesn't get a touchscreen, alloy wheels, climate control or the practical sliding rear seat, which are all desirable features.
Alternatives to the Suzuki Ignis
When considering rivals for the Ignis, where you look depends on why you are interested in the Suzuki Ignis in the first place. If you're looking for a fashionable city car then there's a broad spectrum of rivals such as the Volkswagen up! at the premium end of the class, and the more style-focused alternatives such as the Citroen C1 and Peugeot 108 at the other. The VW and its sister-models the SEAT Mii and Skoda Citigo are best for their 'grown-up' feel on long journeys but they are a little staid. If you just want a city car with the most space, the Hyundai i10 is worth a look too.
For those simply interested in a stylish runabout that's cheap to run, then the Fiat 500 and even the MINI could be seen as alternatives. The Fiat Panda is another characterful choice – and just about the only alternative for drivers looking for a city-car sized 4×4. If you just want a cheap 4×4 that's great value, then the much larger Dacia Duster could be up your street.
What to look for 
Integrated Starter Generator Belt
Some early hybrid versions had a sub-standard generator belt fitted, which could fail when driving. This would knock the cooling water pump out of action and kill the charging circuit. All affected belts should have been replaced as part of a recall but it's worth checking.
Automated Gear Shift (AGS) auto
Some owners have reported problems of 'judder' with the automated manual gearbox on cold or damp mornings, and Suzuki eventually brought out a replacement flywheel and ancillaries kit designed to mitigate the problem. Many were replaced under warranty, so it's worth checking this on AGS cars. Newer CVT autos are not affected.
Rear shock absorbers
Owners reported early cars could 'bang and clatter' over bumps, especially if heavily laden, and Suzuki introduced a rear suspension upgrade around 2018. It involved replacing the rear shock absorbers with improved items, typically under warranty. The new standard shocks can be retrofitted to older cars if there's a problem.
Nav
The SZ3 doesn't have a navigation option, but all other grades have a touchscreen system with MirrorLink, Apple CarPlay and Android Auto included so you can run nav from your phone. The SZ3 makes do with Bluetooth and a USB connection.
Warranty
Other city cars and crossovers have longer warranties that offer more value to the used buyer. The Suzuki standard cover is three years with a low-ish 60,000-mile limit. There's a 12-year anti-rust warranty but it won't be valid without annual inspections.
Interior
There's a surprising amount of room in the Ignis cabin, and most drivers should find a decent driving position although the wheel adjusts for rake only and you can only adjust the driver seat height in top-spec SZ5 models. Driver and passenger get to play with an impressive centrally-mounted touchscreen and while the dash is a bit more plasticky than some posher rivals it's attractive for all that.
Rear seat passengers are also well looked-after with more legroom than you'd find in a contemporary Ford Focus, and all models above the SZ3 get a neat sliding rear bench arrangement that allows you to prioritise people or luggage. The boot isn't huge, but it's good for a city car – especially if you slide that rear bench forward.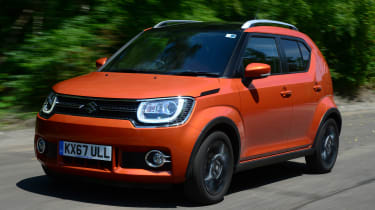 Prices
See the latest Suzuki Ignis prices on our sister site BuyaCar or use our free valuation tool to price specific models…
Running costs
Suzuki recommends the Ignis is serviced once a year or every 12,500 miles, and if you own a car older than three years you can sign-up for an inclusive plan for two or three years starting at £13.50 per month. Otherwise a minor service is £129, an interim service £199 and a major service £279.
You don't have to use a Suzuki dealer for servicing, but if you do you'll qualify for a free year's Suzuki Assistance which includes AA roadside cover and Homestart. A £49 upgrade adds roadside recovery and hire car cover.
The Ignis shouldn't cost much at the pumps, as the efficient 1.2 DualJet engine is easily capable of returning 50+mpg. Although we'd expect an Ignis to be decently reliable, owners of a nervous disposition may be drawn to cars with longer warranties such as the Toyota Aygo and Hyundai i10 with five years, or the Kia Picanto with seven years cover. That said, the Suzuki warranty matches that of the VW up!.
Recalls
There have been only two Ignis recalls to date. The first concerns the Generator Belt mentioned above, while the second is for an Engine Control Module that may cause the Stop Start system to fail. This may also lead to battery charge failure causing the engine to stall.
Driver Power owner satisfaction
The Suzuki Ignis wasn't rated individually in the 2020 Driver Power satisfaction survey, but Suzuki did perform reasonably at brand level where it came 17th out of 30 manufacturers. 12 per cent of owners reported faults with their new Suzukis in the first year of ownership.
Verdict
The Suzuki Ignis is a great value used buy, and it certainly has a lot to offer in terms of character, practicality and low running costs. It's not without its flaws though, and in particular the driving experience isn't particularly sporty. The Ignis leans a fair amount if you corner it quickly, and the steering feels a bit vague. The ride is less composed than quite a few rivals and noise levels less subdued too, so the Ignis is not necessarily the best bet if you spend hours in the car on taxing journeys.
However, if you're looking for something to tackle the urban jungle, or narrow country lanes, then the little Suzuki's compact dimensions, easy manoeuvrability and nippy drivetrain could make it the perfect choice.
Source: Read Full Article