A full used buyer's guide on the Mazda 2 covering the Mazda 2 Mk2 (2017-2014) and Mazda 2 Mk3 (2015-date)

1Used Mazda 2 Mk3 review – currently reading
2Used Mazda 2 Mk2 review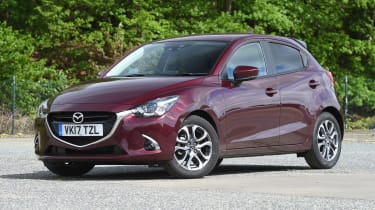 Across Europe, more new superminis are sold each year than any other type of car. As a result the stakes are high; you need a really good product to stand out.
Thankfully, Mazda has a habit of coming up with great cars, even if some buyers won't immediately think of them at purchase time. The original Mazda 2 was launched in 2003, when it replaced the Demio, and since then this smart-looking supermini has provided a stylish and well made alternative to more obvious small hatches.
Never a budget option, the Mazda 2 has always been good to drive, reliable and distinctive, and that's certainly the case with this third-generation model.
Models covered
Mazda 2 Mk2 (2007-2014) – Cheeky supermini is brilliant to drive and great to live with. 
Mazda 2 Mk3 (2015-date) – Low sales numbers mean Japanese hatch is a hidden gem in the supermini class.
Mazda 2 Mk3
History
The Mazda 2 Mk3 went on sale in February 2015 with a choice of 1.5-litre diesel (Skyactiv-D) or petrol (Skyactiv-G) engines. The former came only in 104bhp form whereas the latter was offered in 74bhp, 89bhp and 114bhp flavours. All came with a manual transmission, but the 89bhp petrol engine had an automatic option.
Suspension and steering improvements in April 2017 sharpened the Mazda's handling, while extra soundproofing improved refinement. Further updates in October 2019 brought a tweaked nose, upgraded interior, extra standard equipment and mild-hybrid tech (dubbed M Hybrid).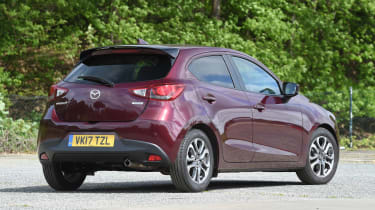 There have been numerous special editions along the way, including the Sport Black (September 2015), the Red Edition (September 2016), the Tech Edition (July 2017) and another Sport Black (April 2018), all with the 89bhp petrol engine only.
Which one should I buy?
Mazda has stuck with a non-turbo petrol engine, which doesn't feel as zesty as some rival units; even the diesel doesn't feel as torquey low down as you might expect. We'd buy at least an 89bhp petrol; even better if it's the 114bhp unit, although this only came in pricier range-topping trims.
The entry-level SE comes with air-con, a multifunction steering wheel and powered front windows, while the SE-L adds 15-inch alloys, power-folding heated door mirrors, electric rear windows and Bluetooth; the 89bhp SE-L and diesel SE-L also get a DAB radio and a seven-inch touchscreen display.
More reviews
Car group tests
Mazda 2 vs Ford Fiesta
Mazda 2
Peugeot 208 vs Mazda 2 & Hyundai i20
Mazda 2 vs VW Polo & Ford Fiesta
In-depth reviews
Road tests
The range-topping Sport comes with 16-inch alloys, privacy glass, automatic lights and wipers, climate control, rear parking sensors and keyless go; 114bhp cars also include LED headlights.
Alternatives to the Mazda 2 Mk3
The Mazda 2 is up against a lot of high-profile rivals, not least of all the Ford Fiesta which is plentiful, well made, brilliant to drive and has a wide model range. The Vauxhall Corsa is another top-value supermini that's plentiful and roomy, while the Renault Clio and Peugeot 208 offer decent value and ready availability with reasonable build quality; both have wide model ranges, too.
If you want a supermini with a hybrid option, the Toyota Yaris is reliable, but uninspiring to drive and sit in. Two other premium superminis that major on ease of use over excitement are the Audi A1 and Volkswagen Polo – or you could buy a Skoda Fabia or SEAT Ibiza, both of which are related but more affordable, despite sharing the same efficient engines and transmissions.
What to look for
Towing
Every Mazda 2 model is homologated for towing, and they all have a 900kg braked limit to what they can pull.
Safety kit 
SE and 74bhp SE-L cars don't have auto emergency braking; 89bhp petrol and diesel models in SE-L trim and above do.
Climate 
One of the more common gripes with the Mazda 2 is faulty air-con. It might just need regassing, but don't assume that this is the case.
Diesel 
Don't buy a diesel Mazda 2 unless you regularly undertake long journeys; short trips are known to clog up the diesel particulate filter.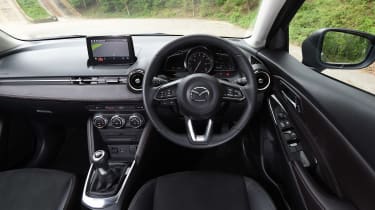 Interior
The Mazda's cabin looks upmarket and is well built; top-spec models feel quite premium. There are a fair number of soft-touch materials, although some lower-quality plastics can be found.
It's well designed and uncomplicated, with intuitive infotainment on all models apart from SE – this entry-level model has an AM/FM radio with a CD player and USB connectivity, and it also foregoes split-folding rear seats; SE-L models and above have a 60:40 function. Rear seat and boot space are disappointing; the 2 can hold just 280 litres with the back seats up, or 960 litres with them folded. As you might expect, sat-nav is standard on Nav models.
Prices
Check out the latest used prices for the Mazda 2 on our sister site Buyacar.
Running costs
All Mazda 2s need to be serviced every 12 months or 12,500 miles, whichever comes first, regardless of engine. Services alternate between minor and major, but they're perhaps not as cheap as you might expect for a supermini, costing £179 and £299 respectively.
However, the cost of a major service does include brake fluid, which is due every two years, and because all Mazda 2 engines are chain driven there are no cambelts to replace. The sixth service is a big one, at £449, because as well as oil and filter replacement, the air and pollen filters, plus the brake fluid, are changed. To help you budget for maintenance, Mazda dealers offer service plans for up to three years and 37,500 miles.
Recalls
Only two recalls have been issued for the Mazda 2 since summer 2014, and the most recent (in May 2017) was for the second-generation car. The third generation reviewed here has been recalled only once, in August 2016.
This action affected 1,489 Mazda 2s built in January 2015, which could suffer from fuel leaks. During the manufacture of their fuel tanks, silicone may have not been removed from the metal before everything was welded, leading to the tank not sealing. The solution was to fit a new tank, which was done under warranty.
Although this was a fairly serious issue, the fact that this generation of Mazda 2 didn't have to be recalled on any other occasions is impressive, and a testament to its build quality, which should be encouraging to anyone looking at a used example.
Driver Power owner satisfaction
The Mazda 2 finished 39th out of 75 in the 2019 Driver Power new car survey, while it achieved 45th out of 100 in our used car poll. The Mazda scores above average in most areas, but owners aren't impressed by the all-round visibility, cramped cabin and boot, or the ventilation. Encouragingly, the Mazda 2 averages 4.7 out of 5 in the Carbuyer owner reviews, with most owners awarding the full five stars.
Verdict
Although higher-profile alternatives such as the Clio, Fiesta and Corsa often dominate supermini talk, the Mazda 2 does a great job of being an impressive all-rounder, if not a class leader. The biggest shortcomings are the relatively cramped cabin and small boot, so if practicality is key for you the Mazda probably won't suit. Another downside is the narrow model range, because while at launch there were 16 derivatives to choose between (albeit with just two engines), this had been slimmed down to just five petrol models by the time of the 2019 facelift. However, if one of those editions fits in with your needs the Mazda is well worth a closer look, with its low running costs, excellent dynamics and distinctive design.
Next Steps
In this review
1Used Mazda 2 Mk3 review – currently readingA full used buyer's guide on the Mazda 2 covering the Mazda 2 Mk2 (2017-2014) and Mazda 2 Mk3 (2015-date)
2Used Mazda 2 Mk2 reviewA full used buyer's guide on the Mazda 2 covering the 2 Mk2 (2007-2014)
Source: Read Full Article