Used Ford Mondeo (Mk4, 2014-2022) review
A full used buyer's guide on the Ford Mondeo covering the Mk4 Mondeo that was on sale between 2014 and 2022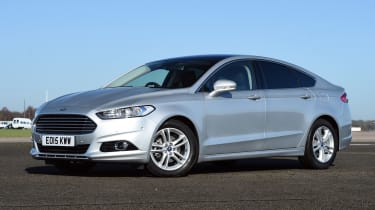 Verdict
In recent years Ford has produced some of the most dynamically capable family cars on sale, and while the Mondeo Mk4 was okay to drive, it was no class leader. When we ran a 2.0 TDCi on our test fleet we were disappointed by the so-so build quality, as well as the ride and handling, after the dynamic brilliance of previous Mondeos. But there are plenty of other reasons to buy a Mondeo, including the roomy cabin, big boot capacity, generous equipment levels and affordable pricing. More than 85 per cent of Mondeos were run as company cars, so some examples may not have been cherished, but if you're diligent with your checks and you find a good one (happily, there are lots about), this is still a very desirable family car.
It's 30 years since the Ford Mondeo reached UK showrooms, but while it was once one of the most popular cars on our roads (almost 130,000 were sold here in the first year), the final example was made in 2022, with the firm's large family car a victim of brand snobbery and changing tastes.
That first-generation Mondeo helped to change perceptions of Ford, with buyers and reviewers alike deeply impressed by the car's dynamic abilities, as well as its practicality and value. As the Mondeo got older, it started to be affected by middle-age spread, with everything getting bigger and heavier, but this was still a very likeable car that stayed true to its roots. But while you can no longer buy a new Mondeo in the UK, is it worth considering a used example?
History
The Mk4 Mondeo went on sale in the UK in September 2014, in hatchback and estate forms. Buyers could pick from 1.5 and 2.0-litre EcoBoost turbocharged petrol engines, or 1.6 and 2.0 TDCi diesels.
More reviews
In-depth reviews
Ford Mondeo (2014-2022) review
Ford Mondeo Estate review
Road tests
Ford Mondeo (Mk1, 1993-2000) icon review
New Ford Mondeo Hybrid Estate 2019 review
Ford Mondeo Vignale Nero 2017 review
Ford Mondeo ST-Line 2016 review
Used car tests
A 1.5 TDCi engine superseded the 1.6 TDCi in February 2015, while a 1.0 EcoBoost engine, a 207bhp twin-turbo 2.0 TDCi and a 184bhp petrol-electric hybrid all joined the range; the 2.0 TDCi also gained the option of an all-wheel-drive transmission.
The hybrid initially came only in saloon form, but from March 2019 there was an estate available, too. This launch coincided with a facelift that brought a refreshed exterior design, an eight-speed automatic gearbox, extra driver-assistance systems and a new 2.0-litre EcoBlue diesel engine, with either 148bhp or 187bhp.
Which one should I buy?
THE 2.0 TDCi engine offers the best blend of performance and economy, although the hybrid can make plenty of sense if you do a lot of urban driving. But the CVT automatic gearbox fitted to these isn't especially slick.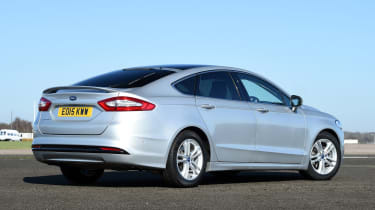 Cars with the smaller petrol and diesel engines are fine, too, but if you want an auto, we'd go for the later eight-speed unit, with the rotary selector. Zetec trim was popular and comes with a heated windscreen, dual-zone climate control, cruise control, DAB radio and 16-inch alloy wheels.
Titanium is far more common and adds 17-inch rims, nav, automatic headlights and wipers, sports seats, plus keyless go, while the Titanium X pack offers LED headlights, leather trim and electrically adjustable heated sports seats. The Vignale has posher trim, a rear camera and a heated steering wheel.
Alternatives to the Ford Mondeo
The large family car sector is now rather small, thanks to SUVs taking over, but the Mondeo was up against a few decent contenders. The most obvious was the Vauxhall Insignia Mk2, which also came with a wide choice of engines, trims and bodystyles. While the Insignia was never all that inspiring, it does offer good value with a healthy dose of usability. The same is true of the Peugeot 508 Mk2, which came in hatchback and estate forms; the 508 Mk1 was a saloon or estate.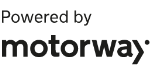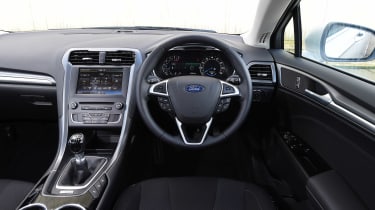 All Mondeos have a clear dash layout and lots of room front and rear; buy a car with a panoramic glass roof and it'll feel even more spacious.
Boot space for the hatchback is excellent, at 645 litres, or 1,446 litres with the rear seats folded down; the estate is even more impressive, at 730/1,630 litres, although the hybrid saloon is rated at just 383 litres.
Prices
Three quarters of Mondeos are diesel-engined, one in 10 is petrol-powered and one in six is a hybrid. About 40 per cent of Mondeos are automatics, while estates account for a third of Mondeos for sale. Titanium is by far the most popular trim.
To check prices on a specific model head over to our valuation tool.
Running costs
Most Mondeos need to be serviced every 12 months or 12,500 miles. The first three services cost £195, £265 and £315, after which they alternate between Major and Minor at £275 and £130 respectively. The 1.5 TDCi has a service interval of two years or 18,000 miles, but 2.0 TDCi models built between August 2018 and January 2019 cut this to one year or 10,000 miles.
The brake fluid should be replaced every two years, and coolant every 10 years. Both jobs cost around £60, but prices vary by dealer. All engines have a cambelt that needs to be renewed every 10 years and 112,500-150,000 miles; we were quoted £669-£975 to do the work.
Recalls
Ford has recalled the fourth-generation Mondeo nine times so far. The first action came in June 2016, because the adaptive LED headlamps could switch off of their own accord. Faulty seatbelt pre-tensioners were behind the next campaign, in February 2017. Then in March 2018 came recall three, because the sump could crack due to the engine overheating.
The next three campaigns came in July, November and December 2018 to cover faulty clutch plates, air-conditioning glitches and problems with the opening glass sunroof respectively. Two further recalls came in February and August 2019, because of faulty clutch pressure plates once again, and battery leaks. The most recent action was issued in October 2020, to deal with airbag problems.
Driver Power owner satisfaction
The Mondeo hasn't appeared in a Driver Power new-car survey since 2017, when it was 72nd out of 75 entries; it came 129th out of 150 in 2016. More encouragingly, the Mondeo came 10th out of 100 entries in the 2022 Driver Power used-car poll. Owners love the space and practicality, infotainment, and the ride and handling. There are no weak areas as such, but engines and gearboxes are liked least.
Looking to sell your current car quickly and for a good price? We've partnered with Motorway to bring you the best offer from its network of UK dealers…
Source: Read Full Article