Used Citroen C3 Aircross review
Our full used buyer's guide on the Citroen C3 Aircross small SUV (2017-date)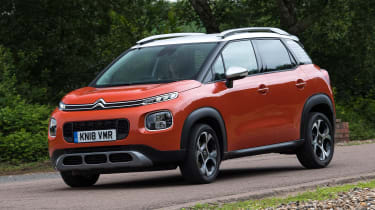 The Citroen C3 Aircross is the sweet spot of the current Citroen range. It's been on sale for a few years now so it's now possible to find excellent used examples at an affordable price.
The C3 Aircross is a previous Auto Express Award winner in the Small SUV category because we reckon it covers all the bases for buyers of this kind of car, and does so at a very reasonable price.
For a start, the C3 Aircross is practical – it has one of the larger boots among other small SUVs of the same era, such as the Nissan Juke and Peugeot 2008. The sliding rear bench can boost storage from 410 litres to 520 litres, which is impressive.
Best used small 4x4s and SUVs
The sliding rear seat also lets you increase legroom when luggage space isn't a priority, and there's enough room back there for adults. The whole cabin feels airy and light, which makes the C3 Aircross seem even more spacious than it actually is.
The neat, contemporary dashboard is interesting to look at, easy to use and although the touchscreen display is a bit fiddly to use, it has lots of great features including smartphone connectivity.
The C3 Aircross is comfortable as well, and while it's not much fun to drive, the Citroen is perfect for those who want to just get in and take the kids to school or head to work in comfort.
Read on to learn all you need to know about this great small SUV when buying used.
Models covered
• Citroen C3 Aircross (2017-date) – Funky crossover with plenty of appeal for families. 
Citroen C3 Aircross
History
The Citroen C3 Aircross isn't a version of the Citroen C3, but its own standalone SUV model that was launched in 2017. It uses the same platform as the Vauxhall Crossland X and the Peugeot 2008 of the same era, and shares engines with those cars.
At launch, there were three trim levels: Touch, Feel and Flair. It's an easy range to understand: Touch was really basic and should be avoided for most; Feel was reasonably well equipped; and Flair was the most lavish.
There were several engines to choose from. The Touch model was only available with the 81bhp PureTech petrol (without a turbo), and on the other trims you could get a turbo version of this 1.2-litre engine with 108bhp or 128bhp. There were also 1.5-litre diesel engines with either 98bhp or 118bhp.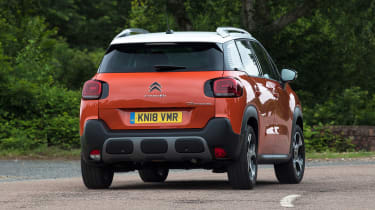 Most versions were fitted with a manual gearbox but you could get an automatic transmission called EAT6 on the PureTech 110 versions.
Autonomous emergency braking (AEB) was added to the range in January 2018, then in late 2019 Citroen updated the C3 Aircross range with more kit on Flair models. At the same time the engine range was updated, with most choices removed although an auto version of the PureTech 130 was added.
Citroen C3 Aircross reviews
Citroen C3 Aircross review
Citroen C3 Aircross Flair: long-term test review
New Citroen C3 Aircross 2017 review
Which one should I buy?
The best value cars are certainly PureTech 110 versions with a manual gearbox in Feel trim, although Flair trim is better-equipped if a little more expensive.
The C3 Aircross in Flair trim gets sat-nav, keyless go, AEB and a useful split-folding rear bench seat as standard. You get smartphone connectivity on all models thanks to the standard seven-inch screen, and you can use your own apps via Android Auto or Apple CarPlay.
The diesel versions of the C3 Aircross are fine for long trips but don't make a lot of sense for most buyers of small SUVs. Similarly, the auto gearbox is ok if you can't drive a manual car but will add unnecessary cost.
Alternatives to the Citroen C3 Aircross
There are plenty of options if you're after a small SUV such as the C3 Aircross. You could choose one of its siblings – the Peugeot 2008 or Vauxhall Crossland X – with a similar driving experience and the same engines and gearboxes.
Or you could go for the original small SUV, the Nissan Juke, which has similarly funky looks. The Citroen C4 Cactus is another great choice if you like its styling.
Alternatively you could choose a family hatch with a similar amount of space but with better driving dynamics, lower running costs and a more upmarket interior, such as the Volkswagen Golf or Skoda Octavia.
What to look for
Wheels
Check the C3 Aircross's wheels – they're quite big and kerb marks will be obvious.
Gearbox
Don't be concerned about the C3 Aircross's woolly, unpleasant gearshift – they're all like that.
Engine noise
The PureTech petrol engine is quite noisy, though we reckon it sounds pleasant with some revs.
Interior
The Citroen C3 Aircross has a spacious interior that looks good thanks to the chic cloth seats and airy design. The seats are comfortable but check that you're settled when test driving because they aren't all that supportive.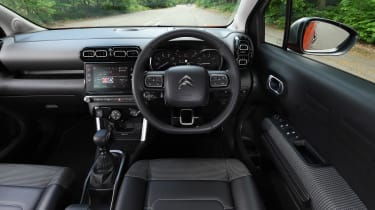 Also check that the C3 Aircross's infotainment system works as it should – it controls the air-con, and if the screen doesn't work you can't change settings easily.
There's lots of room for passengers and their luggage. Check that any potential buy has the folding rear seats with a 60:40 split (not all versions have).
Running costs
Low-power, non-turbo models will be cheap to insure because they're pretty gutless, but even the more powerful PureTech 110 model should be reasonable. As for the C3 Aircross's economy, you can get up to 40mpg in normal driving, but if you spend a lot of time around town you'll get closer to 30mpg.
Diesel models will be the cheapest to run in terms of fuel but are not recommended unless you do a lot of motorway trips.
Road tax is cheap on earlier models because CO2 emissions are low, but later cars have a flat rate of £150 a year because of a change in the way VED was charged.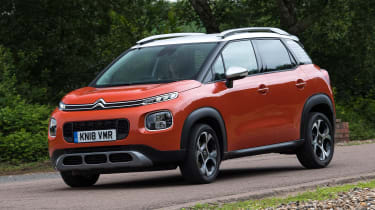 Recalls
There are three major C3 Aircross recalls, starting in 2018 with a fix for the anti-theft wheel bolts. The other two were in 2019, the first for a seat position sensor wire and the second for engine emissions calibrations. All issues will have been fixed if the car has been serviced by a dealer – and most will be, since many C3 Aircross models were bought using finance.
Driver Power owner satisfaction
The C3 Aircross came in 66th in the top 75 cars in Driver Power 2020. Around 20 per cent of owners reported faults with their cars, with electrical gremlins being the most common problem. Citroen itself came in 18th out of 30 manufacturers, which was a disappointing score.
Source: Read Full Article