UK new car sales turn a corner in November, but semiconductor woes continue
'Order early' says SMMT boss, warning new car buyers face ongoing delays in 2022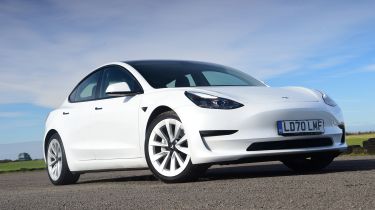 Having reported four months of declining new car registrations, the Society of Motor Manufacturers and Traders says it recorded a 1.7 per cent increase in November.
There were 115,706 new cars sold last month, but the SMMT is not celebrating a relatively marginal increase on a 2020 figure that was constrained by lockdowns and the pandemic.
Best electric cars to buy 2021
Mike Hawes, SMMT Chief Executive, said: "What looks like a positive performance belies the underlying weakness of the market. Demand is there, with a slew of new, increasingly electrified, models launched but the global shortage of semiconductors continues to bedevil production and therefore new car registrations. The industry is working flat out to overcome these issues and fulfil orders, but disruption is likely to last into next year, compounding the need for customers to place orders early."
The demand for plug-in cars is growing faster than in other sectors of the market, with battery electric vehicle (BEVs) accounting for 18.8 per cent of sales. That's more than double the BEV figure of 2021, and taken with a 9.3 per cent share attributed to plug-in hybrids (PHEVs), and 9 per cent to self-charging hybrids, it means more than a quarter of the new car market has now been electrified, the SMMT says.
The manufacturer body remains concerned about the speed of roll-out of the charging network required to support the switchover to plug-ins. Its analysis shows the number of cars sharing an on-street charger has deteriorated from 11 in 2019 to 16 now. It says just one on-street charger was installed for every 52 new plug-ins registered this year.
"The continued acceleration of electrified vehicle registrations is good for the industry, the consumer and the environment but, with the pace of public charging infrastructure struggling to keep up, we need swift action and binding public charger targets so that everyone can be part of the electric vehicle revolution, irrespective of where they live," said Hawes.
Thinking of buying an electric, petrol or hybrid car? Read our buying guide to help you along the way…
Source: Read Full Article