UK car production sees worst July numbers since 1956
UK car manufacturing fell 37.6 per cent year-on-year in July 2021 due to the semiconductor shortage and pingdemic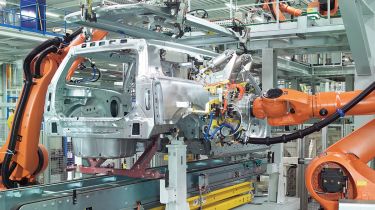 Car production in the UK plunged 37.6 per cent year-on-year in July 2021. Only 53,438 cars were built – the lowest July figure since 1956. The ongoing semiconductor shortage and a lack of staff due to the 'pingdemic' were to blame, with some factories even altering their summer shutdowns to help manage the situation.
Production for the UK market was down 38.7 per cent to 8,233 units, while manufacturing for export fell 37.4 per cent to 45,205 cars. Exports accounted for 84.6 per cent of cars built, according to the latest figures from the Society of Motor Manufacturers and Traders (SMMT).
Best-selling cars of 2021
Impressively, 26 per cent of cars built in the UK during the month were electric or hybrid models, with 126,757 of these alternatively fuelled vehicles having been produced here since the start of the year.
Production for 2021 so far remains 18.3 per cent up on 2020 when Covid-19 wrought chaos on the industry. The 552,361 figure for cars built in the UK so far this year is still 28.7 per cent down on the same period in 2019, however, when 774,760 cars were made.
Mike Hawes, chief executive of the SMMT, said the figures "lay bare the extremely tough conditions" faced by the UK car industry, with the semiconductor shortage showing "little sign of abating".
Hawes called on the Government to assist by "continuing the supportive Covid measures currently in place and boosting our competitiveness with a reduction in energy levies and business rates".
Subscribe to Auto Express for the best car news and reviews…
Source: Read Full Article