UK car production fell 9.8% in 2022
Political instability and semiconductor shortages cited as main reasons for worst year in UK car production since 1956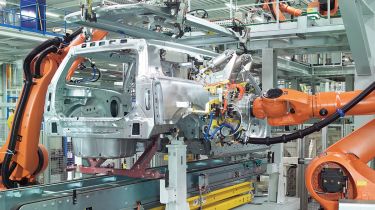 Car manufacturing in the UK continues to struggle with last year's figures showing a 40.5 per cent decline compared to pre-covid levels. A total of 775,014 units were sold in 2022, down 9.8 per cent from 2021. 
The Society of Motor Manufacturers and Traders (SMMT), which published the figures, pointed towards supply chain issues such as the shortage of semiconductors as well as political instability as key factors behind the disappointing production numbers. 
"Are small cars dead? Don't bet on it!"
Although car manufacturing for domestic sales actually grew 9.4 per cent in 2022, export sales decreased by 14 per cent – eight out of 10 cars made in the UK are for export. The EU remains the largest market for UK-built cars with a share of 57.6 per cent, followed by the USA, China, Japan and South Korea rounding off the top five. Russia, which was a top 10 export market, fell to zero in 2022 due to sanctions placed against the country over the war in Ukraine. 
As for manufacturers, Nissan is now the largest car maker in the UK with 238,329 units in 2022 – helped by the best-selling Qashqai model. This pipped Jaguar Land Rover with 202,788 units to its name. Honda's decision to end production of the Civic in Swindon left a large hole of 54,465 units compared to 2021. 
Despite a closure at its Oxfordshire plant in March, MINI saw almost identical production numbers to 2021. BMW has also said Oxford will remain the 'home of MINI' after an announcement that MINI Electric manufacturing is relocating to China, causing uncertainty over the Oxfordshire-based plant. 
Mike Hawes, SMMT Chief Executive commented on the figures, "This reflects how tough 2022 was for UK car manufacturing, though we still made more electric vehicles than ever before. The potential for this sector to deliver economic growth by building more zero emission models is self-evident, however we must make the right decisions now." 
Electric car forecast slashed as buyers seek cheaper models
There were 234,066 electrified cars produced in the UK last year, up 4.8 per cent from 2021. SMMT points out that exports of electrified vehicles have multiplied sevenfold since 2017, accounting for over £10 billion in revenue. 
In regards to the issues UK car manufacturers face, Mike Hawes said, "We need the UK government to invest in the automotive industry and we need to safeguard and support it. We have political and economic instability and that makes it hard to reassure investors." 
A blow to the UK car industry came in early 2023 when Britishvolt, which had plans for an electric car battery mega factory in the north-east of England, entered administration. "I don't think it was a surprise," said Hawes. "There's still a lot of interest in the site, maybe something from the ashes will rise. We enter this year with optimism. I still think the UK is an attractive place to invest, despite the challenges we face. A lot of brands have research and development facilities here and as you grow you tend to build closer to where you sell."
Now read about Jaguar's new luxury electric car plans…
Source: Read Full Article