Tyre reviews: best car tyres 2020/2021
What are the best tyres for your car? We test 10 different tyres to see which is best


Introduction
Goodyear EfficientGrip Performance 2
Michelin Primacy 4
Nokian Wetproof
Maxxis Premitra 5 HP5
Bridgestone Turanza T005
Laufenn S Fit EQ+
Continental PremiumContact 6
Dunlop Sport BluResponse
Falken Ziex ZE310 Ecorun
Pirelli Cinturato P7
Tyre test 2020: results by category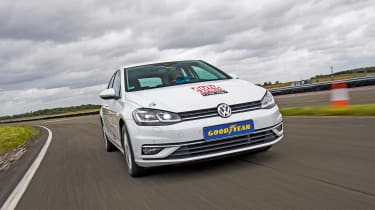 As with so many things at the moment, our annual summer tyre test is the same, but different. We're as determined as ever to ensure you have the knowledge to buy the safest tyres for your car, yet our test changed due to travel and distancing restrictions.
Handling on wet and dry roads was rated by Auto Express, but for the first time at the MIRA proving ground in Nuneaton, Warks. The braking, aquaplaning and cabin noise tests were done at Goodyear's facilities at Mireval, France and in Luxembourg by proving ground staff. Not ideal, but our thanks go to Goodyear for its efforts in making the test happen in these difficult times.
Best online tyre retailers 2020
We tested the world's top-selling tyre size – 205/55 R16. We last looked at this in 2017, and only one tyre – the Dunlop – returns. All the others from that test have either been superseded, or are not taking part. Our determination to test what you can buy remains, too, so we asked makers to nominate a tyre, which we then purchased.
Continental won three years ago, but who will take the crown now? Read on to find out.
How we tested
For the first time, our test programme was split across three countries, but the essentials remained the same in 2020 as in previous years. We tested all the tyres in wet and dry conditions, plus measured cabin noise and fuel economy.
At the Motor Industry Research Association (MIRA) proving ground in Warwickshire, our tester was in good company, because most major tyre makers have a base there, and use the specialist facilities alongside car marques such as Jaguar Land Rover and Aston Martin. 
Dry handling was conducted on MIRA's sweeping handling track, which is largely made up of long curves that quickly exposed weaknesses in the tyres. We timed progress on a section of the track over a series of runs, entering the sector at the same speed each time.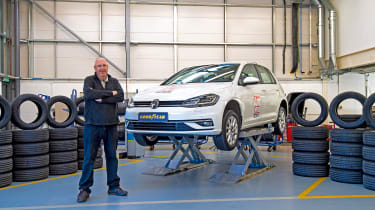 Timed laps were also at the heart of the wet handling assessment on the proving ground's wet track, which loops around the sides of two circles and combines fast direction changes with tight turns. 
In both tests, we used a reference tyre to monitor the evolution of the track and conditions. Despite the best efforts of the showery British summer weather, the two tests were completed without a problem. However, we weren't able to include a wet circle test, due to time constraints.
Braking
The wet and dry braking tests were carried out at Mireval in the south of France, and the only difference between this year's programme and what we would normally do was that an Auto Express driver was unable to carry out these tests due to travel restrictions. The wet test was measured from 50mph, with a series of runs making up the result. In the dry the speed was raised to 62mph and again multiple stops were used to get a result.
At Goodyear's R&D centre in Luxembourg straight-line aquaplaning was assessed. Wheel speeds were monitored as the car was accelerated with one side in water. The speed at which this wheel exceeded the other by 15 per cent was measured. As is always the case, multiple runs were performed to give a reliable overall result.
Curved aquaplaning measures how those water-pumping tread grooves work when distorted through cornering, and was assessed in Mireval. Lateral g is measured as the car is driven at increasing speeds around a tarmac circle with one section flooded, until all grip is lost through the water. The grip at the various speeds forms the result.
Noise was done in Luxembourg, with tyre-related frequencies measured while coasting over rough and smooth surfaces.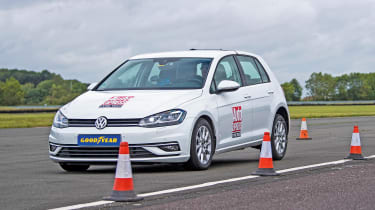 Rolling resistance is the key factor in fuel consumption. Our test is done to industry standards, and measures how much force is required to roll a loaded tyre. As a rough guide, a difference of around five per cent in rolling resistance equates to a one per cent change in fuel consumption.
Our final factor was price, which was provided (including fitting) by online retailer and multiple test winner Blackcircles.com. This was the price at the time of writing or, if not in the retailer's range, what it'd charge.
Our test results rank each tyre against the winner, which is rated at 100 per cent.
How we chose a winner 
All the test results are converted to percentages to accurately reflect a tyre's relative performance. Essentially these are added together to get the final result. 
The only weighting we do is to ensure that a test where the performance gap is disproportionately large, such as aquaplaning, counts the same overall as one with close results, as seen in dry handling. 
The emphasis is on safety, with braking and handling in dry and wet conditions taking the bulk of the marks. Price plays a small role in the overall result.
What we tested
Makers were asked to nominate a tyre from their range with no restrictions on weight or speed ratings. The 10 we tested were a mix of 91 and 94 weight ratings, and primarily V speed ratings (up to 150mph), plus a pair of H (up to 130mph). On the right, we've also listed the EU label rating for each tyre. Fuel economy (rolling resistance, RR) and wet grip (WG) are ranked from A-G, with A the best. Meanwhile, pass-by noise (N) is rated in decibels, so the lower the figure the better.
Price
Black Circles, our online tyre retailer test winner, provides the prices that we used in this feature. The figures we quote are what the company charged for a fully fitted tyre at the time of writing or, if the product we evaluated wasn't part of Black Circles' range, what it would charge for them. We also corroborated these figures against other outlets.
| | |
| --- | --- |
| Bridgestone Turanza T005 91 V | Ratings:  RR: B G: A : 71 |
| Continental PremiumContact 6 91 V | Ratings:  RR: C G: A : 71 |
| Dunlop Sport BluResponse 91 H | Ratings:  RR: B G: A : 68 |
| Falken Ziex ZE310 Ecorun 94 V | Ratings:  RR: C G: A : 69 |
| Goodyear EfficientGrip Perf. 2 91 H | Ratings:  RR: B G: A : 69 |
| Laufenn S Fit EQ+ 91 V | Ratings:  RR: C G: B : 71 |
| Maxxis Premitra 5 HP5 91 V | Ratings:  RR: C G: A : 70 |
| Michelin Primacy 4 91 V | Ratings:  RR: C G: A : 68 |
| Nokian Wetproof 91 V | Ratings:  RR: C G: A : 68 |
| Pirelli Cinturato P7 91 V | Ratings:  RR: C G: B : 70 |
Continue Reading
1Introduction – currently readingWhat are the best tyres for your car? We test 10 different tyres to see which is best

2Goodyear EfficientGrip Performance 2Well deserved win for Goodyear, the EfficientGrip Performance 2 excelled in refinement
3Michelin Primacy 4Impressive all-round result from Michelin which performed well and, importantly, felt good to drive.
4Nokian WetproofNokian Wetproof was last year's SUV tyre test winner has another good showing in 2020
5Maxxis Premitra 5 HP5Promising test from Taiwanese producer Maxxis, with good performance in the wet
6Bridgestone Turanza T005A winner at the pumps from the Bridgestone Turanza T005
7Laufenn S Fit EQ+The Laufenn S Fit EQ+ transfers little noise to the cabin and is the second cheapest on test
8Continental PremiumContact 6The Continental PremiumContact 6 was the best on test for dry handling but disappointed elsewhere
9Dunlop Sport BluResponseWe found the Dunlop Sport BluResponse easy on the wallet and fairly refined
10Falken Ziex ZE310 EcorunAlthough the Falken Ziex ZE310 Ecorun handled well in the dry, rolling resistance let it down
11Pirelli Cinturato P7Formula One supplier props up the table with Pirelli Cinturato P7, not excelling in any area
12Tyre test 2020: results by categoryIn-depth look at the scoring charts for 2020 tyre test
Source: Read Full Article