Treasury eyes up road pricing to plug £30bn fuel-duty gap
The UK's Petrol and diesel car ban will bring with it huge losses for the Treasury as fuel-duty revenue dries up; road pricing looks set to be the solution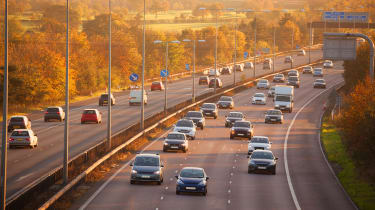 The Chancellor of the Exchequer and the Treasury are considering the introduction of nationwide fuel pricing to make up for revenue lost from fuel duty. The latest reports indicate that sales of new petrol and diesel cars will be banned by 2030, with new plug-in hybrids (PHEVS) outlawed from 2035.
Those moves may bring about reduced carbon dioxide emissions, but they will also leave a gaping chasm in Government finances, with the £30 billion in annual fuel duty from sale of petrol and diesel set to be reduced to a trickle from 2030, and dry up almost entirely from 2035.
VED road tax: how does car tax work and how much will it cost?
Ministers are considering nationwide fuel pricing to plug this gap, with The Times reporting that a Treasury paper on this subject has been presented to the Chancellor, Rishi Sunak. The newspaper says that while such a scheme is not "imminent", Sunak is "very interested" in the idea.
Auto Express submitted a freedom of information request to the Treasury back in November 2018, asking if it was considering nationwide road pricing to make up for projected lost fuel duty revenue. The Government admitted that "HM Treasury does hold information within the scope of your request", but refused to provide details as the Freedom of Information Act allowed such withholding of information if it related to the "formulation of government policy".
No specifics on how nationwide road pricing would work have yet to emerge, but it is generally considered that a pay-per-mile system, potentially linked to GPS modules in cars, or the UK's extensive ANPR system, would be brought into play. Potentially higher charges for more polluting cars could also be introduced.
Commenting on the reports, Edmund King, president of the AA, said: ". It is always assumed that Road Pricing would be the solution but that has been raised every five years since 1964 and is still perceived by most as a 'poll tax on wheels'."
King suggested an alternative scheme, devised by him and his wife, could be the answer:
"We need a more imaginative solution and have proposed 'Road Miles' whereby every driver gets 3000 free miles, with one third more for those in rural areas, and then a small charge thereafter."
What's your view on the road charging debate? Let us know in the comments section below…
Source: Read Full Article