Toyota teases new hardcore GR Yaris super-hatch
Toyota will reveal a more extreme version of its GR Yaris hot hatch at the Tokyo Auto Salon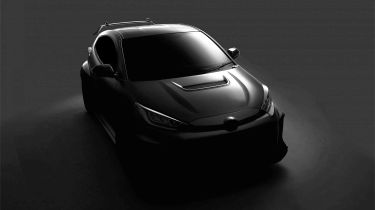 Toyota is set to turn up the wick of its rally-bred GR Yaris hot hatch with a more focused version at this year's Tokyo Auto Salon on 14 January.
The brand describes the new model as a 'fully tuned' version of its homologation special, confirming speculation that a more potent GR Yaris is in the works, although it's unclear whether it will be a stand-alone model or simply a tuning package for current owners. Toyota has released a teaser image of what we can expect.
New Toyota GR Yaris H2 is a hydrogen powered hot hatch
The uprated GR Yaris will be markedly more aggressive than the standard model. At the front, additional aero fins will be fitted to reduce front end lift at speed, and there could be a deeper, more menacing grille design, although this is difficult to pick out from the teaser shot. A large cut out in the bonnet hints that a more powerful version of the GR Yaris's 1.6-litre three-cylinder turbo motor is lurking beneath, requiring extra cooling capacity.
Elsewhere, the side sills look to be tweaked from the standard version, enabling better airflow along the car's flanks. But the key addition is a large, 'swan neck' rear wing, which is top-mounted to provide smoother airflow along its bottom surface.
Given that it's a 'fully tuned' variant, we expect a healthy power increase over the base car's 257bhp and 360Nm outputs. To contain the extra grunt, a more aggressive chassis set-up is expected, along with a recalibration of the GR Yaris's four-wheel-drive system.
Alongside the tuned GR Yaris, Toyota will reveal another motorsport-inspired creation at Tokyo next week – a GR GT3 concept car that represents Toyota's "continuing work to create ever-better cars bred from motorsport". The GR GT3 racer is a front-engined racer designed for one of the most competitive motorsport classes on the planet.
Find out what happened when we tested the Toyota GR Yaris against the Ford Fiesta ST Edition…
Source: Read Full Article