Towing guide 2021: UK laws, licences, costs and tips
From tips for towing a caravan across the UK to help getting your towing licence, our towing guide explains all
Towing guide: UK laws, licences, costs and tips
Towing guide: UK laws, licences, costs and tips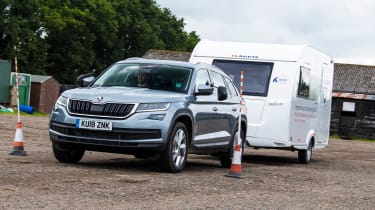 Whether you are planning to tow a caravan for your annual summer holiday or need to tow a trailer full of tools for work, it is important to understand what your driving licence entitles you to drive, the laws governing towing in the UK – which are due to change on 15 November – and how you can improve your trailering skills.
If you are planning on attaching any form of small trailer, caravan, horsebox or even a boat behind your vehicle then we have you covered on everything you will need to know before setting off on your journey. As well as our helpful guide to towing, we also have a feature on page 2 from when Auto Express spent the day with the Caravan and Motorhome Club learning how to drive safely when hitched. 
Best pick-up truck for towing
Towing licence: what can you legally drive?
Drivers who passed pre-1997
You need a full driving licence to tow any kind of trailer, and if you passed your test before 1997 you should be entitled to drive a vehicle and trailer that together weigh a maximum of 8.25 tonnes. This Maximum Authorised Mass or MAM means you're pretty much covered for most things, including large 4x4s or vans pulling hefty caravans or boats. In fact, to get anywhere near the limit, you'd probably need to be driving a 7.5 tonne truck – although if it was fully laden, it would limit your trailer to three quarters of a tonne – or a big American RV pulling a car.
Drivers who passed post-1997
Until 15 November, for drivers who passed their test after January 1st 1997 – the MAM limit in that is 4.25 tonnes, and that's only with a tow vehicle of 3.5 tonnes, which would limit the trailer to 750kgs. If you want to pull a trailer over 750kgs on a post-1997 driving licence, the combined tow vehicle and trailer MAM drops to 3.5 tonnes.
As an added complication, the trailer MAM must be lower than the tow vehicle's weight, too. This shouldn't be too much of a worry though, as most car towing (on a trailer) or caravan towing combinations fall within these parameters.
Additional trailer test requirement scrapped from 15 November
Assuming you passed your test after 1997, but wanted to tow something with an MAM above 4.25 tonnes, you were previously required to upgrade your trailer entitlement via an additional car and trailer driving test at a cost of £115. The so-called BE test, which was run through DVSA bus and lorry test centres, is being scrapped from 15 November 2021.
After that date, anyone who passed a car driving test after 1 January 1997 will be able to tow a trailer up to 3.500kgs with no additional training or test. BE categories will be added automatically to your licence, so there's no need to contact the DVLA.
N.B. Don't be tempted to take advantage of the law change prematurely, as you can still be fined £1,000 and get six penalty points on your license if you tow anything heavier before the law changes.
Do you think scrapping the trailer towing test is a good idea? Let us know in the comments below…
Continue Reading
1Towing guide: UK laws, licences, costs and tips – currently readingFrom tips for towing a caravan across the UK to help getting your towing licence, our towing guide explains all
2Towing guide: UK laws, licences, costs and tipsFrom tips for towing a caravan across the UK to help getting your towing licence, our towing guide explains all
Source: Read Full Article