Top 10 best small cars to buy 2023
Small cars come in all kinds of shapes, if not sizes. Here we highlight the best new small cars on sale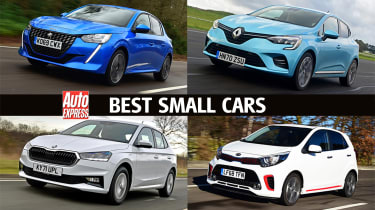 City cars and superminis make up the bulk of new car sales in the UK – and with good reason. The best small cars on sale are cheap, practical, easy to drive on congested modern streets and – as modern superminis and city cars become more sophisticated, refined and safe – they increasingly represent genuine alternatives to larger hatchbacks, saloons and even SUVs. 
Cars like the Renault Clio and Ford Fiesta have come a long way over multiple generations and now are just about as practical, spacious and comfortable as family-sized hatchbacks from a few years ago. Similarly, city cars like the Kia Picanto and small crossovers like the Ford Puma prove there's remarkable breadth of ability across the small car segment. 
Best small electric cars to buy 2022 / 2023
Small cars also make a lot of sense when it comes to running costs and maintenance; small, efficient engines return great fuel economy and emit low levels of CO2 for cheaper first-year road tax, small wheels mean cheaper tyres and most are subject to the lowest tier of servicing pricing at a main dealer. Insurance should also be cheaper than that for a car from the classes above.
This top 10 features a range of the best superminis and city cars that we've tested. All offer a great balance of practicality, economy, comfort and a decent driving experience, with each offering a different take on a similar recipe. Whether it's a sporty driving experience, comfortable ride or an uncompromised focus on value, there's a small car to suit all tastes and budgets.
1. Renault Clio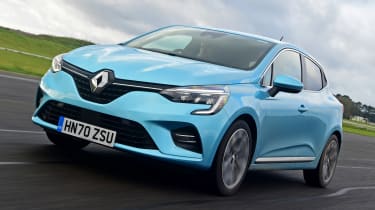 A firm favourite of many UK drivers, the fifth-generation Renault Clio has many of its rivals beaten in key areas including equipment levels and overall driving experience. 
We found the Ford Fiesta more fun to drive in the supermini class, but the Clio is still a joy behind the wheel thanks to its advanced platform. The steering gives plenty of feedback and there's a well-judged balance between body control and comfort. 
The Clio is available with four different petrol engines and a diesel, and there is also a E-Tech hybrid version to choose from. We liked the TCe 100 – which uses a turbocharged petrol developing 99bhp, but the 129bhp 1.3-cylinder four-cylinder TCe petrol engine makes better use of the fine chassis. 
The interior is where the Clio really shines. Even in the lower-spec 'Iconic' version, the quality of the cabin is impressive for a car of this size and standard equipment includes cruise control, LED headlights, autonomous braking, lane-keep assist and traffic-sign recognition. 
At 391 litres, boot space is bigger than you get in a Fiesta and with the rear seats folded there's a healthy 1,069 litres available. Prices for the Clio start from under £19,000 so it's also cheaper than the Fiesta. 
2. Skoda Fabia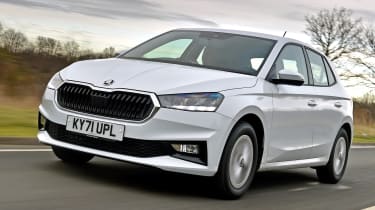 Although the Fabia sits on the same MQB-A0 platform as the Volkswagen Polo and SEAT Ibiza (and shares plenty of technology besides), it's the Skoda that is our favourite of the VW Group superminis.
That feat can be attributed to a strong range of engines with several excellent turbocharged petrol units, as well as its refinement. The Fabia feels more akin to a shrunken Golf these days, without the annoying infotainment touch-sensitive controls.
The growth over the previous-generation Fabia means that Skoda's supermini is more practical than ever. The 380-litre boot space is identical to a Golf's and there's an assortment of helpful storage bins and luggage hooks. 
Although the Fabia's entry-level model is slightly more expensive than the Ibiza, it's a good £4,000 cheaper than the VW Polo. 
3. Fiat 500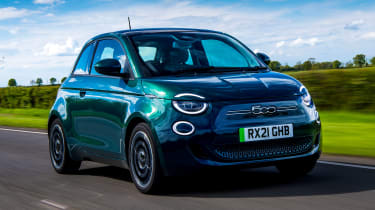 The second-generation mild-hybrid 500 is still on sale from under £15,000, but the third-generation Fiat 500 is only available as an electric vehicle. Current 500 owners, tempted to make the jump into an EV, will find that the entry-level price comes in at around £24,000. while we found the driving position much improved on the previous model's. If you need to, you can fast charge at up to 85kW, which will give you an 80% charge in 35 minutes or 30 miles of range in just five minutes. 
Space inside is better in the front – helped by an increase in internal width of 42mm and headroom by 10mm – but pretty limited in the back, even though there are only two seats. The boot remains at 185 litres, but there are useful cubbies dotted around the cabin. For those seeking drop-top fun then the convertible 500c will appeal. 
The 500 remains a great looking city car, delivering plenty of fun with an upmarket feel that belies its city car status, we think so highly of the small Italian car that we gave it the 2021 and 2022 City Car of the Year award. 2023 will see the introduction of the hot Abarth version which aims to add some all-electric hot hatch flavour to the range.
4. Dacia Sandero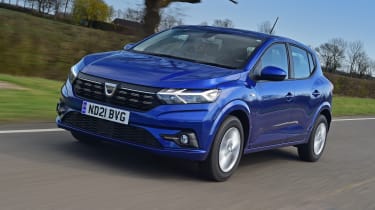 The Dacia Sandero's trump card has always been its low price tag. Now based on the current Renault Clio (the old Sandero was based on a decade-old Clio), the new Sandero is a little less sophisticated than some of the latest crop of superminis but still holds up well against its more polished competition.
Go for the most modern 1.0-litre petrol and you'll be met with a supermini that's good to drive and comfortable, even if it's not the most refined car in its class. The Sandero is a no-frills new car that prioritises value for money, but cheap does not equal nasty in this instance. Do bear in mind that the Sandero only has a two-star safety rating from Euro NCAP, however.
Prices start at just under £13,000 for the Essential version, while the top-spec Comfort cars are priced at around £14,000 and come with cruise control, rear parking sensors, an eight-inch touchscreen and Apple CarPlay and Android Auto connectivity.
5. Ford Puma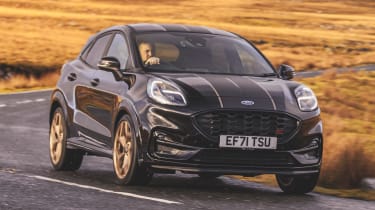 The Puma compact SUV is one of the most popular cars in Britain, and if you manage to get behind the wheel it won't take long to figure out why. It uses the brand's Global-B platform that also sits under the Fiesta, so it drives brilliantly. 
The controversial choice of using a compact coupe's nameplate from the turn of the century seems to have settled – a reflection on how good the Puma is. The current car comes with Ford's mild-hybrid unit and starts from under £25,000, undercutting the Focus by around £2,500. 
A fully-electric version of the Puma is set to arrive in 2024, which will broaden its appeal even further. 
6. Vauxhall Corsa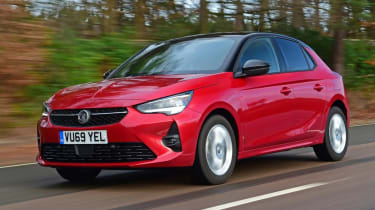 The latest Vauxhall Corsa shares a platform with the Peugeot 208, along with an all-new petrol engine. The good news is that the Corsa is a breeze to drive in everyday conditions, with the steering and other controls all feeling light at low speeds.
From the outside, Vauxhall's supermini looks smartly styled, with its clean, modern lines helping it to stand out from the crowd, while the comfortable cabin boasts good trim quality and up-to-date tech.
Away from the petrol and diesel-engined options, there is the all-electric Corsa-e, with its 134bhp electric motor and 50kWh battery set-up providing a 200-mile-plus range, along with the benefits of zero emission driving.
Vauxhall has done a great job with the latest Corsa, and buyers obviously agree because it was the best selling new car of 2021. A new facelifted model in 2023 will incorporate Vauxhall's 'Visor' grille design, bringing it into line with the Mokka and Astra.
7. Volkswagen up!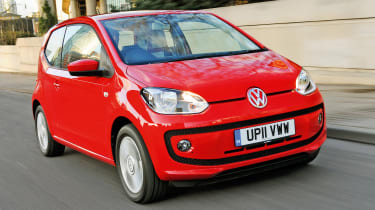 The Volkswagen up! has been with us since 2011, but a refresh in 2016 has kept the small German car competitive against fierce city car rivals such as the Fiat 500 and Kia Picanto.
The standard up! comes with a 64bhp 1.0-litre engine, while there's also a frugal all-electric e-up! model, providing low running costs and a range of up to 159 miles. The GTI version uses a 113bhp 1.0-litre TSI unit and starts from around £17,000 – making it the cheapest bona fide hot hatch on the market. 
The up!'s party piece is that it manages to feel like a much bigger car than it really is, thanks to a mature interior and refined driving experience. It's still a small car however and there are only four seats, so those in need of a central rear seat will need to step up to the supermini class.
With a classy image and an interior unmatched in this segment, the up! offers an air of impressive quality compared to its close rivals. The residuals should be better for buyers too, thanks to the more premium badge. 
The up! won our best City Car award in 2017, 2018, 2019 and again in 2020, bringing deserved recognition for its impressive breadth of abilities and demonstrating that it can compete in the tough small car segment as well. 
8. Hyundai i10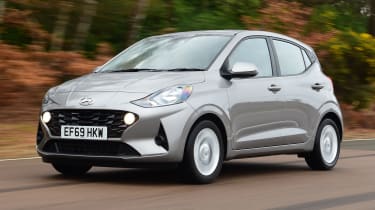 Hyundai has added tech, space and fun to its i10 city car to create a convincingly well-rounded package. The third generation Hyundai i10 made a good first impression when we drove it earlier this year with plenty of gadgets available on mid-range SE Connect and Premium models plus a light, airy cabin across the range. 
The charms of the i10 don't stop at its relative roominess (its class-leading 252 litres of boot space is only 40 litres less than a Ford Fiesta) as the i10 is also fun to drive. A quicker steering rack inspires confidence on a twisty road and makes the i10 feel agile in the corners. 
A choice of two petrol engines are offered through most of the i10 range – a 66bhp 1.0-litre unit which can feel sluggish on motorways, and an 83bhp 1.2-litre which is £500 more expensive. Both are frugal engines, but we'd stick to the manual gearbox as the automatic isn't the smoothest during shifts. Top-spec N Line versions include a more powerful 99bhp 1.0-litre variant, although this means an increase in price to over £16,000.
The i10 is larger than the old model and more comfortable too, while the Premium trim adds luxuries such as heated seats and a heated steering wheel. Considering this is on top of an eight-inch display complete with Apple CarPlay, Android Auto, Bluetooth and a DAB radio, the i10's potential gadget list is impressive.
9. Kia Picanto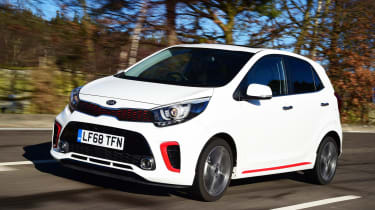 The Kia Picanto offers lots of kit and a driving experience more akin to that of a car from the class above. A recent facelift has seen more efficient engines and improved on-board tech added to the range, while Kia's excellent seven-year warranty also features – a great incentive if you plan on keeping your car for more than the usual length of a PCP finance deal.
Practicality is good for a car of this size too; all come with five doors and there's enough space in the back for two adults to sit in relative comfort. The boot measures in at 255 litres – considerably more than the 211 litres offered by the MINI 3-door from the class above.
The Picanto's range is quite long, going from the base-spec '1', '2', '3', X-Line, X-Line S, GT-Line and GT-Line S. We're particularly fond of higher trim levels in the Picanto because these offer a good amount of kit and represent good value. Go for 3 trim and you get a standard 8.0-inch infotainment screen with Android Auto and Apple Carplay connectivity, cruise control, auto-folding mirrors and a reversing camera.
10. Peugeot 208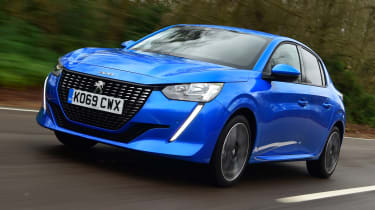 We praised the Peugeot 208 when we first drove it in 2019 for its impressive exterior and interior design, build quality and range of petrol, diesel or pure-electric powertrains. 
The supermini segment is one of the toughest and the new 208 certainly targeted the higher-end of the sector. Equivalent Renault Clios come in around £3,000 cheaper so you'd expect the 208 to excel in every area to make up for the deficit. 
Thankfully, the Peugeot 208 has one of the best interiors in the supermini class, arguably the car's stand-out feature. There's piano black plastic which looks the part, although it might not be the most durable material, and the cabin feels well put together. Configurable ambient lighting is a nice touch, too. Space inside is adequate and the boot is average-sized for the class at 311 litres. 
Driving the Peugeot 208 is a nice experience but it does highlight how polished the Ford Fiesta's chassis is. The 208's steering is short on feel, a deficiency which is amplified by the small steering wheel. The 128bhp 1.2-litre three-cylinder engine is excellent, however, and if you match it to the eight-automatic gearbox you have a remarkably refined powertrain.
Best small cars: buying advice
It's worth starting your hunt by having a clear idea of your small car needs before you start. Consider your likely mileage, number of passengers, boot space requirements, number of required doors and any must-have features or options.
Consider your budget, and remember to think about fuel and insurance costs, too. Modern petrol engines have come a long way in the last few years, especially in smaller models – as such, diesel-powered small cars are becoming increasingly difficult to recommend. We recommend only choosing one if you plan to do mostly long-distance motorway work. Small turbocharged petrol engines are designed to provide decent performance without sacrificing economy – they are great all-rounder options for mixed driving.
Buying a new car – your complete guide
One of the most important aspects of buying a new car is a test drive; a car that fits your needs on paper may not feel that way in person. Be sure to test your small car on roads similar to those you plan to do most of your day-to-day driving on – it makes sense to get an accurate idea of what to expect once you buy.
Keep an eye out too for great deals – small cars are often subject to some of the best discounts. Deposit contributions and 0% finance deals are common, as are insurance deals.
Looking to make a big saving on the used market? Check out our list of the best used small cars.
Source: Read Full Article