'This really is a great time to buy a new car'
Steve Fowler points out some great new car deals to be had in post-lockdown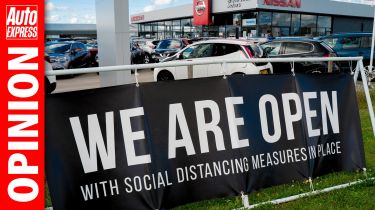 It's very tricky to buy a car well, but all too easy to buy one badly. There's no escaping the need to put in a bit of legwork to get a good deal – although we're always here to help – while choosing the right time to buy is crucial in getting the right deal.
 As showrooms reopen at long last, your local car dealer will be very pleased to see you – with all the appropriate safety measures put in place, I'm sure.
Can I buy a car during the Covid-19 lockdown? Dealers reopen today
I've been pretty critical in the past of how dealers have been slow to adapt to the digital age, but they've done a remarkable job of keeping sales and deliveries ticking over while showrooms have been shut.
 Allowing us back in to touch, feel and drive cars will be a big bonus, though, and to welcome us back there are plenty of deals out there – and it's not only on the many cars that are sitting around waiting for homes to go to.
My nephew and his girlfriend have just placed an order (with a 10-week wait) for a brand new Skoda Kamiq 1.0 SE at £135 per month with nine months down. What a deal. They reported impressive service from Marshall Skoda in Croydon, too (nice to hear).
They've gone for a straight lease deal this time. It's always worth doing the sums to see what the total spend is and what suits you best. Personal leasing often comes up cheaper than the more common PCP plans, assuming you've no desire to own the car at the end of the term.
I could spend hours online dreaming about some of the deals out there right now. A new Vauxhall Corsa (a great car) for just £119 a month with £1,266 down. A Citroen C5 Aircross (decent spec and automatic) for £199 a month and less than £300 down. Or – and I'm really tempted by this – an all-electric Renault Zoë, GT Line model with the rapid charging add-on and 239-mile range for £183 per month and £1,871 down.
Of course deals change and that's just a snapshot of the market, but this really is a great time to buy a new car.
Check out some of the best new car deals here…
Source: Read Full Article