"There's plenty of life left in motor shows yet – and we love 'em"
Editor-in-chief Steve Fowler is pleased to see that the 2021 Munich Motor Show is proving to be such a success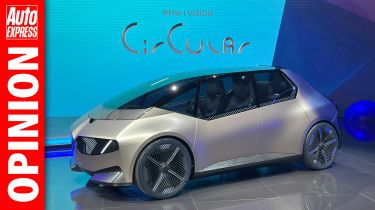 How we've missed motor shows. It seems like a lifetime ago that the 2020 Geneva Motor Show was being cancelled, car reveals all went online and we wondered whether we'd ever be back in a show hall again.
The world has changed so much in a relatively short period of time and the Munich Motor Show – which won the battle for German motor show Euros with traditional host city Frankfurt – is well under way.
Munich Motor Show 2021: news round-up and all the cars
As a tentative toe back into the motor show waters, not every car brand is in Munich. The locals are very much out in force, but the rest of the world's car makers have been keeping a watchful eye on things – with some jumping in seemingly at the last minute.
Of course, the main reason for a motor show is to show us cars, with concepts like the BMW i Vision Circular – BMW using its home show to highlight its work on sustainability and what the future holds.
Amongst the mix of future-gazing (Audi Grandsphere) and upcoming production cars thinly disguised as concepts (here's hoping the Porsche Mission R and Cupra UrbanRebel turn into toned-down models we'll be able to buy in showrooms), there are new car launches like the Renault Megane E-Tech Electric.
It's quite a smart move by Renault to hijack the big German show to reveal such an important new model and there will be plenty of rivals monitoring the coverage the new Megane gets. It could be the key to the success of future motor shows.
Of course, shows are not just about the cars, they're about the people and an opportunity for networking amongst industry folk that's just not possible over a video call. They're also the best opportunity for us to talk to the people behind the cars to be able to give you the lowdown on what's really happening in the car world.
What Munich has shown in this changing world is there's plenty of life left in motor shows yet – and we love 'em.
Click here for our gallery of all the best cars on display at the 2021 Munich Motor Show…
Source: Read Full Article