The M6 toll: prices and alternatives explained
The the M6 toll can save you valuable time if you want to avoid congestion through Birmingham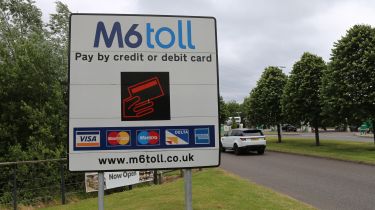 If you've ever battled your way through the heart of Birmingham on a heavily congested M6 motorway, you'll understand why traffic planners came up with the idea of a northern relief road for the city.
The route was conceived to take the weight off the M6, and ease journeys to London and the South East for long-haul traffic heading there from north west cities like Liverpool or Manchester. Local traffic would continue to use the existing M6 motorway, as would traffic heading to other parts of the country such as North Wales or the West Country. The preferred route of the M6 Toll was published in 1986, splitting off from the M6 and rejoining it at junctions 3a and 11a – a distance of 27 miles. 
The Dartford Crossing: how to pay the Dart Charge toll and appeal a fine
In 1989 the government announced the new road was to be privately funded. A consortium called Midland Expressway Ltd won the rights to build and operate the road for a period of 50 years. The M6 Toll took three years to build and was opened in late December of 2003, the perfect Xmas present for drivers who wanted to escape the ordeal of the existing motorway route through Birmingham.
M6 Toll traffic flows have never been as high as originally predicted though, a fact for which the significant M6 Toll charges have been blamed. That's arguably good news for drivers who don't mind coughing up, but there are other factors that come into play for drivers contemplating the M6 versus the M6 Toll when route-planning. Depending where you're headed, it's not always the most practical option for drivers in the area, so it pays to study the alternatives before setting out.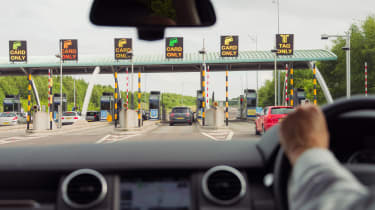 When should you use the M6 Toll road?
The M6 Toll was designed primarily to provide an easier route for traffic driving past Birmingham when travelling from the north west of the country to London and the south east.
In that case the road makes perfect sense, and drivers heading north or south on the M6 will find themselves directed seamlessly onto the toll road. Too easily, some would say, as the M6 Toll junctions at either end are laid out as though they are the primary through-route of the M6 motorway itself. 
The layout of the lanes is such that avoiding the M6 Toll feels like turning off the original M6 motorway, because two 'straight ahead' lanes take you onto the toll road while keeping to the original M6 requires you to 'turn off' via the left-hand lane.
Mersey Gateway Toll explained: how to pay the Merseyflow charge
As a result it's quite common for drivers to end up taking the M6 Toll by accident, and if you're using a sat-nav for directions you'll often be routed via the toll road automatically because it's quicker – if no more direct. (Unless you've turned off toll roads in your nav system set-up, in which case you'll automatically avoid it.)
If you're heading to or from the South West, you can't use the M6 Toll because it doesn't connect to the M5. In particular if you're heading to the southwest via the M6 you need to take extra care not to end up on the M6 Toll by mistake. If you do, you'll end up paying the toll and being carried miles off your route as the M6 Toll bears towards the south-east.
The M6 Toll is arguably not much use to drivers using the M54 on the eastern side of Birmingham, and they too must rely on the old M6.
How much time does the M6 Toll save?
According to the toll operator, customers report an average time-saving of 25 minutes compared to using the non-toll option. However when the M6 Toll road time savings were first predicted figures of 45 minutes were quoted, and there's no doubt the original M6 can still throw up some horrific snarl-ups even though traffic flows have improved. 
How much is the M6 Toll?
The M6 Toll charges for cars and lorries vary according to vehicle size, and when you travel.
Vehicles are classified by type as follows:
Class 1: Motorbikes
Class 2: Cars
Class 3: Cars with trailers
Class 4: Vans and motorhomes
Class 5: HGVs and coaches
During the week there are standard day and night rates, plus discounted off-peak periods in the morning and evening. Weekend charges are split only into day and night rates, and if you exit at any M6 Toll junction along the route without getting to the end, you also pay a reduced charge.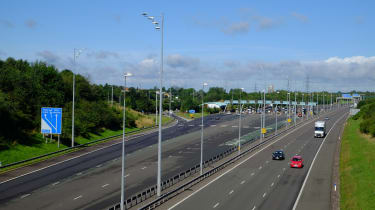 Weekday M6 Toll charges for cars 
 

Full route

Early junction exit

Day rate

(7am – 7pm)

£6.90

£4.90

Off peak rate 

(5am – 7am

and 7pm – 11pm) 

£6.70

£4.90

Night rate

(11pm – 5am)

£4.30

£3.30
Weekend M6 Toll charges for cars
 

Full route

Early junction exit

Day rate

(5am – 11pm)

£6.90

£4.90

Night rate

(11pm – 5am) 

£6.70

£4.90
All journeys are discounted by 5 per cent if you pay using a windscreen TAG. (See below)
How to pay the M6 Toll
The operator of the M6 Toll road has traffic-light controlled toll booths – also referred to as 'plazas' – at the north and south ends of the motorway, much like those you'll find on the autoroutes in France. These are referred to as the mainline toll plazas, and are located at Weeford Park for southbound drivers (between junctions T4 and T3) and Great Wyrley going northbound (between junctions T6 and T7)
M6 Toll local junction plazas provide limited opportunities to leave the M6 Toll. They are situated at junction T3/Langley Mill for Sutton Coldfield and the A38, T4/Weeford Junction for Tamworth, the A38 and A5, T5 for Shenstone and Lichfield, and T6/Burntwood for Cannock and the A5.
No cash payments – cards and contactless only
As you approach one of the mainline plazas there are reduced speed limit signs to slow traffic, and the road splits into multiple lanes each of which will have either the TAG symbol or the Card Payment symbol prominently displayed above it. Alternatively you may see a red cross which means that lane is closed.
M6 Toll TAG Payments
TAG is an electronic pre-paid device that you mount in the windscreen of your vehicle, and which allows you to cruise through the TAG lane at the plazas without stopping. Payments are debited automatically from your account, which must always be in credit for the system to work.
To encourage drivers to use TAG, there is a 5 per cent discount of each journey. You can keep up to date with your account details and charges online.
M6 Toll card payments
You can also pay for your M6 Toll journey using a credit, debit or fuel card. Contactless payments are available too, although you can't yet use Android or Apple Pay.
What to do if you can't pay the M6 Toll?
If you don't have a means of payment that's acceptable when you arrive at an M6 Toll Plaza, you must use the Call For Assistance button in your toll lane. An operator will take details, and you will be issued with a Payment Notice that allows you to pay online. Be aware that if you fail to settle a payment notice on time, you can incur a £70 penalty.
Is there a service station on the M6 Toll?
Norton Canes service station is located between junctions T6 and T7 on the M6 Toll, and offers the usual array of brands supplying fuel, food and supplies for travellers. You can park free for two hours, and there's a Days Inn hotel on site for overnight stays.
What are your tips for using the M6 Toll? Let us know in the comments…
Source: Read Full Article