"The Lucid Air is head and shoulders above a Tesla Model S"
Editor-in-chief Steve Fowler recently got behind the wheel of the all-electric Lucid Air and was very impressed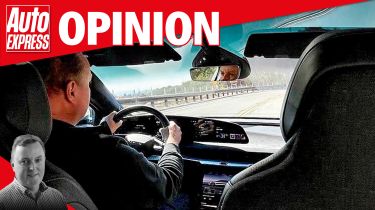 One of the most talked-about cars in the US right now comes from start-up brand Lucid, led by Brit Peter Rawlinson. Its all-electric Air saloon famously offers more than 1,000bhp and a 0-60mph time of 2.6 seconds.
So when I was out in the US recently on World Car Awards judging duty, the Lucid Air was one of the first sets of keys I grabbed. And as expected, it was something else.
New Lucid Air 2022 review
The power and performance figures are almost a side issue; the ability of the Air to travel around 500 miles between charges is the bigger story. Yes, it has a big battery – a whopping 112kWh in the version I drove – but with Lucid it's all about the efficiency, something the firm says should be the biggest talking point with EVs.
I agree. Miles per gallon is hugely important with our petrol and diesel cars, so we should all be focusing on miles per kilowatt hour when it comes to EVs. And for the record, the Lucid boasts a massively impressive figure of 4.6mi/kWh – which is how it can achieve such spectacular figures for its range.
Talking to the guys from Lucid, they reference Mercedes and BMW as rivals (and the BMW i7 that I also drove for the World Car Awards is another very impressive thing). The one brand they don't mention is the obvious one: Tesla. Yet for my money, the Lucid is head and shoulders above a Tesla Model S. It drives and rides better, is built better and the tech is more usable.
Lucid's next model, the Gravity, was also previewed last week. And although we don't yet know when, we were assured we'll see Lucids in the UK in the future.
The Lucid is very much a premium product, but another World Car Award contender that impressed me was the Hyundai Ioniq 6. It'll be a fraction of the price of the Air, but it also has efficiency at its heart and will go further on one charge than its Tesla rival, the Model 3. Tesla sales are still flying right now, but the competition's hotting up fast.
Click here for our list of the electric cars with the longest range…
Source: Read Full Article