The fastest accelerating cars in the world 2021
0-60mph (and 0-62mph) times have been dropping like stones. Here are today's fastest accelerating cars, as claimed by the manufacturers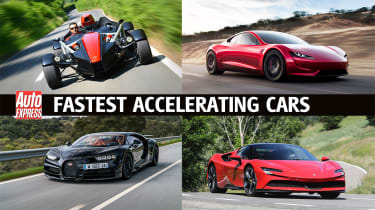 Acceleration is one of the biggest thrills that a car can bring, and with a number of manufacturers now utilising the instant power delivery of the electric motor, a sub-3 second 0-60mph time is now almost commonplace in the upper echelons of the performance car world. The fastest accelerating cars are still pushing at the boundaries though, with manufacturers continuing to place value on out-pacing their rivals in a straight drag race. 
Though the 'nought to sixty' time is the most common method of measuring a vehicle's acceleration, this isn't without its flaws. Some manufacturers are decidedly vague when it comes to providing accurate acceleration information. Some overstate their cars' abilities, while others have been known to underestimate 0-60mph times for one reason or another.
Best track day cars 2021
Then there's the act of performing the acceleration test itself. Was launch control used? How smooth was the road surface? What equipment was used to measure the speed? What was the weather like? As there's no universal standard for all of these variables or many others, there's no way of truly knowing if one car is faster than another without putting them side-by-side on a runway.
The final curveball is the phrase 'nought to sixty' itself, which can refer to 0-60mph or 0-100kph (0-62mph). The disparity is slight, but the difference could be as much as a tenth of a second.
Gathering together more than a dozen of the world's fastest accelerating cars for an ultimate 0-62mph showdown would be a tad expensive and probably still wouldn't give us an undisputed winner. That's why, instead, we've put together the following list based on manufacturer claims alone.
We're well aware that the numbers may not be entirely accurate, and yes, we're also aware that plenty of people have recorded faster/slower real-world times. But on official times for current, unmodified production cars these are the quickest accelerating cars. So here we go…
Scroll down to view our list of the fastest accelerating cars on the planet in reverse order…
Fastest accelerating cars 2021
These are the fastest cars over the benchmark 0-60mph/0-62mph sprint, according to the manufacturers' official claims…
Lamborghini Huracan Evo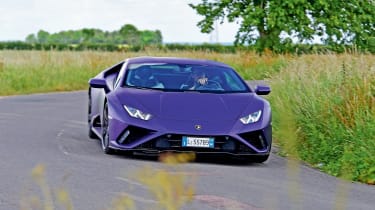 Some may feel that it's less unhinged than many of its predecessors, but that hasn't made the Huracan any less of a thrill. As is often the case with Lamborghini, there have been a number of editions of the Huracan, all of which are powered by a 5.2-litre V10, but the current Huracan Evo coupe holds the fastest accelerating title with a 2.9s time.
Ferrari 812 Superfast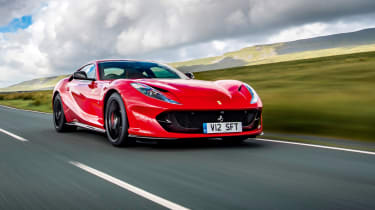 A flagship Ferrari should be fast, that's obvious, but with a name like Superfast, the 812 really had to put its money where its mouth is. Fortunately for Ferrari, the 6.5-litre V12 will happily launch it from 0-60 in just 2.9 seconds, onto a top speed of 211mph. 
McLaren 720s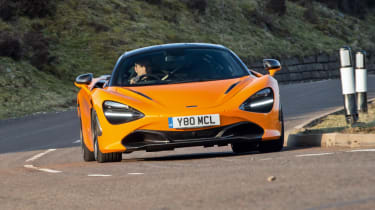 With performance matching the mighty P1, the 720s has already proven itself as another all-time great from McLaren. Though there are now some faster offerings available from the brand, this is the most road-oriented car of the McLarens on this list, so 2.9 seconds is more than adequate.
Radical SR8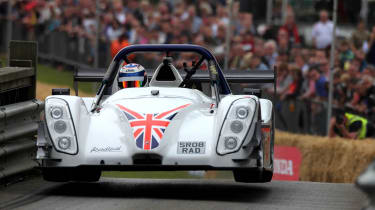 The third generation of the SR8 combines an overall weight of 725kg, a high-revving (10,500rpm to be precise) V8, and a power-to-weight ratio of 559bhp/tonne. You don't need to be a genius to work out that this results in an absolute track monster that will lap Silverstone in less than 2 minutes.
Caterham Seven 620R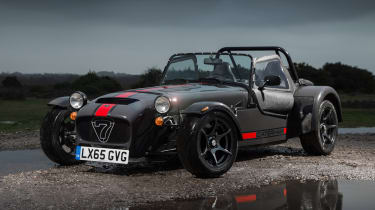 The styling is old-school, but not the performance. Underneath the iconic 7 body is a supercharged 2.0-litre 4-cylinder Ford Duratec, and while this may sound rather small compared to the majority on this list, do not be fooled as the 620R weighs a mere 610kg.
Koenigsegg Regera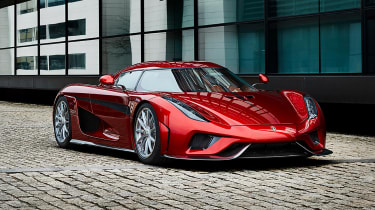 An excellent example of how hybrid technology isn't just for reducing emissions. The 5.0-litre twin-turbo V8 and a trio of electric motors provide the power in Koenigsegg's hypercar, while the brand-new 'Autoskin' system ensures that the Regera has the aerodynamics to match. 
Lamborghini Aventador SVJ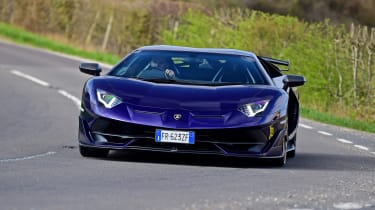 For those moments when a regular, V12 Lamborghini just doesn't cut it for you, the SVJ takes the Aventador to the next level. Improved aerodynamics and weight reduction allow the glorious 6.5-litre V12 to perform just that little bit better. 
Porsche Taycan Turbo S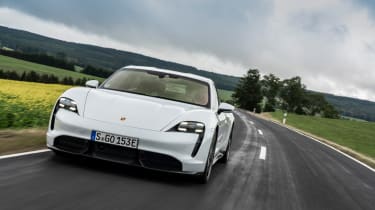 Some were concerned when Porsche announced its first fully-electric model in 2019, and there were even claims that it 'wouldn't be a proper Porsche'. In fact, the Taycan is an enjoyable drive, reasonably practical and the Turbo S model achieves 0-60 in 2.8 seconds. So the brand's answer to these concerns is pretty clear.
McLaren 765LT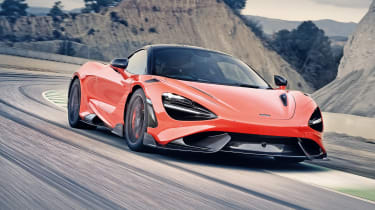 The 765LT has undergone a series of upgrades compared to the 720S in order to achieve a small but significant 0-60mph reduction. A new aero package, tuning of the 4.0 V8, and even thinner glass are just some of the measures taken to make the 765LT into something very special indeed.
McLaren Senna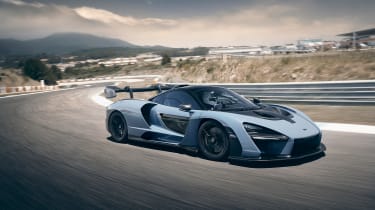 The McLaren Senna was named after the world-renowned racing driver Ayrton Senna, and is 'the most track-focused road car' McLaren have made. It is designed to be the quickest McLaren around any track with its powerful 789bhp V8 and highly sophisticated aerodynamics, the Senna certainly lives up to its name. 
Ariel Atom (3.5)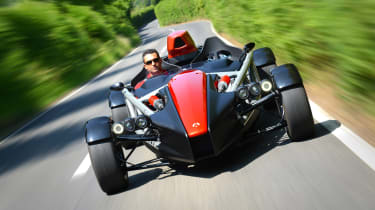 The latest generation of Atom doesn't look much different on the surface, it still doesn't have any doors or windows, and it's this lack of creature comforts that makes the Atom great at what it does. The 3.5 utilises Ariel's findings from the development of the V8 to help make improvements to the chassis, resulting in a phenomenal track car.
Lamborghini Siȧn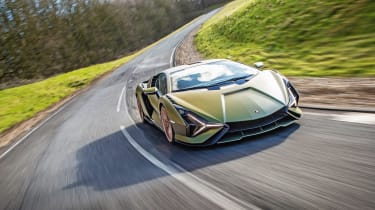 This limited-run supercar is a new direction for Lamborghini. The exquisite 6.5-litre V12 is present, but this time it is accompanied by an electric motor fed by a supercapacitor, resulting in an added 33bhp. Given the success of other supercar brands using hybrid technology, the future looks very bright for the raging bull.
Radical RXC GT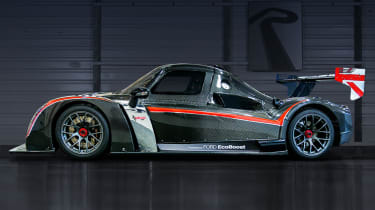 Radical's cars are exactly that – radical. The RXC GT is probably the most extreme of all, channelling all sorts of prototype race car DNA having been built off the back of Radical's SR9 Le Mans project. Generating 900kg of downforce, it's hard to believe this car is road legal. But it is.
Porsche 911 Turbo S (with Sport Chrono package)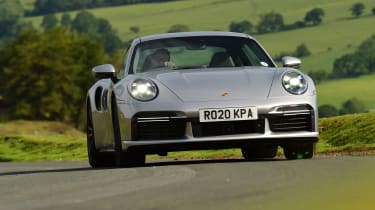 When a car exists in some form for well over half a century, it has to be doing something right. The latest version of the legend from 1963 is the 992, which was first revealed to the world in 2018. All 992s will achieve 0-60 in under 4.5 seconds, but the Turbo S is currently the fastest. Opt for the Sport Chrono package and it will see 62mph in 2.7s.
Tesla Model S P100D (with Ludicrous Mode)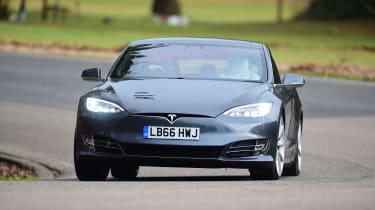 Though it may have been primarily intended as an environmentally-friendly executive car, the Model S has an astonishing turn of pace – especially with Ludicrous Mode equipped. The instantaneous acceleration that comes when the electric drivetrain is let off the leash will throw occupants back into their seats.
Ferrari SF90 Stradale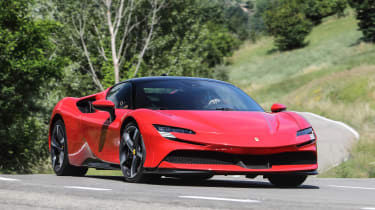 The first ever Plug-in Hybrid Electric Ferrari is yet another example of the brilliant matching of internal combustion and electricity that's becoming commonplace in the modern hypercar world. The SF90 is a strong counter-argument to the phrase 'there's no replacement for displacement', as it will accelerate from 0-60mph 0.4 seconds faster than the 812 Superfast, even though it has 4 fewer cylinders.
Bugatti Divo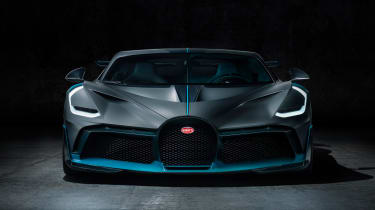 There won't be many surprises about this car being towards the top of this list. The Divo is the first modern, coachbuilt Bugatti, and has been constructed with the track and its corners in mind. Distinctive handling, along with their signature 8.0-litre W16, means that this is truly something special. But, then again, is there a Bugatti that isn't? 
Bugatti Chiron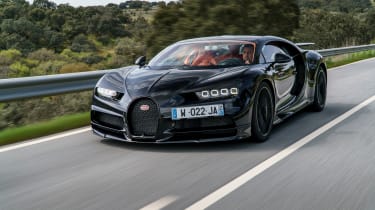 Compared to the Divo, this 8.0-litre, quad-turbocharged, £2.5 million hypercar is the more 'mainstream' Bugatti. Although it isn't as handling-oriented as the Divo, the Chiron is just as much of a goliath on the straights, reaching a limited top speed of 261mph.
Dodge Challenger SRT Demon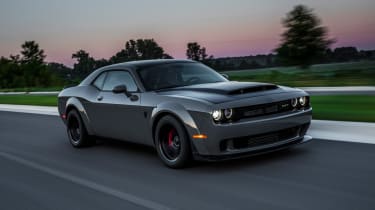 The 829bhp Challenger SRT Demon caused a storm when it was launched, partly because of its claim to be the fastest production car to 60mph, but also because it had a tendency to lift its front wheels off the ground in the process. Although it can hit 60mph in its claimed 2.3 seconds, it does require changing a lot of the standard car, including the tyres and even the type of fuel it runs on, all of which comes at an additional cost of $1. 
Ultima RS LT5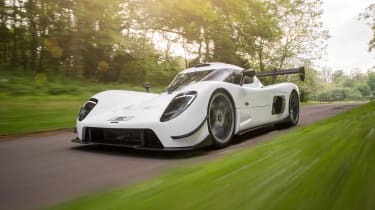 Not to be outdone, Ultima is actually responsible for two of the three fastest cars on this list. Ultima's cars are powered by Chevrolet's infamous LS V8, with the LT5's engine being tuned to deliver a whopping 1,200bhp, in a car that weighs just 930kg. Also, the Evolution Coupe is what the brand is calling the 'most sophisticated model ever'. Suspension and chassis revisions, a composite body, and 1,020bhp make for another road-legal car from Ultima that can absolutely dominate the track, too.
Fastest accelerating cars: full list
Ultima Evolution Coupe (supercharged) & Ultima RS LT5 – 2.3 seconds (0-60mph)
Dodge Challenger SRT Demon – 2.3 seconds (0-60mph)
Bugatti Chiron – 2.4 seconds (0-62mph)
Bugatti Divo – 2.4 seconds (0-62mph)
Ferrari SF90 Stradale – 2.5 seconds (0-62mph)
Tesla Model S P100D (with Ludicrous Mode) – 2.5 seconds (0-60mph)
Porsche 911 Turbo S (Sport Chrono package) – 2.7 seconds (0-62mph)
Radical RXC GT – 2.7 seconds (0-60mph)
Lamborghini Siȧn –
Ariel Atom (3.5) – 2.8 seconds (0-60mph)
McLaren Senna – 2.8 seconds (0-62mph)
McLaren 765LT – 2.8 seconds (0-62mph)
Porsche Taycan Turbo S – 2.8 seconds (0-62mph)
Lamborghini Aventador SVJ – 2.8 seconds (0-62mph)
Koenigsegg Regera – 2.8 seconds (0-62mph)
Caterham Seven 620R – 2.8 seconds (0-60mph)
Radical SR8 – 2.8 seconds (0-60mph)
Ferrari 812 Superfast – 2.9 seconds (0-62mph)
Lamborghini Huracan Evo – 2.9 seconds (0-62mph)
Future cars to look out for
Each passing year sees a new batch of sports, super and hyper cars attempt to be faster and more powerful than their rivals. This constantly raises the bar to the point that it can be tricky to keep pace. Below is a list of cars coming out over the next few years which could enter our list of fastest accelerating cars…
Aston Martin Valhalla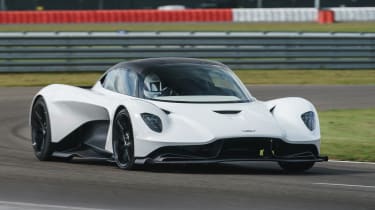 Otherwise known as Project AM-RB 003, Aston Martin's upcoming Valhalla will be powered by a turbocharged V6 and a battery-electric hybrid system. This, mixed with an all carbon-fibre build, should result in a car with performance that's almost as awesome as the name.
Lotus Evija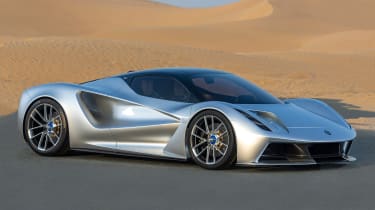 It certainly looks exciting enough, and a colossal 1,973bhp should easily give the Evija the performance to match. Current figures from Lotus are stating that the car will achieve 0-62mph in under 3.0 seconds, but it wouldn't come as a surprise if it turns out to be even faster.
Mercedes-AMG Project One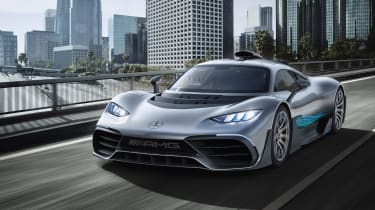 Mercedes is bringing its Formula 1 hybrid technology to the road with the Project One, meaning that speed should be a given. There have been a few 0-60mph figures rumoured already, and while these do vary, they are all well under 3 seconds.
Pininfarina Battista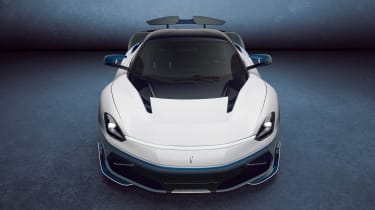 Pininfarina is claiming that it's 'the most powerful Italian sports car ever', so the Battista will have some huge shoes to fill from day one. 1,900bhp delivered through a fully-electric drivetrain should mean a claimed 0-60mph time of less than 2.0 seconds. The question now is – How much less than two seconds?
Rimac Concept Two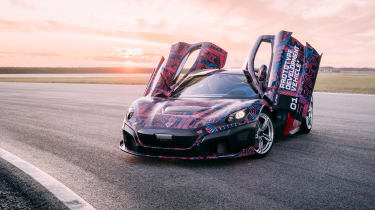 Rimac sent shockwaves through the industry when it revealed its Concept One to the world, so it was a tall order for the manufacturer to make its Concept Two even better. Rimac is well aware of this fact and is claiming a 0-60mph time of a mere 1.86 seconds for the follow-up. If that isn't incredible enough, the firm is also claiming a 258mph top speed, so don't blink or you will literally miss it.
Tesla Model S Plaid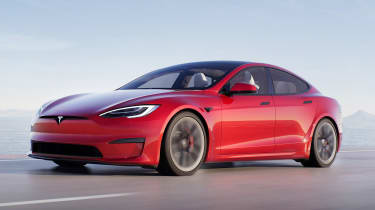 The P100d's Ludicrous Mode lived up to its name, but it seems that wasn't enough for Tesla. The upcoming Plaid edition of the Model S is available to order with a claimed 0-60 figure of just 1.99 seconds. This would mean that an electric executive saloon with a claimed range of 390 miles could obliterate almost everything else on this list, so 'game changer' would be an understatement.
Tesla Roadster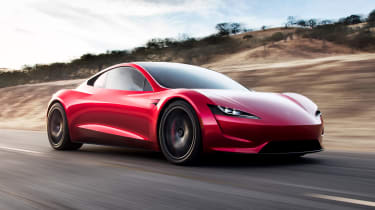 Tesla's upcoming Roadster looks to make some enormous improvements over the original from 2008. Improved production methods and technology mean that the brand is claiming a 1.9-second 0-60mph time, a 250mph top speed and over 600 miles of range. Will it deliver on these claims? We should hopefully find out next year.
Got a suggestion for a model we might have missed? Then make your case in the comments section below
Source: Read Full Article