'The death of cheap cars will be a travesty for personal mobility'
Our appetite for small, cheap cars is as strong as ever – although Mike Rutherford warns they may no longer be profitable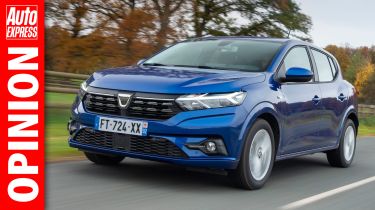 We all want a greener future for our kids, but how much are we willing to pay for it? Well, according to Skoda boss Thomas Schäfer, that cost, at least as far as new cars are concerned, could be £20,000. Such a price would lead to the demise of not only the city car class, but possibly superminis, too.
The reason for this? The forthcoming Euro 7 regulations. They're still to be fully defined, even though they'll come into force in 2025, and they could make it extremely hard or even impossible
for car markers to turn a profit on small, cheap cars. The brilliant global car industry is currently hobbled by an ever-moving target that will ultimately define what we can and can't buy – or more pertinently – what we can or can't afford to buy.
Cheapest hybrid cars 2021
We're talking about models that are frequently unapologetically unglamorous, about as accessible and down to earth as you can get, being replaced by more expensive electrified models. Attainable small cars occupy a vital position at the bottom end of the price scale. Most cheap-as-chips vehicles like this are currently in rude health and great demand, not just in Europe, but around the world. They should stay that way, too, because they are the very models in showrooms that the majority of buyers can afford.  
The proof is in the sales stats. In July, the latest month on record at the time of writing, the VW Polo and Toyota Yaris were the UK's best-selling cars of the month, and the Ford Fiesta and Vauxhall Corsa the biggest sellers of 2021 so far. For Europe, the humble Dacia Sandero has been outselling everything else for much of this summer. What's more, plenty of other titches below, at, or just above four metres in length have cleaned up, too. Surprise, surprise – larger, more upmarket sports cars, saloons, MPVs and estates beyond the financial reach of the majority have sold in low volumes. That modest, no-frills Sandero says an awful lot about the needs and disposable incomes of Europe's motoring masses – a comparatively wealthy part of the world, don't forget.
It's no coincidence that it and the tiny Citroen Ami are both North African built, both boast 'least expensive cars on the market' status and are both attracting record levels of orders, interest and intrigue. Seems clear to me that value for money has become increasingly important, country of vehicle manufacture, almost irrelevant. On a related point, low-budget but reasonably well-made Chinese MGs are currently selling like hot cakes – another fine example of how consumer prejudices are changing for the better.
Quite what the likes of Skoda need to do to reduce the emissions of their combustion engines to meet Euro 7 standards is all a big work in progress. If the EU regs hit hard, the cost of re-engineering and associated costs may indeed sound the death knell for small, affordable cars. But here's an idea: go back to basics. Replace carpets with rubber, remove the myriad cameras and ditch the expensive upholstery, because the death of the sub-£20k car will be a travesty for personal mobility and freedom, a disaster for those of us who love cars, and unthinkable for the millions who work in this amazing industry.
Find out the cheapest cars on sale here…
Source: Read Full Article