The 2021 Cadillac Escalade Stands Tall and Delivers Spacious Refinement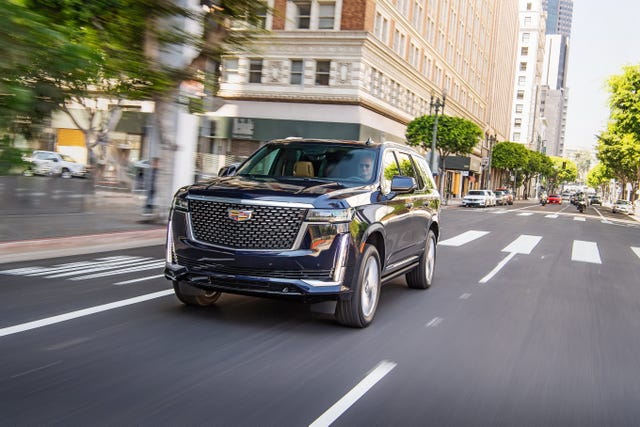 Long gone are the days of gratuitous cladding and tacked on bits to force you to realize this is not a Chevrolet Tahoe or GMC Yukon. The 2021 Cadillac Escalade enters its fifth-generation with clean lines and big presence. Well, big everything. You get a massive grille with an equally enlarged Cadillac crest. You get seemingly yardstick long vertical daytime running lights that only begin to look diminutive as your eyes take in the front of this thing as a whole.
From the side, it's a big box, though an elegant one. The chrome like strip running the perimeter of the windows accents the shape without looking overwrought, as does the metal strip running along the base of the doors. As you look around to the back, you notice a roof mounted spoiler on top of the big lift gate. I could do without the fake tailpipe outlets that look about the right size for a freight train. But the vertical taillights look sharp.
You are looking at an Escalade that's eight-inches longer than the outgoing model, now spanning 211.9-inches bow to stern. The wheelbase takes up 120.9 of those inches, five-inches longer than before. The Escalade rides on a new platform with, for the first time, independent rear suspension. Switching to a multilink set up in back allowed Cadillac to lower the truck's floor. That and some reconfiguration gave third passengers an additional 10-inches of legroom.
Hauling this down the road is a standard 6.2-liter small-black V8. Output peaks at 420 hp at 5,600 rpm and 460 lb-ft of torque at 4,100 rpm. And you're never far from those peaks thanks to a 10-speed automatic transmission.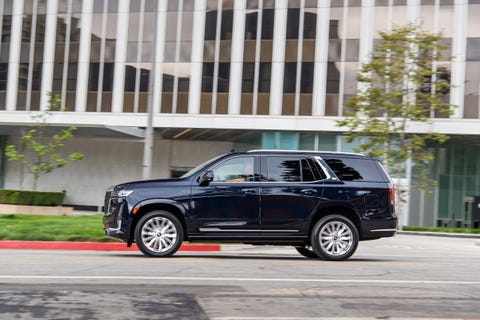 For the first time, Cadillac is offering an oil burner as an option, a 3.0-liter, inline-six diesel producing 277-horsepower and the same 460-lb-ft of torque. The diesel comes to dealers late this year. By the way, those torque peaks calculate to 623 Newton meters. Cadillac rounded down and put the number 600 on back on the right hand side of the lift gate.
Inside, you are met with three curved organic light emitting diodes, or OLEDs, that line-up next to each other to provide the driver one continuous view of screens, adding up to more than 38-inches of screen space when measured diagonally. You could argue it's over the top, but you'd be wrong. Two of the three are quite customary these days: an instrument cluster and a center console screen. Cadillac merely added a small one to the driver's left giving pertinent information, like fuel economy.
It is long. And curved screens are trendy today. But it is, ultimately, less staggering than the 36-speaker AKG stereo offered in this thing. That's three-dozen speakers! Moreover, it also functions as a PA system, as built-in microphones are embedded in throughout the interior to pick up voices and broadcast them throughout the speakers. A karaoke setting can't be fair behind.
Furthermore, Cadillac tied the sound system to the navigation system so voice commands to turn right comes from the right side speakers and left comes from the left. It's a neat trick. But Cadillac's semi-autonomous Super Cruise system is soon to be available in the Escalade, too, including a new driver-attention system and LIDAR mapping.
It was easy to pay attention with such a commanding view of the road. I found myself looking eye-to-eye with heavy-duty pick-up trucks. It's all part of the Escalade's larger aura. There's definitely a strong sense of conspicuous consumption that comes with it. Or maybe it's ostentatious opulence. Regardless, if you roll in an Escalade, it's about the same as carrying around an inflatable gorilla holding a big "look at me!" sign. It's not subtle.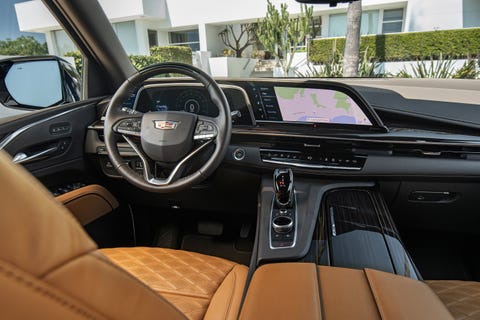 But it's also very convenient. It's nice to get massaged in the morning as your back stays warm and you grab your Venti latte from the cup holder. My phone rested and charged wirelessly as well as connected to Apple Carplay, making easy work of Waze and podcast listening without me plugging in a thing.
Furthermore, cruising at 80 mph was easy with impressively little wind and road noise considering the exceedingly large hole punched into the air. Not to mention the standard—standard—22-inch wheels with 275/50R22 tires rolling on the road. But the optional magnetic ride control and load-leveling air suspension make for a cushy ride. Traveling in an Escalade is indeed a sense of occasion — a quiet and comfortable one.
You're forgiven to be a touch underwhelmed by the engine specs at first glance. For something so large and quintessentially Cadillac, 420 hp and 460 lb-ft of torque lacks wow factor. But the 10-speed automatic means you're never far from those peaks and shifts happen both quickly and seamlessly. The power is distributed really well, too, thanks to an optional electronically limited-slip differential. Put it all together and it's good ol' Americana impressive.
And even though the Escalade continues to grow in size, it's remarkably nimble. Don't mistake that for athletic, or sporty, but it's entirely competent managing a few bends at speed. The big box body certainly rolls side to side, but the dampers and springs keep the body in control and the tires grip harder than you initially expect.
I'm not recommending this becomes your canyon carver of choice, just know you have a fighting chance when an emergency evasive maneuver becomes necessary, fully loaded with kids and cargo, no less, while pulling a boat, in the rain. These things happen.
Emergencies aside, you have plenty of room for kids and cargo. The two who sit in the second row each get their own 12.6-inch screen to play with replete with HDMI ports and 110-volt outlet, turning your SUV into a gaming room if you want. There's also a reasonable size third row with decent luggage space behind it or press a couple buttons to fold that third tow down and have ample space for luggage, dogs, and probably a small air-hockey table, too. There's another 110-volt outlet back there to power it, too. The Escalade is big is my point.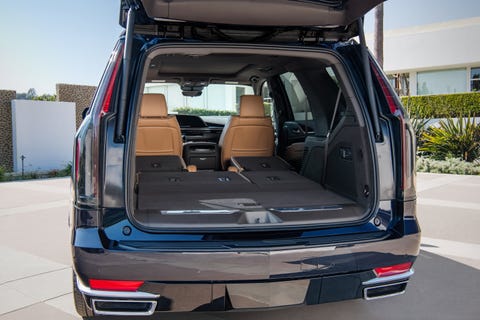 Upfront, everything feels high-end: nice leathers, wood grain, and soft touch plastics surround you from top to bottom. The shifter moves precisely and the rotary dial, one of three ways to command the infotainment systems (you can also use voice commands and steering wheel buttons), has nice haptic feedback to keep things as you wish. The variability in the seat adjustments is nice; you adjust lumbar, bolster, and massaging all with one dial next to the seat bottom and seat back adjustments. It's all very tidy. And, obviously, it's plenty spacious, too.
I just wish Cadillac made this level of refinement available in a smaller, lighter package. This new Escalade, when equipped with all-wheel-drive, weighs 5,823 lbs! And this is the smaller of the two Escalade's available. The longer ESV model stretches 227-inches and weights just shy of three tons.
In my drive, I managed all of 17 or so mpg, conspicuous consumption indeed. That's nothing Cadillac did wrong, I suppose, just where we are as a society.
The latest Escalade maintains its baller status looks, but jumps up a peg in refinement. With a $77,490 starting price that's darn decent value. Even more so considering it's big enough to double as a den when parked in the garage. Air hockey anyone?
Can you believe that ridiculous thing Autoweek just wrote? Someone should write them a comment! Why not you? Sign up and do it now, just below.
Specifications
2021 Cadillac Escalade 4WD Platinum
2021 Cadillac Escalade 4WD Platinum
On Sale:
soon
Base Price:
104,290
Powertrain:
6.2-liter V8 10-speed automatic transmission, AWD
Output:
420 hp at 5,600 rpm, 460 lb-ft of torque at 4,100 rpm
Wheelbase:
120.9 inches
Length/Width/Height:
211.9/81.0/76.6 inches
Curb Weight:
5,823 lbs
Estimated Fuel Economy:
14/19/16 mpg (city/highway/combined)
Pros:
Impressive levels of refinement for something with roots to the Silverado
Cons:
Too big for me
Source: Read Full Article