Test Drive Unlimited Solar Crown First Trailer Released
Nacon and KT Racing have revealed a first official trailer for the next game in the Test Drive Unlimited series, as Test Drive Unlimited: Solar Crown.
The "Solar Crown" part of the title refers to a competition series introduced in TDU2. Effectively a career mode within that game, the Solar Crown is an in-game racing series for the ultra-rich which sees players buy cars, houses, and expensive clothing to move up in the world, while advancing through the tiers of the race series by winning events.
That rather strongly suggests a similar structure for TDUSC, as does the heavy focus on casino action in the trailer. Previously, studio creative director Alain Jarniou has confirmed that players will be able to customize their in-game avatar with all manner of luxury clothes and accessories — and we see jewelry and smart watches in the trailer — to fit in with the luxury lifestyle of Solar Crown.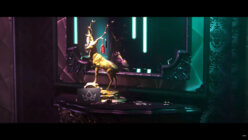 As for vehicles, the trailer features only the Aston Martin DB11 and the Range Rover SVR, racing head-to-head through an underground parking garage. However we also see a number of keyfobs for Audi, Bentley, Bugatti, Ferrari, Lamborghini, and Mercedes, in addition to the already confirmed Apollo, Dodge, Koenigsegg, and Porsche marques. During the casino sequence we also see the SVR keys lobbed into the pot, hinting that you can gamble with your cars.
TDUSC will be the third title in the popular Test Drive offshoot series that dates back to 2006. Both previous TDU games have featured a 1:1 replica of real world roads in an island setting, with the first game set on Oahu in the Hawaiian archipelago, with TDU2 set in Oahu and the Spanish island of Ibiza. Each was modeled using satellite data, and players could drive anywhere — including off-road.
We don't yet know where TDUSC will take place, although it has already been confirmed that it will be another 1:1 replica of an island, just like its predecessors.
https://youtube.com/watch?v=zPy_B0fOGQ8%3Ffeature%3Doembed
More information on TDU: Solar Crown is promised for July, though we also now know it'll be available for PlayStation 4 and 5, Xbox One and Series, and PC through Epic and Steam stores. A Nintendo Switch version is also promised.
Source: Read Full Article