Tesla Model S updated for 2021: new Plaid powertrain added
Tesla Model S range gets a shake-up, revamping the saloon's interior and adding its new 1,006bhp tri-motor "Plaid" powertrain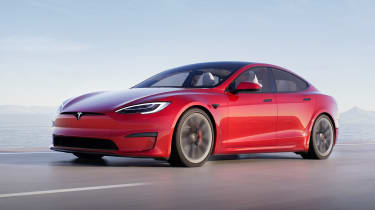 Tesla has overhauled the Model S for 2021. The EV's interior has been given a thorough redesign and the company has finally added its much-touted, flagship "Plaid" powertrain to the line-up, in an effort to keep the car ahead of the Porsche Taycan. First deliveries for the updated saloon are not expected to arrive until next year, however.
As part of the update, Tesla has rejigged the Model S's specifications, giving buyers just two trim lines. The entry-level Long Range variant is priced from £83,980 and has a claimed range of 412 miles. Above that, there's the new Plaid model, which has a starting price of £110,980 and a maximum range of 390 miles.
Best electric cars to buy 2021
Finally, there's the flagship Plaid+ model. It costs £130,980, but it has a maximum claimed range of 520 miles, which is around 220 miles more than the most efficient Porsche Taycan. So in theory, the Model S Plaid+ can store enough electricity to drive from London to Manchester and back – and still have more than 100 miles of range left over.
The revised Model S Long Range features a 661bhp version of Tesla's old dual-motor electric powertrain. However, the new Model S Plaid features the brand's newly designed, three-motor electric powertrain, which delivers claimed output of 1,006bhp, a 0–60mph time of 1.9 seconds and a top speed of 200mph.
Tesla hasn't yet released any information on the revised Model S's battery capacity, but the firm recently announced that it would update its battery technology with more energy-dense, load-bearing packs. Whether these new cells are used on the updated Model S has yet to be confirmed.
The upgrade will swap Tesla's traditional cylindrical cell design for a new shingle-lattice design – the upshot of which means that its batteries will be more efficient and, more importantly, cheaper to build. Tesla cells will also move to a new type of silicon anode, which is cheap and stores nine times more lithium than a traditional graphite anode.
New Tesla Model S: design and technology
Cosmetic tweaks for the entry-level Model S are restrained, stretching to a new front bumper and some new alloy wheels. Tesla's updates for the new Plaid variant are more involved, though – and the firm has adopted a fastidious approach to efficiency and aerodynamics.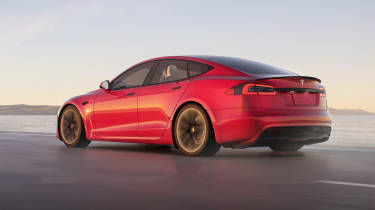 Tweaks include a lower front splitter, wider side skirts and a fresh rear diffuser. The car's wider wheels and tyres also sit under a set of flared wheel arches – and in an effort to control the extra power, Tesla has fitted a new ducktail spoiler for the boot. 
All of this means the Model S Plaid has a drag coefficient of just 0.208Cd, which Tesla says is the lowest value of any road car on sale today. The aerodynamic update is backed up by a few chassis tweaks, including larger brakes and new dampers.
Inside, the updated Tesla Model features a brace of new technology. There's a new digital gauge cluster, an enormous 17-inch infotainment system and fresh smartphone charging pads, with space for two devices up front and two at the rear. Back-seat passengers also get their own screen, which can be used to watch films or play video games.
The car's stereo has also been overhauled, with buyers getting a new 22-speaker, 960-watt system with active noise cancelling. Tesla even boasts that the new Model S can supply enough power to charge a laptop, while keeping every occupant's phone topped up.
However, Tesla has done more than simply throw technology at the Model S. The rear bench has been redesigned, to give passengers more legroom and headroom. There's also a new cut-away steering wheel, which looks more like a flight yoke than a traditional car controller – and all of the car's trim, from the dashboard to the door cards, now features wooden panelling. The firm also appears to have done away with indicator stalks.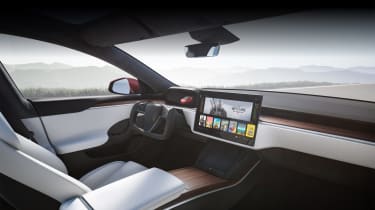 Tesla has also stepped up the Model S's autonomous technology as part of this update. Now the company says the saloon can drive itself on the motorway, from on-ramp to off-ramp – and it can automatically change lanes to overtake or avoid other road users.
Tesla's "Summon" system has also returned, allowing the driver to order the car to their location over short distances using the firm's smartphone app. Finally, the company has improved its auto-parking system; now the car can park in parallel and end-on spaces without a single input from the driver.
New Tesla Model S Plaid: development and lap times
Before the car's official launch, Tesla lapped a Model S Plaid mule at Laguna Seca and achieved a time of 1m 30.3sec – with the hope of shaving a further three seconds off that. Elon Musk's ultimate goal is to make the Model S "achieve the best track time of any production vehicle ever".
The company's new-found interest in the famed circuit is probably a reaction to the Porsche Taycan's recent record-breaking lap, where the Taycan unofficially claimed the title of the world's "fastest four-door, all-electric sports car".
Last year, Tesla also issued a telemetry map, which propped up the claim that its Model S Plaid development mule had lapped the Nurburgring in around seven minutes and 20 seconds. An official lap time has yet to be released, but this preliminary time would make the Tesla more than 20 seconds faster than the Porsche Taycan.
What do you make of the updated Tesla Model S? Let us know in the comments section below…
Source: Read Full Article