Tesla Model S Plaid claims Nurbugring lap record for a production EV
Tesla founder Elon Musk claims "unmodified" high-performance Model S saloon has set a 7min 31sec lap time around the 'ring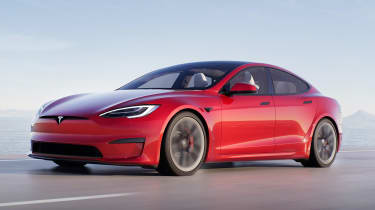 Tesla's high-performance Model S Plaid saloon car has set a new lap at the record for production electric cars at the Nurburgring, according to a tweet from company founder and CEO Elon Musk.
Lapping the 12.9-mile track in a time of 7min 30.909 seconds, in his tweet Musk claimed that the Model S Plaid was "Completely unmodified" and "direct from the factory."
New Tesla steering wheel is legal in the UK
The Model S Plaid is powered by a three-motor system delivering a total of 1,006bhp, 1,420Nm of torque and a claimed 1.99-second 0-62mph time. The American EV manufacturer also claims a 396-mile range for its top-spec saloon, and that the innovative all-wheel-drive powertrain can maintain peak power supply all the way to its 200mph top speed.
Tesla has also posted a video on its YouTube channel showing an on-board lap with a time of 7min 35.579 seconds. In the pictures the Model S features the much-talked-about 'yoke' steering wheel design, rather than a conventional circular wheel rim. It's thought that the faster lap time which Tesla is claiming as a record was set with a regular steering wheel, although this is as yet unconfirmed.
The Model S Plaid takes the production EV lap record at the famous German race track from the Porsche Taycan Turbo S, which set a time of 7min 42.3 seconds back in 2019.
According to Musk's post, the Plaid averaged a speed of 166.32km/h over the lap, equivalent to 103mph. The video of the car also shows an additional motorsport-inspired dash and a roll cage fitted to the Model S, improving safety but questioning the validity of the claims that the Model S is unmodified.
Torque vectoring comes as part of the Model S Plaid's three-motor set-up, which helps to improve the car's handling; a way to mitigate the heavier kerb weight of powerful EVs caused by their larger batteries.
The Model S Plaid is on sale in the UK now, priced from £118,980.
What do you make of the new Tesla Model S Plaid? Let us know in the comments section below…
Source: Read Full Article