'Subaru could follow Mitsubishi and leave the UK market'
Mike Rutherford thinks Subaru's minuscule 0.07% share of the UK market could see it retreat from Britain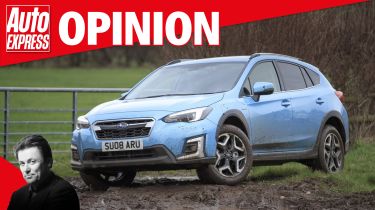 It's half-time in the UK's 2022 new-car sales game, which is proving to be a particularly exhausting and painful brawl for most of the players. And for one or two of them, it's potentially lethal.
Take Mitsubishi, for example. It's still alive and kicking in its native Japan. But for a variety of complicated reasons, it chose voluntary euthanasia by leaving the UK market, and its share of sales in '22 is, officially, 0.00 per cent. Shame, that. I always had a soft spot for Mitsu's eighties' Shoguns, nineties' Fuzzy Logic (honest) tech and, more recently, its once (but no longer) pioneering PHEVs. It's utter madness that Mitsu registered almost 5,000 new cars to generally happy buyers in Britain last year, but hasn't sold one here in '22 after choosing to pull the plug.
Best-selling cars 2022: the UK's top 10 most popular models
On a more positive note, from January to June 2022 versus the same period last year, sales have rocketed by 1,007 per cent for newcomer Genesis and its range that provocatively starts below £40k. Think of this premium marque as the Audi of South Korea, while its more aggressive Seoul brothers – Hyundai and Kia – are the VW and Skoda of the Korean peninsula.
MG (registrations up 84 per cent in '22) has impressively overtaken and is now comfortably outselling ex-relatives Land Rover and MINI.
Dacia (up 76 per cent) is, like MG, also showing that demand for good, honest cars with price stickers private motorists can afford is a massive growth area.
That said, Polestar (up 72 per cent), DS (71) and Alpine (68) don't exactly do cheap cars. But most are at least reasonably and appropriately priced – and that's why they're enjoying healthy rises, albeit still selling a relatively small number of cars overall. Rival mid to upper-middle firms who greedily overprice, please take note.
On the face of it, Cupra is also enjoying an outstanding '22 thanks to a 60 per cent leap in registrations. But this has to be seen alongside a 51 per cent plummet for its sibling, SEAT. Put another way, a more than doubling of registrations for little baby sister Cupra, at the same time as sales for big sis SEAT drop by more than half, means far fewer vehicles sold.
Bentley, Britain's luxury SUV and saloon king, is up 48 per cent and therefore ranks as the country's fastest-growing car maker. At the other end of the scale and comparing like with like (Jan to June '21 vs Jan to June '22), Jaguar sales have nosedived by a brutal 44 per cent, while on the Land Rover side of the family they're down by a bruising 37 per cent. This means about 18,000 fewer JLR vehicles registered in the UK this year than last.
Surprisingly, Volkswagen with its somewhat dazed and confused product range, sleepy Jeep, and an even sleepier Subaru are all down by an unhealthy 35 per cent. I hope I'm wrong, but I fear that due to Subaru's minuscule 0.07 per cent market share in Britain, it might just follow in the footsteps of fellow Japanese firms Mitsubishi, Daihatsu (forced out by exchange rates) and slow-selling Infiniti by quietly – and sadly – retreating from the new-car showrooms of Britain. But no need to worry, eh! After all, they can all be ruthlessly replaced here – by an imminent torrent of new car brands from China.
Looking to sell your current car quickly and for a good price? We've partnered with Motorway to bring you the best offer from its network of UK dealers…
Source: Read Full Article