Should I buy a petrol van?
With current concerns about diesel rumbling on, is now the time to buy a petrol-powered van?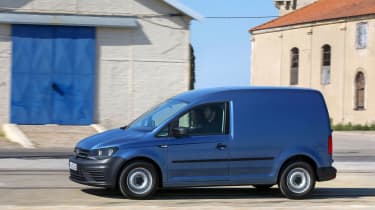 Recent sales figures in the new car market indicate that diesel engines are falling out of favour with buyers. But if you need a van, then surely you're stuck with diesel power? That's not necessarily so, as manufacturers are putting petrol-powered vans on sale in the UK.
It used to be the case that if you wanted a petrol-powered van, your only option would be to choose a base-spec, car-based van, and even then these were few and far between. Today, that's still largely the case, because you can't buy petrol versions of big-sellers like the Ford Transit, Renault Trafic or Vauxhall Vivaro. And if you're looking at larger models like the Mercedes Sprinter and Citroen Relay, diesel is the only option on offer. However there are signs that petrol power is starting to creep into the van market.
Leading the petrol van movement is Volkswagen. With the fallout from the Dieselgate emissions scandal still hanging over it, the company is pursuing alternative fuels for all of its models. And one path it has gone down is the addition of petrol engines to its Caddy and T6 Transporter vans.
The Caddy now uses 1.2, 1.0 and 1.4 TSI petrol engines. The two larger capacity units are ones that have been used in the Caddy and Caddy Maxi for a while, but the 1.0 TSI three-cylinder turbo is new, after already appearing in the up! and Golf earlier in 2016/17. The 1.0 TSI comes in 102PS form, and is matched by a 2.0 TDI diesel with the same output. In comparison, the petrol model is £1,000 less than the diesel, but claimed economy is 51.4mpg, compared to 60.1mpg for the TDI.
In the T6 Transporter, it's the firm's ubiquitous 2.0 TSI 150PS engine that's being used. This unit is used in a vast number of VW models in a variety of power outputs, but the 148bhp version is the most commonplace. Again, like the Caddy, there's a 2.0 TDI 150PS diesel that directly matches the petrol, and like the Caddy, the TSI has a £1,000 lower list price. But again, economy of 31mpg for the petrol compares to 47.1mpg for the TDI diesel.
So what do these two examples tell us? Well, if you're a high mileage van driver, then it won't be long before you recoup the extra cost of the diesel variants in fuel saved – although VW has fitted its petrol vans with a slightly larger fuel tank to balance out the difference in driving range. But if you use a van regularly in town on short trips, it could be well worth searching out a petrol model to help reduce local pollution at the very least. You'll also be getting a van that should be smoother to drive and quieter.
Pulling power shouldn't be an issue with one of these newer turbo petrol engines, either. They're quite diesel-like in their power delivery, with torque coming in at low revs for hauling heavier loads. To compare, the 2.0 TSI 150PS has 280Nm of torque compared to 340Nm for the 2.0 TDI 150PS, which in real-world driving won't feel much different.
Tax costs
In terms of business and road tax, there's no difference in the tax costs of petrol and diesel vans. The flat rate of commercial vehicle tax applies to all conventional drive systems, so Benefit In Kind is £3,230 per year, and road tax is £240, and that's the same if you go for a plug-in hybrid CV like the Mitsubishi Outlander PHEV Commercial.
Other alternatives
If you really don't want a diesel van, your options aren't just limited to petrol. There are a few electric vans (EVs) on sale that would be suitable for companies and businesses that do numerous short trips and have the facility to charge the vehicle up whenever it's parked. And as a stop-gap, Mitsubishi offers its Outlander PHEV SUV in Commercial guise, too.
Here's a list of the vans and light commercial vehicles that are currently on sale in the UK with a power source other than diesel:
Citroen Berlingo (petrol and EV)
Fiat DobloFiat Fiorino
Ford Fiesta VanFord
Transit Courier
Ford Transit Connect
Mercedes Citan
Mitsubishi Outlander PHEV Commercial (plug-in hybrid)
Nissan e-NV200 (EV)
Peugeot Partner (petrol and EV)
Renault Twizy Cargo (EV quadricycle)
Renault Kangoo Z.E. (EV)
Vauxhall Corsavan
Vauxhall Combo
Volkswagen Caddy/Caddy Maxi
Volkswagen T6 Transporter (panel and window van versions)
Our sister site Buyacar has listed the best petrol vans on sale here…
Source: Read Full Article