SAIC unveils video-game inspired MG MAZE concept
London-based design studio has created a bold new MG MAZE concept with gamers in mind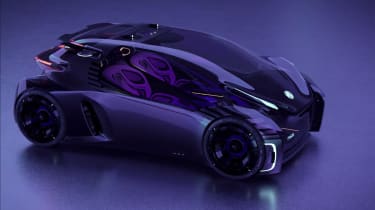 MG Motor's styling house SAIC has revealed the MAZE concept – an all-electric car which could preview what future electric vehicles will look like with inspiration from the 'culture of gaming'. 
The MAZE concept is a two-seater EV and SAIC says it draws on the theme of mobile gaming and urban mobility 'where drivers are players in a real world easter egg hunt of digital art in their cities.' 
Team Fordzilla P1 hypercar concept revealed as full-size model
The short overhangs and proportions suggest it has plenty of city-car qualities, and SAIC boasts the vertically-opening canopy (like you'd find on a Eurofighter Typhoon fighter jet) requires less space than a typical car door – helpful for tight city parking. The wraparound canopy should also provide an fairly unobstructed view out. 
The aggressively angled exterior – complete with rear spoiler – indicates the MG MAZE concept packs a decently sized battery. SAIC gave no indication to the size of the 'multiple' electric motors, although they would be interchangeable. No performance figures were disclosed either.
Two 'zero-gravity' seats can be found in the cabin or 'the cockpit' and where you'd expect to find a steering wheel, just empty space. Instead, the MAZE concept has more of a gaming controller set-up – tying in nicely with SIAC's ethos: 'Play is important, Discovery is important, Adventure is important'. 
Don't expect to see one on the road anytime soon however, SIAC says the concept will remain a digital rendering with plans of production. 
Now read the latest on MG's sporty roadster concept – the Cyberster…
Source: Read Full Article