Report: EV start-up Rivian plotting £1bn UK factory near Bristol
Sky News reports that American company is in talks with UK government over plan to build its electric SUVs in Britain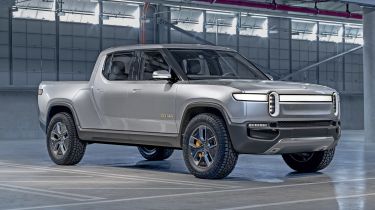 Reports suggest that Rivian, the start-up American electric SUV manufacturer backed by Amazon and Ford, is in talks with the UK government about building a factory for its vehicles on British soil.
A 616-acre site near Bristol is being considered for the Rivian plant, Sky News has reported. The deal would likely include financial support from the UK taxpayer. The investment is expected to be worth well over £1 billion.
GM to launch third electric pick-up truck later this year
Sky says that the talks are not yet at an 'advanced' stage. If true, the plant would be the company's first manufacturing facility outside the US, which will give the firm the foothold it needs to easily access both the UK and EU markets. 
The move would also give the UK's automotive industry another shot in the arm, following Nissan's announcement that it will build its Leaf replacement in Sunderland, and the recent Stellantis restructure which secured the future of Ellesmere Port.
Rivian is understood to be interested in building an assembly line for vehicles in the UK, rather than a battery factory. 
However, other European nations are also competing for Rivian's attention, with reports suggesting that sites in Germany and the Netherlands are also being considered.
Rivian is expected to start deliveries of its R1T electric pick-up truck in January next year, beating the likes of the Tesla Cybertruck and the Ford F-150 Lightning to the punch. It'll be joined by a seven-seat SUV called the R1S, which will rival the Tesla Model X.
Prices for the pick-up start from $67,500 in the US (around £48,000), for which buyers get a four-motor electric powertrain, a 0–60mph time of three seconds and a maximum range of more than 300 miles on the launch edition models, although longer range variants will follow.
The SUV is priced from $70,000 (roughly £50,000) and features the same impressive technical specifications, albeit with a lower 3,500kg towing capacity. 
Both vehicles also get a roomy interior with heated seats, a heated steering wheel and a large touch-screen and an arsenal of safety technology all coming as standard.
Now read our run-down of the best electric cars on sale…
Source: Read Full Article