Renault reveals new Mobilize car-sharing mobility brand with new concept
Mobilize – the new wing of the Renault group – aims to generate 50 per cent of revenues by 2030 and reveals Citroen Ami-rivalling urban runaround called Mobilize EZ-1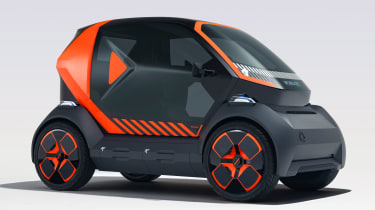 Groupe Renault has launched a new brand called Mobilize as part of its restructured business. Mobilize lines up alongside the Renault, Alpine and Dacia brands as a new urban-focused mobility provider, with car-sharing, pay-as-you-go usage and sustainable motoring being at its forefront. 
Key to the establishment of the new brand will be a car sharing initiative built around four new purpose made vehicles – one of which has been previewed in concept form. 
Official: Renault 5 reborn as compact EV due on sale by 2025
The Mobilize EZ-1 prototype is a spiritual successor to the Renault Twizy. A compact, two-seat electric vehicle with a 1+1 seating arrangement, it's designed for shared use. Users will only pay for what they use, graded either by mileage or drive-time. It comes with keyless access, and interacts with drivers and users via a smartphone app. 
The EZ-1 is only 2.3 metres long and features a large glass canopy. It is made with 95 per cent recycled materials and similarly it will be 95 per cent recyclable at the end of its lifespan, claims Renault.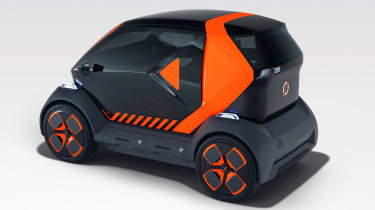 Technical specifications have not been announced, but the EZ-1 makes use of a battery swap system rather than relying on recharging infrastructure. 
Alongside the EZ-1, Mobilize promises numerous other models for its car-sharing service, all fully electric and built on a modular platform, with modular body-configurations too. Alongside the EZ-1 will be a second car-sharing vehicle, while the brand also promises a ride-hailing service and a last-mile delivery vehicle based on the EZ-1 as well. 
Mobilize will be responsible for developing new charging technology and services for the entire Renault group. It is developing a charging pass for Renault customers, allowing them to easily locate a charging point and pay using a single Europe-wide accepted method. The company will also expand into the energy storage industry, using recycled batteries from Renault electric vehicles. 
What do you think of the Mobilize EZ-1? Let us know your thoughts in the comments section…
Source: Read Full Article