Production starts on Ford F-150-based Hennessey VelociRaptor 600
The new Hennessey VelociRaptor comes with a turbocharged V6 pumping out 672ft lb of torque and 558bhp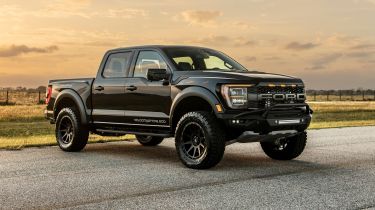 Hennessey, the American tuning company behind the Venom GT, F5 hypercar and plenty of enhanced muscle cars, has started building the new VelociRaptor 600, a significantly upgraded Ford F-150 pick-up.
It's not the first time Hennessey has turned its attention to enhancing the performance of a Ford off-roader, because the firm unveiled its 405bhp Ford Bronco VelociRaptor 400 last year.
New Ford Bronco 2022 review
This new F150-based truck uses the same 3.5-litre turbocharged V6 as the standard Raptor but with a host of upgrades. This includes enhanced air induction, a high-capacity intercooler with blow off valve and an upgraded engine-management system. Hennessey claims the new VelociRaptor 600 will cover the 0-60mph sprint in 4.2 seconds and complete the quarter mile in 12.9 seconds.
Changes aren't just limited to the engine, because for an extra $17,950 (on top of the $19,950 price of the engine tweaks) Hennessey will add 'Off road stage 1 upgrades', comprising 37-inch off-road tyres, a suspension-levelling kit, 20-inch wheels, VelociRaptor bumpers front and rear, and six-piston Brembo front brakes.
With all of the upgrades available (along with the purchase price of a stock Ford F-150 Raptor), you can expect to pay around $102,045 for a VelociRaptor 600. But exclusivity should be assured, with only 250 units to be produced in 2022. Hennessey's performance upgrades will also be covered under a three-year/36,000-mile warranty.
While there are potential plans for the Ford Bronco to make its way to the UK, there are no such plans for the VelociRaptor 600 to make its way across the Atlantic.
Check out our list of the best pick-up trucks here…
Source: Read Full Article