Porsche launches updated infotainment system for 2022
PCM 6.0 user interface brings native Spotify integration, an electric vehicle charging network planner and an improved voice assistant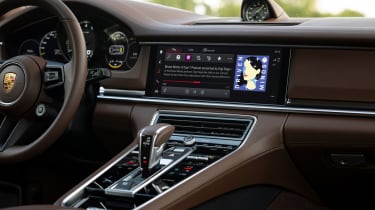 Porsche has updated its Porsche Communication Management (PCM) in-car infotainment system with a fresh look and new features.
The revised version of PCM 6.0 includes coloured icons and a clearer user interface, plus wireless Android Auto connectivity for the first time.
New BMW iDrive 8 infotainment system revealed in full
Alongside this, Porsche has improved the vehicle's voice-assistant software, expanding its functionality to enable voice control of the PCM's News app, music streaming, and the operating manual.
Another new feature is Spotify integration, so drivers can access their favourite songs, playlists and podcasts from the car's own software. Users can still use Apple CarPlay to do this, of course, however Porsche's system accesses the Spotify network without having to do it through a smartphone.
In Porsche's electric models, the upgraded system now includes a charging-planner system, making it easier for the driver to navigate their way around a city or journey without missing charging stations. It uses an optimised algorithm that prioritises charging stations that offer a higher energy output and plans charging stops more efficiently.
Porsche's PCM 6.0 navigation system also includes a revised route monitor, on which relevant events can be individually displayed or hidden during the trip.
The new functions are standard on every newly configured Porsche 911, Taycan, Cayenne and Panamera, although some functions can be spec-dependent.
Now check out the latest on the facelifted Porsche Panamera here…
Source: Read Full Article