Nissan to launch new GT-R for Japanese market tomorrow
Don't get too excited, though – the 2022 Nissan GT-R is expected to be another update for the current car rather than an all-new model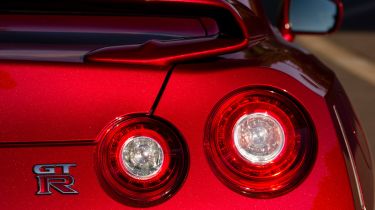 Nissan appears to have new-found enthusiasm for the sports car market as, less than a month after the launch of the new retro-styled Z coupe, the brand has now announced it will launch a new version of its flagship GT-R, which will go on sale in 2022.
The 2022 Nissan GT-R will be unveiled in a live streamed event at 05:30 tomorrow morning (UK time). Try to contain your excitement, though, as we expect it'll be an updated version of the existing car, rather than an all-new model. It's also being reserved for Japanese buyers only.
Special edition Nissan GT-R Nismo unveiled for 2021
Nissan pulled a similar trick earlier this year, with the launch of the GT-R Nismo. It shares its mechanicals with the standard sports car, but gained a couple of cosmetic extras, such as new Stealth Grey paint, exclusive 20-inch alloys and an exposed carbon fibre bonnet.
Updates for or special edition variants of the current-generation GT-R have landed almost yearly ever since the car was first put on sale in 2009. Nissan says this strategy is influenced by the Japanese concept of "Kaizen," which roughly translates as "changes for the better" or "the mentality of improvement."
As such, we're expecting Nissan's tweaks for the 2022 GT-R to be incremental. It'll probably get a couple of subtle styling tweaks, while losing a few kilogrammes thanks to some extra carbon fibre panels. A little more power could also appear, potentially pushing the output of the car's twin-turbocharged 3.8-litre V6 petrol engine past the 600bhp barrier.
Whichever direction Nissan takes with the 2022 GT-R, though, it's likely to be one of the final versions of the car we'll see before it's discontinued. The Nissan GT-R has been on sale for 12 years and, in that time, it's seen two facelifts and 12 special edition derivatives, while also forming the basis for the limited edition 710bhp GT-R50 by Italdesign.
Now read all the latest news on the 400bhp Nissan Z sports car…
Source: Read Full Article