New Volkswagen ID. Buzz GTX teaser released
A sportier GTX version of the Volkswagen ID. Buzz people carrier is coming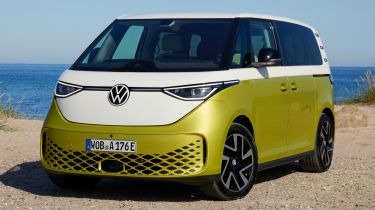 Volkswagen's GTX moniker is applied to its performance EVs and this new teaser image shows the firm is working on the new ID. Buzz GTX – an all-electric MPV with more power and added focus on driving fun.
A close-up image of the ID. Buzz GTX steering wheel was revealed during a VW investor presentation, and we can clearly see it's the same wheel already used on the firm's two other MEB platform GTX products: the ID.4 GTX and ID.5 GTX.
New Volkswagen ID.5 GTX 2022 review
The steering wheel won't be the only similarity between them, either. The standard ID. Buzz uses a 77kWh battery – the same as VW's GTX cars – however in the ID. Buzz GTX we expect power to rise from 201bhp to 295bhp, with torque remaining at 310Nm. The standard ID. Buzz sends power to the rear wheels only, but the GTX will use a four-wheel-drive system just like the ID.5 GTX.
Performance should increase drastically from the regular car's 10.2-second 0-62mph time and the 90mph top speed may even increase as well. The 255-mile range, however, will take a hit due to the extra power and additional electric motor on the front axle.
Given the GTX versions are designed to be the range-topping trim level in the all-electric VW line-up, the ID. Buzz GTX will receive all the equipment featured on the current top-spec 1st Edition mode,l such as 21-inch wheels and a 12-inch touchscreen.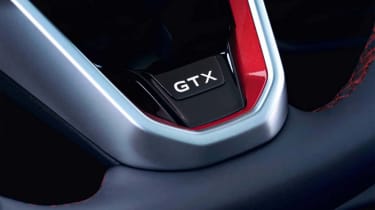 Charging for the GTX shouldn't be affected given it uses the same battery. There should be 170kW charging on board, so the battery can be topped up from five to 80 per cent capacity in 30 minutes.
We expect to see the GTX join the ID. Buzz line up in 2023, with pricing announced later in the year.
Now read our review of the regular Volkswagen ID. Buzz…
Source: Read Full Article