New Volkswagen Golf GTI manual 2021 review
The manual hot hatch is the entry point into the Volkswagen Golf GTI range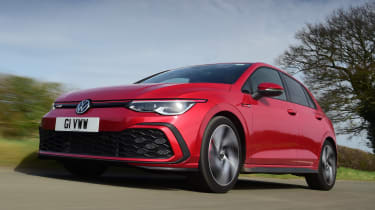 4.0 out of 5
Buy used for less at Buyacar
Verdict
The manual Volkswagen Golf GTI is our pick of the regular hot Golf range. It's more affordable, feels just as quick as its DSG sibling, and given the lack of fireworks beneath the bonnet, the gearbox helps engage the GTI's driver just a degree more. Otherwise, it's business as usual for the all-rounder that is the Golf GTI, which means it's a fine hot hatch still.
With so many different performance Golfs launching in 2021 – the more- focused Clubsport and the all-wheel-drive R crowning the range – it's easy to overlook the basic GTI, especially with a manual gearbox because its more powerful siblings now only come with dual-clutch transmissions.
But that is exactly what we have here, and as a regular GTI leaving you to do the shifts for yourself, it's all the better for it. Partly this is because the lowest rung of the petrol-powered performance Golf ladder is priced from £33,525 in manual form, making it the most affordable model.
Volkswagen Golf GTI Clubsport vs Volkswagen Golf R

It's also because the GTI 'only' boasts 242bhp, which isn't all that much in the hot hatchback world these days, so the process of shifting ratios yourself draws you into the experience even further. It's this level of immersion and involvement that's lacking in the DSG-equipped GTI, because the GTI as a whole doesn't have the outright firepower to make up for this extra layer of automation with its gearbox.

However, while the manual still isn't objectively the finest transmission when it comes to the quality of the shift, it's still nice to have the option to do it yourself. It's light, but has enough precision – not as snicky as a Honda Civic Type R's gearbox, but with a refinement that the more-focused Honda can't compete with either, even if the VW occasionally feels a little ponderous when you want to snap a quick change.

More reviews

Car group tests

Volkswagen Golf Estate vs Toyota Corolla Touring Sports
Volkswagen Golf GTD vs BMW 120d
Volkswagen Golf GTI Clubsport vs Volkswagen Golf R
Hyundai i30 vs Volkswagen Golf

In-depth reviews

Road tests

New Volkswagen Golf eTSI 2021 review
New Volkswagen Golf GTD 2021 review
New Volkswagen Golf Estate 2021 review
New Volkswagen Golf GTE 2020 review

But combined with the versatile engine it means that the GTI is fast enough. The 2.0-litre four-cylinder turbo unit's 370Nm of torque means the pace comes from its flexibility, though. The 0-62mph sprint takes 6.4 seconds, but the easily accessible mid-range grunt means you can leave the Golf in gear and let it pull.

Or, if you'd prefer to access this extra interactive ability, then working the gearbox and letting the engine rev out adds another dimension. The motor doesn't have a real kick up high, but neither does it obviously run out of eagerness to reach its rev limiter.

It doesn't have a visceral rush like the most-focused cars at this level of the market, but then this has arguably never been the GTI's rationale. Instead, it combines this ability to almost scientifically dismantle a B-road, balancing enough in the way of body control with acceptable ride comfort – especially if you go for the optional £785 Dynamic Chassis Control adaptive dampers, pushing the car's envelope of ability even wider – with every-day usability. It's just as at home dealing with the kind of road a hot hatch should delight on as it is on the daily grind.

Such flexibility has always been the standard GTI's strong suit. It's refined, with the motor only making a bark if you ramp up the drive modes. Otherwise, it's subdued on the motorway and will even return decent efficiency of 38.2mpg if you don't explore the boost too much – our test showed that this claimed figure should be achievable, or you'll at least get close. Despite this talent across the board, we'd still like the steering to be more communicative, because even compared with the best electronic power steering set-ups in the most-focused family hatches, the Golf's system is mute. But at least it is precise, and you get a good sense of what each axle is up to through the chassis.

It's a polished experience that keeps you just a little more remote than you'd ideally like – right up until the GTI begins to feel stretched. Then you get a sense of its limits. As a result, it's best to ease off a little from this point; the manual GTI is a car you drive at 80 per cent, which is where it feels at its best. And if you don't even want to attack at this level, the Volkswagen feels as accommodating dynamically as you'd want a regular family hatchback to be.

This makes the Mk8 Golf's infotainment interface all the more frustrating to use, because there are far too many prods of the screen needed to access even simple functions through the overly complicated sub-menu layout, even if the graphics are good, and the GTI's bespoke skin for its standard-fit digital dashboard a nice touch.

At this price we'd expect some better- quality materials in places, too. Still, the GTI gets just enough in the way of sporty touches to differentiate it, while the kit level matches this, with adaptive LED lights, three-zone climate control, lots of safety tech and all the connectivity you'd need fitted as standard.

| | |
| --- | --- |
| Model: | Volkswagen Golf GTI |
| Price: | £33,525 |
| Engine: | 2.0-litre 4cyl turbo petrol |
| Power/torque: | 242bhp/370Nm |
| Transmission: | Six-speed manual, front-wheel drive  |
| 0-62mph: | 6.4 seconds |
| Top speed: | 155mph |
| Economy: | 38.2mpg |
| CO2: | 169g/km |
| On sale: | Now |

Next Steps

Source: Read Full Article