New Vauxhall Astra Mk8: powertrain, economy and performance details uncovered
The new Mk8 Vauxhall Astra arrives with plug-in hybrid drivetrains, while there is also an all-electric version on the way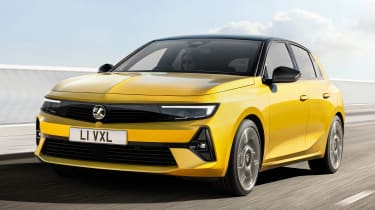 Vauxhall has revealed the new all-new Astra. For this eighth-generation version of the brand's family hatch icon, things push upmarket and in a more technologically focused direction to target the Volkswagen Golf.
To that end, the Mk8 Vauxhall Astra is the first version of the hatchback that will be available in pure electric guise. The Vauxhall Astra-e will go on sale in 2023, but from launch, the new Astra will be offered with a choice of two plug-in hybrid powertrains, along with more traditional petrol and diesel options.
New Vauxhall Astra prototype review
The plug-in hybrids combine a 1.6-litre four-cylinder petrol engine with an electric motor to produce either 178bhp or 222bhp, with each variant putting out 360Nm of torque. This system is also used by the new Peugeot 308, with which the Astra shares its Stellantis EMP2 architecture.
The 178bhp hybrid accelerates from 0-62mph in 7.7 seconds, with the 222bhp model shaving 0.2 seconds from that time. The top speed is also higher in the more powerful car at 146mph, compared with 140mph.
Vauxhall claims 201.8 to 256.8mpg and 24 to 31g/km of CO2 on the WLTP cycle for both models, depending on spec. This is along with an electric-only range of around 35 miles, thanks to a 12.4kWh battery. All hybrid Astras send drive to the front wheels through an 8-speed automatic gearbox.
Pure combustion options for the Astra consist of 1.2-litre turbocharged petrol and 1.5-litre diesel units, all of which are paired with a six-speed manual gearbox as standard. The petrol can be had in either 108bhp or 128bhp form, with both delivering up to 52.3mpg. CO2 figures stand at between 123 and 125 g/km for the 108bhp version and between 122 and 127 g/km for the more powerful model, which is also available as an automatic. The automatic option drops to 51.4mpg though.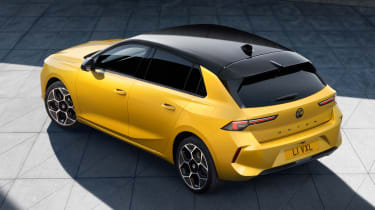 The sole diesel option generates 128bhp and 300Nm of torque – a boost over the 230Nm figure of both petrol engines – and achieves a claimed 64.3mpg on the WLTP combined cycle depending on spec. Diesel-equipped Astras are also available with an automatic gearbox.
Design and interior
The eighth-generation Astra pulls plenty of design inspiration from the Mokka SUV, adopting Vauxhall's new Vizor grille and headlamp arrangement. The latest iteration of the company's Griffin logo appears on the car's nose and tail, and there's also the option to specify two-tone paint.
The Astra's headlights are Vauxhall's latest Intelli-Lux LED Pixel units. The lamps have 168 LED elements between them, and they can automatically adjust the beam pattern to light up challenging roads or avoid dazzling oncoming road users.
Riding on the Stellantis EMP2 platform, the new Astra measures 4,374mm long and 1,860mm wide, while torsional rigidity is up by 14 per cent over the previous car. The wheelbase has also grown by 13mm to 2,675mm, which should liberate a little extra space for rear-seat passengers. Boot space also stands at 422 litres, which is 41 litres more than you get in the Volkswagen Golf.
Vauxhall has completely overhauled the Astra's cabin, too. The brand's Pure Panel digital cockpit setup is drafted in from the Mokka, bringing two widescreen 10-inch displays – one for the instruments and one for the infotainment system. Wireless Apple CarPlay and Android Auto are supported, too.
The company's designers have also simplified the previous car's dashboard, moving the controls for the air conditioning and ventilation systems onto a slim row of buttons below the infotainment screen. The setup is paired with a new steering wheel design.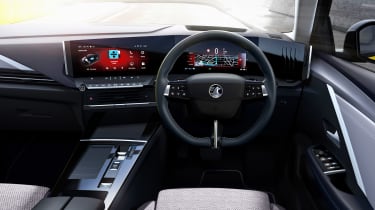 Vauxhall has paid particular attention to the Astra's driving position, which has dropped by 12mm over the old car's. The seats are another clean-sheet design, claiming to be both comfortable and supportive – and they'll be available with ventilation and massage functions, as well as Alcantara upholstery.
Technology and equipment
Driver assistance technology is another target area for improvement for the Astra, so Vauxhall has thrown all it has at this new model. Four cameras are equipped around the car's body to support key driver aids and driving assistance functions, as well as a multifunction camera mounted in the windscreen. There are also five radar sensors and ultrasonic sensors at the front and rear.
All of this equipment sends data to Vauxhall's Intelli-Drive system. It's a semi-autonomous driving assistant that can take control of the car's acceleration and braking, and perform lane changes on the motorway, providing the driver keeps their hands on the wheel.
On models with an automatic gearbox, the system can even bring the car to a halt and automatically set off again in stop-start traffic. Other features include a 360-degree parking camera, traffic sign recognition, rear cross-traffic alert and active lane positioning, which can provide steering assistance to keep the Astra in the middle of its lane.
UK prices and specifications are yet to be finalised, but we expect the eighth-generation Astra will start from around £22,000 when order books open this autumn. First deliveries are scheduled to arrive early next year, and a more practical Sport Tourer estate version will follow in late 2022.
What does the new Vauxhall Astra have to beat? Check out our list of the best hatchbacks on sale now…
Source: Read Full Article