New Toyota Proace Max arrives to complete an updated van lineup
Toyota has completed its van range with the launch of the Proace Max large panel van and it's updated all the other LCV models so they don't feel left out.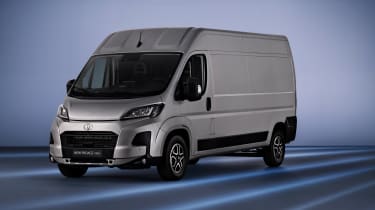 Toyota has a new van, if new isn't too strong a word. The Toyota Proace Max has arrived to top the brand's light commercial vehicle range but it's not exactly the first we've seen of this vehicle. As it has across the rest of its van lineup, Toyota has leant on a deal with the Stellantis group, so the Proace Max is the same large van that we've already seen badged variously as a Fiat Ducato, Citroen Relay, Peugeot Boxer and Vauxhall Movano. It's been around in one form or another since 2006.  
The Proace Max is new to Toyota though, and the brand is very proud of the fact that it completes the Proace line-up. This range starts with Proace City small van, then progresses to the Proace mid-size van while throwing in the Hilux pick-up for good measure. All the vans are available with pure electric power and the two smaller models have received styling and technology tweaks to create a stronger family resemblance across the range. 
Best big panel vans 2023
The Proace Max is the heavy duty option in the range with load volumes of up to 17 cubic metres in the biggest Proace Max Electric model. There are two wheelbases, three vehicle lengths and three roof heights allowing operators the mix-and-match potential that's expected from large panel vans. The rear doors open to 270 degrees so they're completely out of the way when loading.
Toyota is pointing to a 261-mile WLTP range figure for the Proace Max Electric which will put it up with the very best electric vans at the larger end of the market. The real-world operating range will be impacted by the amount of weight being carried on board, of course. 
A full range of factory built conversions will also be offered with the Proace Max as the base vehicle. Toyota plans to offer chassis and platform cab models as well as tipper and dropside versions. Crew cab vans with two rows of seating are also set to be made available.
Design and technology upgrades are being made across the Toyota LCV line up with new front end designs, LED lighting technology and fresh alloy wheels. Toyota has tweaked the steering wheels on all its vans while upgrading the infotainment technology on the higher trim levels. Wireless Android Auto and Apple CarPlay connectivity will be something that many operators will appreciate.
Even the Toyota Hilux pick-up truck does not escape Toyota's commercial vehicle overhaul. A new 48v mild-hybrid engine has been added with Toyora claiming smoother, more powerful acceleration as well as greater efficiency. 
How much is your car worth? Find out with our free valuation tool…
Source: Read Full Article