New Toyota GR Yaris H2 is a hydrogen powered hot hatch
The hydrogen-powered Toyota GR Yaris H2 concept showcases future potential for hydrogen – but not as a fuel cell car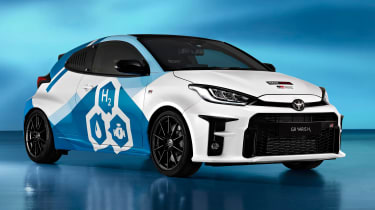 Toyota has been one of the front runners in hydrogen fuel cells, through its Mirai model. But the Japanese company also believes that hydrogen could, in time, be used as a fuel for combustion engines – and it has released this latest concept showcasing the technology: a hydrogen-powered version of its GR Yaris hot hatchback.
The GR Yaris H2 is, in effect, the follow-up to a hydrogen-powered Corolla Sport that has been competing in a race series in Japan. It uses the same 1.6-litre turbocharged three-cylinder engine as the regular GR Yaris, but with a modified fuel supply and injection system.
Toyota GR Yaris review
Toyota claims that since hydrogen burns at a faster rate than petrol, the modified engine delivers "good responsiveness" along with "excellent environmental performance", while also retaining the "acoustic and sensory sensations" that appeal in conventional combustion engines. The unit is not free of emissions, but the levels of CO2 and NOX produced are said to be many times lower than with petrol.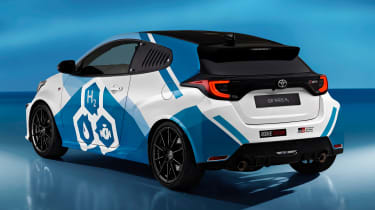 As with the Corolla, Toyota has not issued any further technical details on the engine, such as power or torque figures, or given a performance comparison between the GR Yaris H2 and the conventional GR Yaris. There are no immediate plans for production, but Toyota says that it will continue to pursue hydrogen technologies as part of its push towards carbon neutrality.
To that end, the company has also announced that it will launch a new generation of fuel cell in January 2022, bringing 54 per cent more power density than the current configuration, along with a 25 per cent weight saving and a 27 per cent reduction in fuel cell stack volume.
The firm says the modules will come in two shapes – cubic and rectangular – to enable use in a wider variety of applications, including commercial vehicles. The modules will also be assembled in Europe – at Toyota's R&D facility near Brussels.
The outgoing generation of fuel cell module has already delivered a range of around 400km (nearly 250 miles) in a bus, with a refuelling time of less than 10 minutes.
Do hydrogen cars have a future? Click here to read more…
Source: Read Full Article