New Toyota Corolla prototype review
We try out the updated Toyota Corolla hybrid ahead of its official arrival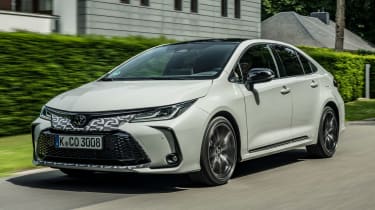 4.0 out of 5
Buy used for less at Buyacar
Verdict
The updated Toyota Corolla's similar-looking body hides some very effective updates. The new interior tech is noticeably better, while the tweaks to the Corolla's CVT gearbox and hybrid system mean those coming from more conventional powertrains will find it less of a step. Judging by our drive in this updated model, it's set to become one of the strongest family hatchback options.
The Corolla nameplate is one of the most prolific in the history of motoring. Some 50 million Corollas have been built across the globe, a number which is set to continue rising at pace. In the UK, for instance, the Corolla is Toyota's second most popular vehicle.
The latest 12th-generation version replaced the so-so Auris (which was still called the Corolla in some markets) in 2018, providing Toyota with a much more convincing family car, available in hatchback, saloon and estate guise. With rivals aplenty, however, the Japanese company couldn't stay still for long, and for 2023, there's a comprehensively tweaked version arriving.
New Toyota bZ4X 2022 review

Exterior changes include a new mesh pattern for the front grille, fresh alloy wheel designs, and on some trim grades, new bi-LED headlights.

Arguably more important is what's gone on inside. Here, there are embossed patterns aimed at giving trim pieces and upholstery a "three-dimensional depth," a new 12.3-inch digital instrument cluster (on mid-range trim and upwards) and a 10.5-inch touchscreen infotainment system. You won't need to use that to change climate settings, either – Toyota has stuck with easier-to-use physical controls for these.

More reviews

Car group tests

Volkswagen Golf Estate vs Toyota Corolla Touring Sports
Skoda Octavia Estate vs Toyota Corolla Touring Sports

In-depth reviews

Long-term tests

Toyota Corolla Hybrid Excel: long-term test review

Road tests

New Toyota Corolla Commercial 2022 van review
New Toyota Corolla Cross 2022 review
New Toyota Corolla Trek 2020 review

Also new for 2023 is 'T-Mate', which brings together Toyota's newest Safety Sense suite with various driver assistance systems. Existing technologies such as lane assistance have been improved, while there's a raft of all-new features including the particularly smart Safe Exit Assist, which will stop you from opening the door if a vehicle or cyclist is detected approaching from the rear.

The biggest changes of all concern the powertrain. The updated Corolla's redesigned lithium-ion battery pack is smaller yet more powerful, and the same goes for the motor unit, which is some 18kg lighter on the 2.0-litre model, and a still substantial 16kg on the 1.8.

Both versions are also more powerful, with the extra grunt working together with optimisations to the hybrid system – including the calibration of the continuously variable transmission (CVT) – to provide impressive improvements in performance. The 1.8-litre car we tried has a total system power of 138bhp, an increase of 14 per cent, providing a 9.2-second 0-62mph time – 1.7 seconds faster than before.

This is immediately obvious the first time you apply a generous amount of throttle. Whereas before the Corolla made a great deal of fuss to get up to speed, with the CVT arrangement giving a big and noisy spike in revs, the refreshed car doesn't have to be worked anything like as hard.

This isn't only down to the power increase – Toyota's hybrid and CVT tweaks have worked wonders. Toyota's intention is for the response of the set-up to be more closely aligned with throttle inputs, something the Corolla achieves with a far less erratic nature to the way the revs rise and fall. We're yet to try the more powerful 2.0-litre version, which now does 0-62mph in a brisk 7.5 seconds, but based on our time with the 1.8 there isn't much need to upgrade.

At cruising speeds, the engine revs sit around 500rpm lower than before, making the Corolla more relaxing over longer distances. This gives a good improvement in refinement, although there is still a little too much wind noise.

At lower speeds, the Corolla does a remarkable job of replicating an EV-like driving experience. The petrol engine will frequently and seamlessly cut out and let the electric motor take over, making stop/start traffic a far more relaxing experience. It remains an efficient set-up – we achieved around 57mpg despite driving in an often less than sympathetic way to test the recalibrated powertrain.

There are some unspecified chassis tweaks, but these are yet to be finalised, with these early cars said to be around 90 per cent finished overall. In any case, the test car felt very similar to the existing Corolla dynamically, with a deftly judged ride and handling balance.

The ride is smooth at both low and high speeds, body roll in tighter corners is kept to a relative minimum, and there's plenty of grip. The steering doesn't offer much in the way of meaningful feedback and is quite light, but the speed is about right and the power assistance feels consistent.

Arguably of more importance than the dynamics are the changes to the cabin, particularly since the current infotainment system is one of the Corolla's weaker points. The new set-up does a great job of rectifying this – the screen responds much more quickly to touch inputs, the graphics look crisp, and the menus are well laid out, if a little plain.

Meanwhile, the new digital instrument cluster offers an almost bewildering amount of customisation, and it's quite fiddly to make adjustments. However, once you've settled on your preferred content for the three tailored screens, and decided which of the four 'themes' you prefer (Casual, Smart, Sport and Tough), there won't be much need for further playing around. The trim changes aren't quite as obvious but play a part in upping the premium feel of the cabin, and there's nothing conspicuously cheap or nasty inside the Corolla.

Even with the new and old cars side by side, you'd be hard-pressed to tell them apart from the outside. The Corolla wasn't exactly crying out for a visual makeover, though. It's always been a sharply styled model, and a much more stylish hatchback than its humdrum predecessor.

What it could have done with is a little more practicality, but despite the redesigned battery, boot space is unchanged. The 1.8-litre model gets 361 litres of luggage room, some way off the Ford Focus (375 litres) and the VW Golf (380 litres), themselves not the last word in practicality in this class. The 2.0-litre model gets just 313 litres due to housing the 12-volt battery in the boot rather than under the bonnet like the 1.8 model. As before, it's possible to go for a 'Touring Sports�� estate to give a big increase in luggage capacity.

With the on-sale date still some way off, we don't yet know how much the Corolla will cost, but we're not expecting a big increase over the current £26,365 starting price.

| | |
| --- | --- |
| Model: | Toyota Corolla 1.8 SD Hybrid |
| Price: | TBC |
| Engine: | 1.8-litre 4cyl petrol, 1x e-motor |
| Power/torque: | 138bhp/N/A |
| Transmission: | CVT automatic, front-wheel drive |
| 0-62mph: | 9.2 seconds |
| Top speed: | 112mph |
| Economy: | 62.7mpg |
| CO2: | 102g/km |
| On sale: | Q1 2023 |

Next Steps

Source: Read Full Article