New Toyota Corolla Cross 2022 review
The US-spec version of the new Toyota Corolla Cross shows plenty of promise, but there are improvements to be made before it reaches Europe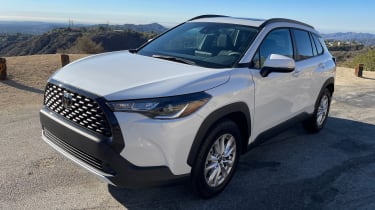 3.0 out of 5
Buy used for less at Buyacar
Verdict
This US-spec Toyota Corolla Cross shows some promise for UK and European cars with decent practicality. But it feels a little old-school in terms of build quality and refinement that in this form is some way behind the class best.
With Toyota just announcing its plans to bring the Corolla Cross to Europe, Auto Express has managed to get behind the wheel of the brand's latest SUV as part of our World Car of the Year judging in the USA.
As with most of Toyota's current range, the Corolla Cross is a global car so what you see here isn't too far away from what we'll get in the UK. Our cars are set to get a new headlight and grille treatment, plus new lights at the back.
Toyota Corolla Cross SUV confirmed for the UK in 2022

Even with those revisions, the Corolla Cross won't trouble Toyota's C-HR on the style front – nor is it meant to. To put it mildly, it's conservatively styled, and at 4,460mm long and 1,825mm wide is aimed to sit neatly between the C-HR and RAV4.

Like the rest of the range, it will be powered by hybrid engines. That's a good job as the 2.0-litre petrol-only engine without hybrid assistance in our US-market car isn't the best advert for the Corolla Cross, especially as it brings out the worst in the CVT gearbox.

We're used to a much more refined experience with the UK hybrids in Corollas and other Toyotas, but ask for more power in the US car and it sends the revs soaring like an old-school CVT – we expect UK cars to be much better in that respect.

More reviews

Car group tests

Volkswagen Golf Estate vs Toyota Corolla Touring Sports
Skoda Octavia Estate vs Toyota Corolla Touring Sports
Toyota Corolla vs Volkswagen Golf vs Peugeot 308

In-depth reviews

Long-term tests

Toyota Corolla Hybrid Excel: long-term test review

Road tests

New Toyota Corolla Trek 2020 review
New Toyota Corolla GR Sport 2020 review
New Toyota Corolla Touring Sports 2019 review

Where the Corolla won't differ is on practicality, and here it scores well. Five people will be able to sit in reasonable comfort, especially as there's not too much of a hump for the centre passenger in the back. Headroom is good and there's a decent level of knee room in the back, too, although you can get a little more space in a Hyundai Tucson or a Nissan Qashqai.

The doors open wide to make it easy getting in (or putting a child into their own seat) and there's decent luggage room in a nice square space, although there's a little drop down to the boot floor over the sill. The US car had a bit more storage under the floor, too, although that could be lost with a hybrid powertrain.

It's not the most stylish of interiors with a focus on ease of use. The instrument cluster is dominated by a large speedo, while the infotainment screen sits proud of the dash, but at least has separate controls for the climate control underneath. You're not exactly overwhelmed with cubbies compared with some rivals, either.

Quality of the US car is a mixed bag – we'd hope Euro-spec models get a bit of an upgrade. While the car feels built to last and there's a bit of faux leather on the lower part of the dash, there's hard, shiny plastic in prominent areas and around the centre console.

Similarly, the doors and boot may be light and easy to open, but they lack a quality feel and shut with a tinny click rather than a quality thunk.

The easy-to-use mantra applies to the drive, too. Visibility is good all around, helped by large door mirrors, and the driving controls are weighted for comfort rather than feedback.

This is a car that rides nicely, but will wallow around in corners a bit – if European cars follow that theme it might not be a bad thing for family buyers.

The US Corolla Cross isn't the quietest car on the move, either, with plenty of road noise and a bit of engine noise making its way inside the cabin – especially when the CVT box sees the revs rise high – reminding us of Toyotas of a few years ago rather than the more modern examples in its current range. Let's just hope that there's a little more sophistication added to the drivetrain and the interior for cars that come to the UK.

| | |
| --- | --- |
| Model: | Toyota Corolla Cross |
| Price: | $24,545 (£18,418) |
| Engine: | 2.0-litre four-cylinder |
| Power/torque: | 167bhp/205Nm |
| Transmission: | CVT automatic, front-wheel drive |
| 0-62mph: | N/A |
| Top speed: | N/A |
| Economy: | 38.4mpg (based on US tests) |
| CO2: | N/A |
| On sale: | TBC |

Next Steps

Source: Read Full Article