New Tesla Model Y 2021 review
The new all-electric Tesla Model Y SUV brings all the benefits of the Model 3, while offering extra space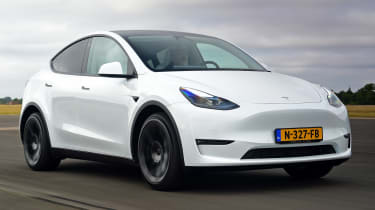 4.5 out of 5
Verdict
The Model Y fills a niche in the Tesla line-up that means it will appeal to a large number of buyers. It features all of the tech of the Model 3, but the larger body means it's more spacious inside, while overall the car is more manageable than the larger Model X on tight UK roads. You pay a bit of a premium over the Model 3, and the Model Y's driving range isn't quite as long, but it's still an electric SUV front-runner, and access to Tesla's Supercharger network still gives it a clear advantage over its rivals.
With the arrival of the Tesla Model Y in the UK, company founder Elon Musk's ambition to create a 'sexy' line-up of electric cars, alongside the Model S, Model 3 and Model X, has finally been realised.
It's the small SUV of the range, and it's based on the same platform as the Model 3. Tesla claims that 95 per cent of that car's tech has been carried over to the Model Y. 
Best electric SUVs to buy now

From the outside, there's no mistaking the Model Y for a car from any other manufacturer. Its design is a progression of the Model 3's, with a chunkier body below the window line and a taller roof, which results in more space inside. 

All versions of the Model Y are four-wheel drive, courtesy of a two-motor set-up with one fitted to each axle. The Long Range model delivers the instant hit of acceleration that's so familiar from Tesla's models.

Four-wheel drive means there's plenty of traction, and Tesla quotes a 0-60mph time of 4.8 seconds, which is among the fastest in the class. Grip in the corners is strong, too, but while the Model Y has fast steering, it doesn't do much more than point the wheels in the right direction. There's little in the way of feedback, while the car's two-tonne kerbweight also means direction changes aren't as swift as the speed of the steering would suggest. 

The Model Y's taller body delivers some compromises to the driving experience when compared with a Model 3, too. The suspension has been stiffened to cope with the extra weight and height, so it delivers quite a firm ride. Our car's 20-inch wheels didn't help matters, either, and while this stiffness won't cause issue on smooth tarmac, the UK's bumpy and potholed roads sees the car crash and thump.

Try to avoid big bumps, and refinement is largely as you'd expect from an electric SUV. The Model Y cruises in near silence, with hardly any wind or road noise, while mid-range acceleration is just as responsive as it is from a standstill.

Keep things smooth, and you and your passengers can take comfort in Tesla's typically minimalist cabin. There's lots of room inside for all five seats, and boot space is generous for a medium-sized electric SUV, too – there's up to 854 litres laden to the roof in five-seat form. A 117-litre 'frunk' also gives some good extra storage space.

Tesla also offers a seven-seat option for the Model Y, but from our experience of this five-seat model, we don't expect those back seats to be comfortable for anyone other than small kids.

The interior is dominated by that 15.4-inch touchscreen that operates everything apart from the transmission, wipers and indicators. It really is the focal point of Tesla ownership and makes the Model Y feel like it's been built from the inside out. It works a lot better than most touchscreen systems, too. 

On our left-hand-drive example, the left third of the screen (what will be the right side of RHD cars) shows driving settings because there are no dials ahead of you. The speedometer is in the top corner, close to the steering wheel, so is just as easy to glance at as a conventional speedo, while a schematic relays live information about what the car's Autopilot radar and camera systems are 'seeing' around it. 

It's a helpful guide, especially if the adaptive system is engaged, although Auto Steer still requires you to pay attention, because while it works well at detecting even the faintest road markings, it can still be thrown by patchy road surfaces and roads where there is no distinct white line to mark the edge of the road.

Back to the touchscreen, and shortcut buttons across the bottom of it give you quick access to all functions, and the screen itself has a clear, high-resolution display. Tesla's voice control system is also an effective way of controlling functions, with a display on the screen showing the software interpreting your commands. In some ways it's easier to use voice commands than it is to work through the car's menus.

One of Tesla's trademarks does give the Model Y plenty of usability though. Access to the brand's Supercharger network, as well as other EV charging networks, increases the number of charge points available to owners, and with 250kW rapid charging a 10 to 80 per cent top-up takes 36 minutes.

With a claimed range of 315 miles from this Long Range model, it lives up to its billing too, and as is usual with Teslas, the Model Y's energy consumption seems pretty efficient; more than 300 miles from a full charge is definitely possible.

| | |
| --- | --- |
| Model: | Tesla Model Y Long Range AWD |
| Price: | £54,990 |
| Powertrain: | 2x electric motor, 82kWh battery, four-wheel drive |
| Power/torque | 434bhp/493Nm (est) |
| 0-60mph: | 4.8 seconds |
| Top speed: | 135mph |
| Range: | 315 miles |
| Charging: | 250kW DC (0-80 per cent in 36mins) |
| On sale: | Now (deliveries Q1 2022) |

Source: Read Full Article