New Sony Vision S 02 EV concept confirms car building ambitions
Sony has underlined its desire to become a car maker by showing its second concept car at CES 2022 and announcing a new company, Sony Mobility Inc.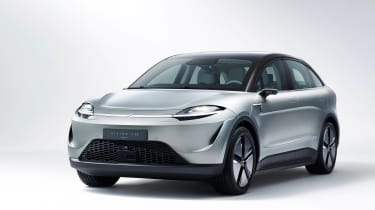 Sony has revealed a second electric car concept, the Vision S 02, and confirmed that it is seriously considering becoming a car manufacturer.
The Japanese electronics giant shocked the 2020 Consumer Electronics Show (CES) when it wheeled out the Vision-S, a Tesla Model S-rivalling saloon. It insisted at the time that the car was a testbed for its sensor and 5G vehicle-to-vehicle technology, although the fact that the vehicle had been built and engineered by Magna Steyr in Austria – a company that already builds the likes of Jaguar's I-Pace on contract – showed that it had the potential to become a production road model.
Now, after two years of development testing of the Vision-S in Europe and Japan, Sony has revealed the Vision-S 02 as part of its 2022 CES showcase. It's a seven-seat, pure-electric SUV that's 4.85 metres long – so it would be closest to Tesla's Model Y on size. Sony has confirmed that it sits on the same platform as the Vision-S saloon and the limited technical specs revealed so far would appear to support this.
Best electric cars to buy 2022
Like the earlier model, the Vision-S 02 has a pair of 200kW motors, one on each axle, so would deliver four-wheel drive and a combined output of 536bhp. No acceleration figure has been released, but Sony said in 2020 that the Vision-S could reach 62mph in less than five seconds, and the taller SUV would still be around that figure. It says the new SUV has a top speed of "more than 112mph" but has not confirmed battery technology or sizes, or given any indication on the car's range.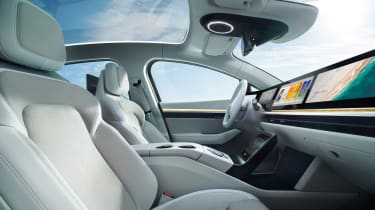 Official images show that the Vision-S 02 has similar interior design cues to the original Vision-S's, with a full-width high-definition display instead of a conventional fascia, and headrest screens for second-row passengers. There's also a rotary controller in the middle of the third row – potentially allowing those in the sixth and seventh seats to control audio or multimedia functions.
Sony says Vision-S 02 "will promote the accommodation of a large variety of lifestyles within a society where values are becoming increasingly diversified". But in addition to the new concept, the firm issued a short statement that confirmed it is considering becoming a car manufacturer in future. "In order to further accelerate and make new proposals for the evolution of the mobility experience, Sony is aiming at establishing an operating company "Sony Mobility Inc, in the spring of 2022, through which we intend to explore entry into the EV market," the firm said. Sony Mobility Inc will also harness new technologies in Artificial Intelligence and robotics to create "new value in a variety of fields", Sony added.
The move is not unique in recent history; Sony's rival Apple has experimented heavily with car development through a division called Project Titan – although it has never revealed a concept vehicle or even confirmed publicly that it is considering entering the car market.
There's been no official word from Magna yet on whether it is involved in Vision-S 02, although intriguingly, the firm did announce late last year that it has developed a new all-electric powertrain, called EtelligentReach, that will feature on a "new entrant vehicle".
Can Sony make its mark in the car manufacturing space? Let us know your thoughts in the comments…
Source: Read Full Article