New Skoda Octavia iV 2021 review
Is the Skoda Octavia best with plug-in hybrid power? We try the new iV model to find out…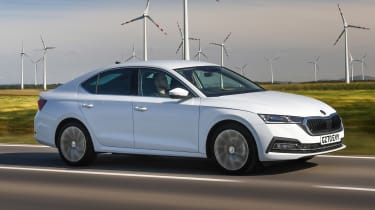 4.0 out of 5
Buy used for less at Buyacar
Verdict
The plug-in hybrid is not our favourite version of our reigning family car of the year; there are better-value models elsewhere in the Octavia range and many of them could come close to matching this plug-in hybrid for real-world running costs. However, for those buyers who have access to a charger, whether at home or at work, or anyone who is choosing their next company car, this is a hugely tempting way to get into what remains a fabulously accomplished family car.
Skoda has scarcely offered a wider variety of versions of its Octavia. There's petrol and diesel, of course, but also mild-hybrid petrol and not one, but two plug-in hybrids. We weren't entirely convinced by the stronger plug-in, the vRS, but this more modest version – badged iV – couldn't be more suited to our Car of the Year's values.
In fact, the technical make-up of the iV is very similar to the vRS's. There's a 1.4-litre turbo petrol engine and a small electric motor, but in this case they produce a total of 201bhp and 350Nm of torque. That's enough, Skoda claims, for 0-62mph in 7.8 seconds and a top speed of 136mph – perfectly respectable for a family car.
Best plug-in hybrids 2021

The battery is as you'd expect of a PHEV like this, at just 13kWh, but Skoda says the car can do up to 34 miles on electricity alone. And this is where the Octavia iV comes into its own, because it means official fuel economy of as much as 282mpg and CO2 emissions of between 22g/km and 33g/km.

More reviews

In-depth reviews

Long-term tests

Skoda Octavia 1.5 TSI: long-term test review

Road tests

New Skoda Octavia vRS 2021 review
New Skoda Octavia e-TEC 2021 review
New Skoda Octavia vRS Estate diesel 2021 review
New Skoda Octavia vRS iV Estate 2020 review
New Skoda Octavia vRS Estate 2020 review

As a result, this car sits in the eleven per cent band for Benefit-in-Kind company car tax, so a 20 per cent taxpayer would pay £728 a year. By comparison, an Octavia in the same spec with the 148bhp 1.5-litre petrol engine would be more than £1,400.

The plug-in hybrid doesn't drive too badly either. The powertrain feels punchy enough low down – perhaps a bit more frenetic than a good ol' diesel if you're demanding, but generally up to most situations.

There are a number of driving modes, but it's better to keep the car as a hybrid and use the Normal setting; there's enough performance and when the car transitions between electric and combustion-engined power, it does so extremely smoothy.

The six-speed dual-clutch automatic gearbox is typical DSG fare, so it's very quick and smooth-shifting once you're up to speed (and the electric motor definitely seems to help further in this respect), but it can be a bit lumpy when you're trying to park.

There is a Sport mode, but it feels totally out of character with the rest of the package. Just as in the vRS iV, it can light up the front tyres like a mid-nineties hot hatch. In any case, the chassis is set up for comfort, with a fair amount of body roll to accompany consistently weighted but inert steering and brake modulation that doesn't always quite nail the switch between regeneration and conventional discs and pads.

You'll do well to manage the claimed 34 miles of EV running, but 30 should be doable in all but freezing conditions – and that's enough for most of us to do a few school runs. Recharging takes around three and a half hours on a home wallbox – more than feasible if the car is parked up overnight.

One potential blot on the iV's landscape is that, on every trim level you choose, it beefs up the alloy wheel size from the comfy 17-inch items that normally feature (even on SE L) to 18-inchers. The result is far from uncomfortable, but it does chip away a little at one of the Octavia's key strengths.

There's an impact on practicality too, but the big Skoda had so much in hand that the hit merely brings it roughly into line with the rest of the class. Boot capacity is now 450 litres (instead of 600), and you can't have a variable-height floor – although there is still an area big enough to hold charging cables.

That's a blow if you're an existing Octavia owner in love with its Wembley Arena-sized load bay – but still generous if you're a Golf driver. The cabin, meanwhile, remains a very comfortable place for four grown-ups.

SE L trim brings lots of pleasing standard kit, with a stitched suede material on the dash, a digital instrument panel, heated seats and 10-inch infotainment. It also has a pair of charging cables – three-pin and a Type 2 item – and that's not always true, even on cars costing more than £33,000.

| | |
| --- | --- |
| Model: | Skoda Octavia iV SE L |
| Price: | £33,150 |
| Engine: | 1.4-litre 4cyl petrol-electric hybrid |
| Power/torque: | 201bhp/350Nm |
| Transmission: | Six-speed dual-clutch auto, front-wheel drive |
| 0-62mph: | 7.8 seconds |
| Top speed: | 136mph |
| Economy: | 188-282mpg |
| CO2: | 22-33g/km |
| Electric range: | 34 miles |
| On sale: | Now |

Next Steps

Source: Read Full Article