New Skoda Elroq vRS to lead performance brand into all-electric era
Skoda's vRS sub-brand will survive into the electric era, with the forthcoming Elroq likely to be the next performance model to arrive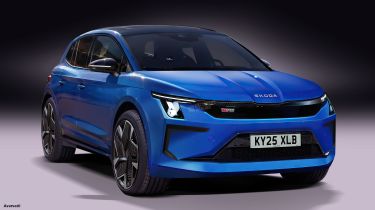 Skoda is pushing ahead with bringing its vRS performance sub-brand into its expanding range of electric cars – and that could well mean a hot version of the first addition to the line-up, the Elroq.
Designed as an electric alternative to the Karoq – the name is a portmanteau of Electric and Karoq – the Elroq is a 4.5-metre-long family SUV. It will lead Skoda's EV expansion in UK showrooms in the second half of 2024, with a range
of battery sizes and a choice of single and dual-motor variants.
New Skoda Elroq electric SUV set for 2024 debut
Skoda has not detailed plans for any further performance models since the arrival last year of its first all-electric vRS vehicles, the Enyaq and Enyaq Coupé. But speaking exclusively to Auto Express, Skoda CEO Klaus Zellmer said that reaction to those cars has "legitimised" the idea of faster zero-emissions technology carrying a badge and brand built on hot hatchbacks.
"vRS is absolutely part of our future," Zellmer told us. "If you look at what we've done with Enyaq, it's a fabulous top-of-the-line vehicle – arguably the most aspirational car in our line-up, with four-wheel drive, around 300bhp. The price is higher, but it's still a value proposition in terms of performance for the money.
"People are more proud of their cars than ever these days, and yes, they're willing to spend more," Zellmer added. "Which means a good [profit] margin, from our perspective. So I think we have to continue along the vRS path as we move towards an electrified future."
Zellmer stopped short of confirming an Elroq vRS, but given that the model in general will share many key components with the two Enyaqs – including its MEB platform with the same wheelbase as the Enyaq, as well as the motors, batteries and even some body panels – it seems inevitable that it will be offered in higher-performance form. Our exclusive image takes the official Elroq sculpture and incorporates design cues from the existing Enyaq vRS.
The shared underpinnings mean similar specs for the Elroq vRS, too – not least because the car will arrive before the VW Group's planned update of the platform, called MEB+, which is expected in 2026.
As such, we should expect an Elroq vRS to have a 77kWh battery and two motors producing a combined 295bhp and 460Nm of torque. It should be capable of 0-62mph in about six seconds and given the Elroq's smaller dimensions, it ought to beat the Enyaq's official range of 309 miles. That more compact footprint may also give Skoda's engineers a chance to correct one criticism of the Enyaq vRS by improving the Elroq's agility and driver involvement.
The adaptation of proven systems should speed up development of the Elroq vRS, making a debut feasible within a year of the regular model's arrival. That would give it a 2025 debut, with a price of around £45,000 likely – £10,000 up on the entry point for a smaller-battery, rear-wheel-drive Elroq.
Click here for our review of the latest Skoda Enyaq vRS…
Source: Read Full Article