New Renault Trafic E-Tech electric van revealed with 149-mile range
Renault launches its third electric van, the Trafic E-Tech, filling a gap in the E-Tech range between Kangoo and Master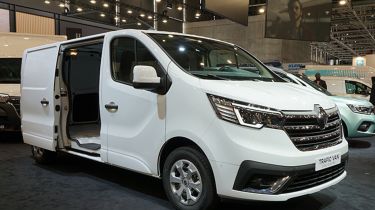 The 2022 Hanover IAA Transportation Show in Germany was the venue for the unveiling of the new Renault Trafic E-Tech, an all-electric version of the French firm's medium-sized van.
Power comes from the same electric motor found in the latest Kangoo E-Tech, with 118bhp on offer. A 52kWh battery is fitted, which gives the Trafic E-Tech a range of 149 miles on the WLTP cycle. Charging of up to 22kW is available as standard, while a 50kW DC charger is available as an option.
Best electric vans 2022
The Trafic E-Tech is based on the existing diesel Trafic van, and with the electrical running gear located under the bonnet and cargo floor, cargo dimensions and volumes are the same as they are for the standard van, and two body lengths will be offered. That means a floor length of up to 4.15 metres in the L2 version with the through-loading bulkhead, and cargo volumes ranging from 5.8 to 8.9 cubic metres. Payload weights of up to 1.1 tonnes will be offered, as well as a towing capacity of 750kg.
The arrival of the Trafic E-Tech means that Renault now has electric vans in all three categories, with the Kangoo E-Tech in the small sector, and the Master E-Tech filling the large van brief, while the Renault Zoe Van offers a more compact urban delivery vehicle.
Prices for the new Renault Trafic E-Tech will be announced closer to launch at the start of 2023.
Elsewhere, the Trafic line-up is being expanded to include a dedicated campervan conversion. The Renault Trafic Space Nomad will compete against the likes of the Volkswagen California and Ford Transit Custom Nugget as Renault seeks to maximise its market share.
Check out our pick of the best mid-size panel vans currently on the market here…
Source: Read Full Article