New Range Rover D300 Westminster 2021 review
The Range Rover D300 Westminster is a last hurrah for the luxury SUV and demonstrates that its successor will have some big boots to fill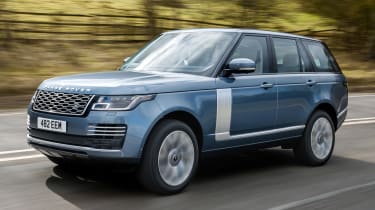 4.0 out of 5
Buy used for less at Buyacar
Verdict
This end-of-the-line model is a great way to see out what will surely become one of the all-time classic Range Rovers. It still feels fresh, and in Westminster trim offers decent value for such a luxurious car. The D300 engine is a good match, too, offering relaxed progress with impressive efficiency. It's on the way out, but this farewell to the current Range Rover is still better than many of its current SUV rivals.
The Westminster badge means one thing on a Range Rover: a particular model is coming to the end of the line. And so it is with this current car; it still looks desirable, but there's an all-new Range Rover coming and we're due to see it soon.
As before, Westminster gives us more of what we love about the Range Rover for not a lot more cash in a very 'special' special-edition. But can you describe a car with a £86,980 price tag as good value? Compared with other luxury saloons and SUVs, yes, especially with what the Westminster offers.
Best luxury SUVs 2021

Take the already pretty glorious Vogue model, and the Westminster adds 21-inch wheels, silver 'atlas' panels at the leading edge of the front doors and a large, opening panoramic roof. It all looks very regal.

Soft-close doors, a suedecloth headlining, grand black veneers and a few other delightful trinkets are also included, and it's all put together brilliantly, with a commanding driving position that makes you feel more special than you will in rival SUVs.

More reviews

Car group tests

BMW 7 Series vs Range Rover

In-depth reviews

Road tests

New Range Rover D350 Autobiography 2020 review
New Range Rover P400 Vogue 2020 review
New Range Rover SDV8 2019 review
Range Rover Vogue review
New Range Rover PHEV 2018 review

Used car tests

This is the bit where you might expect us to start telling you that the Range Rover is starting to feel its age, but it really doesn't. The new model is going to have to be very special to move the game on. It still rides superbly – squishy and comfortable, which is exactly what you want from a luxury car. It'll lean through corners, but this isn't a car to be hustled; relaxation is the key here. It's quiet, too, giving you all the more reason to enjoy the excellent Meridian sound system.

You do occasionally get interrupted by some diesel rumble, yet in spite of the D-word, it's a great choice for this car. The 296bhp 3.0-litre D300 won't exactly spring you forward when you ask for more acceleration, but for most people, most of the time, it'll be fine. Similarly, it's only when you push it that it sounds remotely like a diesel.

Cruising is this engine's forte, while you'll also like the efficiency. The D300 gets mild-hybrid tech, with battery power used to boost the engine's performance and smooth out the stop-start system. Land Rover claims an average of 33mpg, but on a long motorway journey in our time with the car we nudged nearly 40mpg – hugely impressive for such a sizeable SUV.

It's on longer journeys where the Range Rover's comfort and refinement still come into their own. Given the number of miles we covered over a short period, few cars would have left us feeling fresher. It'll easily seat five, too. They'll face a bit of a climb into the cabin, but will all be rewarded with a combination of space and cosiness – as well as a great view out.

And although we didn't venture off road, our previous experiences with the Range Rover prove that this will tackle rough stuff far in excess of the local muddy car park. It's about as serious an off-roader as you'll get.

It's not without foibles, though, which are certain to be fixed on the new car. They're only minor, but these days we'd expect to have wireless charging and smartphone connectivity. We also had the somewhat traditional JLR infotainment meltdown, which required a system reboot – not easy to do on the motorway.

Otherwise, as is usually the case with final models, the build quality is exceptional. We suspect that the new Range Rover, somehow, will take the quality, technology and price to another level, which could make this last-of-the-line model look even better value.

| | |
| --- | --- |
| Model: | Range Rover D300 Westminster |
| Price: | £86,980 |
| Engine: | 3.0-litre 6cyl turbodiesel |
| Power/torque: | 296bhp/650Nm |
| Transmission: | Eight-speed automatic, four-wheel drive  |
| 0-60mph: | 7.1 seconds |
| Top speed: | 130mph |
| Economy: | 33.0mpg |
| CO2: | 225g/km |
| On sale | Now |

Next Steps

Source: Read Full Article