New pure-electric Citroen e-Berlingo launched with 170-mile range
The new Citroen e-Berlingo MPV uses the same electric motor and battery from the e-Dispatch van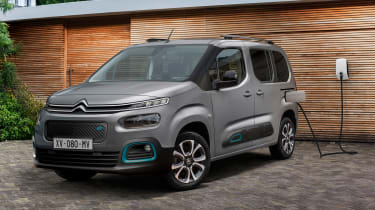 This is the new Citroen e-Berlingo MPV. It'll follow the e-Berlingo van into the showrooms this October, providing fresh competition for the Nissan e-NV200 Combi. Prices are yet to be confirmed.
The e-Berlingo is powered by the Stellantis Group's familiar EV powertrain, which is found in everything from the Peugeot e-208 to the Vauxhall Vivaro-e. It features a 50kWh battery, which sends its energy to a 134bhp electric motor on the front axle. Claimed range stands at 170 miles.
Best electric cars to buy 2021
Like all of Citroen's EVs, the e-Berlingo features three drive modes: Eco, Normal and Power. The first limits the powertrain's output to just 80bhp and dials back the heating and air-conditioning system to help conserve power. The second ups the motor's output to 107bhp, which Citroen says is best suited to every-day use.
Power mode unlocks the drivetrain's full 134bhp output, which Citroen says is helpful when carrying heavy loads. There's also a fourth setting for the powertrain. This 'B' mode ramps up the level of regenerative braking to such a degree that you can drive around rarely needing to use the brake pedal.
The e-Berlingo's 50kWh battery pack can be recharged in around 7.5 hours using a 7.4kW wallbox. However, when connected to a 100kW DC rapid charger the MPV can be recharged from zero to 80 per cent of the battery's capacity in just 30 minutes. Citroen also guarantees that the battery pack will retain at least 70 per cent of its capacity for the first eight years of ownership.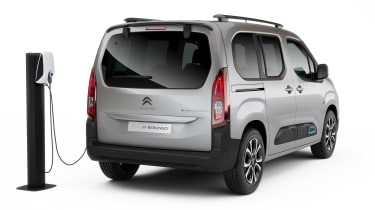 As the battery is mounted under the MPV's floor, the e-Berlingo offers the same level of space inside as combustion-engined Berlingo models.
It's also available in two sizes. The five-seat short wheelbase model has a boot capacity of 775 litres, while the equivalent long wheelbase XL variant can swallow up to 1,050 litres. The latter option can also be specified with third-row seats that you can remove.
Like the standard Berlingo, the EV's front passenger seat can also be folded flat, allowing items up to 3,050mm long to be carried inside the vehicle (on XL models). The parcel shelf can also support up to 25kg, while the cabin offers plenty of storage areas, which have a combined capacity of 167 litres.
The switch to all-electric drive hasn't altered the Berlingo's styling much. There's some fresh blue trim for the MPV's Airbump panels and front air intakes, as well as a couple of unique badges to differentiate it from the standard ICE-powered Berlingo.
Inside, buyers get Citroen's EV-specific gear selector, along with an eight-inch infotainment system and a 10-inch digital instrument cluster. The infotainment also features a specific menu that displays information about the powertrain's energy consumption, regenerative braking and remaining battery charge.
What does the Citroen e-Berlingo have to beat? Check out our review of the Nissan e-NV200 Combi here…
Source: Read Full Article