New Porsche Taycan Cross Turismo prototype review
We get behind the wheel of a prototype version of the new all-electric Porsche Taycan Turbo S Cross Turismo ahead of its official arrival

Porsche's first foray into the electric car world has gone better than it could've imagined. The Taycan has won plaudits the world over, with sales to match. So it makes sense to follow up on the success quickly with the second version of the Taycan, the Cross Turismo.
The Porsche Taycan Cross Turismo is set to be unveiled next week, but Auto Express was invited to put a pre-production model through its paces in the UK, weeks before the very car would be unveiled on stage.
Best electric cars to buy 2021
There was an added twist to this car – it was in the middle of a world tour taking in the US and the rest of Europe before being taken back to Germany. And although it wore a light disguise, it wasn't to be cleaned during its trip. So joining the Californian sand was a fair bit of Buckinghamshire mud from our own test drive.
The Cross Turismo features the running gear and much of the bodywork at the front end from the Taycan saloon, but the roof has been extended which, along with the muscular rear three-quarter bodywork, flows into a hatchback tailgate in a very similar way to the Panamera Sport Turismo.
More reviews
In-depth reviews
Road tests
New Porsche Taycan RWD 2021 review
New Porsche Taycan 4S 2021 review
New Porsche Taycan 2020 review
New Porsche Taycan Turbo S 2019 review
New Porsche Taycan prototype review
Even behind the dirt and disguise, it's clear what the car is – as one Panamera Sport Turismo owner spotted on our test drive. He also found out how quick the car is.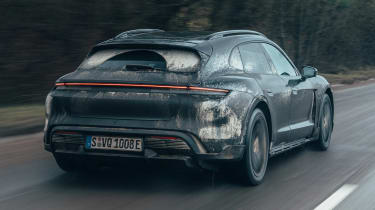 Full specs will be revealed on March 4, but the Turbo S model we're driving uses the same electric motors (delivering 751bhp and 1,050Nm) and 93kWh battery as it's Taycan equivalent. That means brutal acceleration with an estimated 0-62mph time of just 3.0 seconds, 0-100mph in 6.5 seconds and on to a top speed of around 160mph.
Those figures are slightly down on the saloon, but you'd hardly notice. Even in Normal mode, adjusted by a dial on the steering wheel or via the crystal clear touchscreen, a flex of your right foot will shove you back in your seat as the whine from the electric motors ramps up.
You can choose an electronically generated sound that's a little like a space ship as part of the Electric Sport Sound pack. It comes on automatically if you select Sport or Sport Plus modes – they also sharpen up responses from the steering, throttle and suspension.
The Cross Turismo has a bit of SUV attitude, too, with Gravel mode, which raises the suspension by 10mm in addition to the 20mm the Cross Turismo gets over the standard Taycan. It doesn't turn the car into an off-roader, but it does give you a little more confidence to take to a dirt track or tackle a deep ford, as we did.
Four-wheel drive helps, too, but the Taycan has always felt like a proper Porsche to drive; nimble and incredibly responsive for something of its size and weight.
It also rides in a way that we've come to expect from Porsche, but which seems to defy physics. Even in the most hardcore modes, you can live with the ride. But for everyday driving in the Normal setting – or Range if you want to try and get close to an expected 250-mile range – it's almost limo-like, while you're still able to enjoy the most direct steering yet in an EV and super-tight body control. The best bet is to go for your own blend of settings in Individual mode, but you can throw the car around with confidence and blast out of corners with acceleration that little else can match.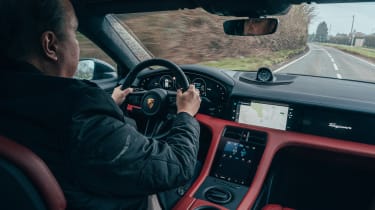 The (fast) limo experience extends to the back where the added ride height makes access a little easier, but it's best to describe it as snug – more due to the high window line than a lack of space.
Similarly, style compromises the boot. Again, the hatch improves access, but the sloping rear screen will limit load carrying and won't endear you to your dog.
Although this was a pre-production model, there was nothing pre-production about the build quality. Porsche cabins are as good as they get these days, with strong tech that includes a digital instrument display, two central touchscreens and even one in front of the passenger. The only rattles from this well-travelled pre-prod model came from grit coming lose from under the car – it felt incredibly solid.
One difference on our pre-production test example was the wheels – you'll get 21-inches on production cars, ours came on 20s, wisely fitted with all-season tyres.
Although the Taycan Cross Turismo gives you plenty more than the saloon, we're not expecting that to be reflected in the price – we reckon around £140,000 for the range-topping Turbo S – no more than a couple of grand more than its sibling. The rest of the Cross Turismo range should follow the saloon, with the exception that a rear-wheel drive version is not expected.
That won't bother too many. Our short run in this rather special pre-prod model has proven Porsche will have yet another hit on its hands.
Next Steps
Source: Read Full Article