New Porsche Macan GTS 2021 review
We get behind the wheel of the most hardcore Porsche Macan yet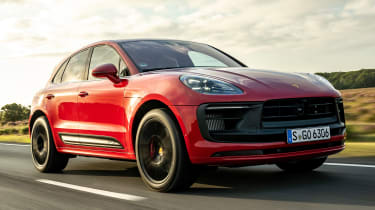 4.0 out of 5
Buy used for less at Buyacar
Verdict
Fasfter, more refined, better equipped and better than ever to drive, the new Macan GTS has an awful lot going for it in theory. But then, it needs to be good to carry the flag for what remains one of Porsche's biggest-selling vehicles, especially as the range's new top dog. Despite its thirst, and therefore its pretty high running costs, the new GTS manages to pull it off.
As part of Porsche's updates to its Macan SUV, it has axed the Turbo range-topper, so if you want a performance-focused Macan, the GTS is now the choice.
Then again, ever since the GTS first appeared in 2015 to fill the not-especially-wide gap between the Macan S and the Macan Turbo, it's always been quite busy at the top of the Macan range. So a little housework seems like a welcome move.
Fastest SUVs in the world 2021

At £64,770, the new 434bhp, 169mph GTS supersedes the Turbo and brings with it a unique personality all of its own. From a 2.9-litre twin-turbo V6 engine, it produces 434bhp and 550Nm of torque so on paper it's as quick as the Turbo, with a 0-62mph time of 4.5 seconds, or just 4.3 seconds with the Sport Chrono pack.

More reviews

Car group tests

Cupra Formentor vs Alfa Romeo Stelvio vs Porsche Macan
Porsche Macan vs Jaguar F-Pace

In-depth reviews

Road tests

New Porsche Macan 2.0 2021 review
New Porsche Macan facelift prototype review
New Porsche Macan Turbo 2019 review
New Porsche Macan 2019 review
New Porsche Macan 2018 prototype review

It's also cleaner and more economical, although 24.8mpg combined and 258g/km are hardly anything to write home about nowadays. But we will see a fully electric Macan in the near future to counter that. In the here and now, though, the petrol-engined GTS still seems like fair value.

All models feature a range of sharp new design touches that make the car look more imposing in the flesh. The GTS gets a more aggressive nose than the rest of the range, while all versions feature 'intelligent' new LED lights, bigger wheels and tyres, plus a range of new colours, including Python Green for the GTS.

Inside, Porsche's designers haven't so much gone to town on the interior as comprehensively raided the corporate parts bin, with a new centre console featuring mostly one-touch haptic controls that will be familiar to anyone who's climbed inside a Taycan or the latest Cayenne. There's also a new 10.9-inch touchscreen that's intuitive. Mounted on the bottom right of the all-new GT sports steering wheel is also a small rotating knob that allows you to scroll through the various drive modes – the GTS has plenty – without having to take your eyes off the road. Other brands take note.

Bespoke to the GTS are 21-inch wheels, an excellent pair of eight-way electronically adjustable GTS-embossed sports seats, GTS badging for the instruments and adaptive air suspension for the chassis.

The boot is average for a mid-size SUV, but not vast, at 488 litres. Same goes for the rear seats, which are neither cramped nor genuinely spacious by class standards.

The truth is, a decent-sized estate car is probably more practical for most uses, even if it's nowhere near as desirable with the Macan's intended audience. It's therefore just as well that the new Macan GTS's driving experience is superb.

On the move, it's refined and has effortless torque from its V6 motor. This reaches the road with uncanny smoothness, and speed, thanks to a frankly brilliant seven-speed dual-clutch gearbox. In normal mode the GTS feels agile but grown up, fast but relaxed. Plus its air suspension really does lend it a sense of controlled majesty, damping intrusions as if they don't exist.

The new steering is also very good, providing a level of bite and precision that simply isn't there in rival SUVs of this size. In this respect, the Macan still manages to feel very much like the part-sports car, part-SUV that Porsche claimed it had created back in 2014. Only this time it's more comfortable than ever and, in GTS guise, faster and more involving, too.

It's only when you scroll up to Sport or Sport Plus modes that the GTS reveals its true capabilities, and the transformation is as obvious as it is dramatic.

The ride height drops by 10mm, the steering gets meatier, the exhaust note develops a full-blown rasp, complete with crackles and bangs on downshifts, and the throttle and gearbox maps go to 11.

In short, the sporty bits of the sports utility vehicle burst out of the uniform and what you are presented with is a seriously rapid SUV that also feels spookily sharp to drive, even by Porsche's lofty standards.

| | |
| --- | --- |
| Model: | Porsche Macan GTS |
| Price: | £64,770 |
| Engine: | 2.9-litre V6 turbo |
| Power/torque: | 434bhp/550Nm |
| Transmission: | Seven-speed dual-clutch auto, four-wheel drive |
| 0-62mph: | 4.5 seconds |
| Top speed: | 169mph |
| Economy: | 24.8mpg |
| CO2: | 258g/km |
| On sale: | Now |

Next Steps

Source: Read Full Article