New Porsche Macan 2.0 2021 review
The entry-level Porsche Macan 2.0 has got healthy power boost, suspension tweaks and a cabin overhaul for 2021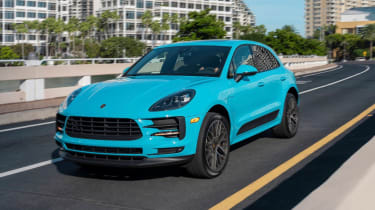 4.0 out of 5
Buy used for less at Buyacar
Verdict
The latest Porsche Macan offers both the drive and performance you'd expect from the famous German brand and we're happy to report that's even when you opt for the most affordable 2.0-litre model. The only thing missing on the entry-level car is a stirring soundtrack but, if you can live with that, plus its dated cabin that is now feeling its age, the most basic Macan remains one of best-looking and most enjoyable to drive mid-size SUVs money can buy.
We've already driven the flagship GTS version of Porsche's recently updated Macan range and came away largely impressed. Now it's time to try the most affordable version with a less exotic four-cylinder turbo engine.
Not that the most affordable Macan is anywhere near cheap. Priced from a towering £47,780, the entry Porsche SUV has been revised to battle it out with cars like the Jaguar F-Pace, BMW X3 and Mercedes GLC – all of which have been recently or will soon be updated. For that you get a car that has undergone the subtlest of facelifts, with just the front bumper redesigned, joined by new alloy wheels and a wider colour palette.
New 2021 BMW X3 M and BMW X4 M blast in with 503bhp

More significant changes have occurred under the bonnet, like the rest of the updated range, to help the elderly seven-year-old Macan size up against far more youthful adversaries it now musters more power, in this case from its 2.0-litre turbo unit. Engineers claim the four-cylinder is all-new, but they're fibbing. Instead, it's the same heavily-revised powerplant you'll find under the bonnet of the latest Volkswagen Golf GTI – but, before you get sniffy, in the Macan it produces a healthy 261bhp and a muscular 400Nm – that's 19bhp and 30Nm of torque more than before.

More reviews

Car group tests

Cupra Formentor vs Alfa Romeo Stelvio vs Porsche Macan
Porsche Macan vs Jaguar F-Pace

In-depth reviews

Road tests

New Porsche Macan GTS 2021 review
New Porsche Macan facelift prototype review
New Porsche Macan Turbo 2019 review
New Porsche Macan 2019 review
New Porsche Macan 2018 prototype review

Combined with the same quick-shifting seven-speed dual-clutch PDK automatic gearbox and Porsche's Traction Management all-wheel drive system, the cheapest Macan hurtles from standstill to the 62mph benchmark in just 6.2 seconds – that's a significant three tenths of a second quicker, while top speed increases by 4mph to 144mph.

It is worth mentioning that to replicate those figures you'll need the Sport Chrono pack's (£704) launch control, but it's a pleasant surprise to report that, on the road, the performance gap between it and the pricier V6-powered Macan S sibling feels like it's narrowed. That's despite Porsche claiming otherwise – the Macan S is now said to take just 4.6 seconds to sprint from 0-62mph – half a second quicker than before.

As well as offering up punchy mid-gear acceleration and plenty of urge off the line, not one single horsepower is wasted with the 2.0-litre turbo- powered Macan, thanks to both the lightning-quick transmission and its all-wheel drive set-up that refuses to allow any wheelspin even in treacherous conditions.

As the new cleaner, more powerful 2.0-litre turbo is lighter than the previous engine, Porsche's engineers have given the Macan a complete makeover when it comes to the suspension. We only drove Macans fitted with the optional air suspension that trades some comfort for extra body control, but the Macan remains a joy to drive on country roads. The steering is precise, the brakes are powerful and agility is remarkable considering its near 1.9-tonne mass.

So, what's missing? Ultimately, many buyers will prefer the extra urge and theatre dished up by the Macan S as its growling 2.9-litre twin-turbo V6 undoubtedly features a more appropriate Porsche soundtrack.

Despite a large 10.9-inch infotainment system and redesigned gear-shifter surround that swaps out switches for haptic touch-sensitive surfaces, in the cabin the Macan feels its age. Some will be disappointed it misses out on a fully digital instrument cluster, for example, but its existing dials remain clear.

Catering to traditional buyers, Porsche has actually introduced an analogue clock in the centre of the dash, almost as part of a concerted effort to celebrate its old-school look and feel. We also have no complaints about the new multi-function steering wheel that has been borrowed from the latest 911. It feels great to hold and makes it easy to cycle through the driving modes.

It's a shame, then, that despite the upgrades there's plenty of reasons to visit the option list for kit you might have thought would be standard. Options such as the brighter LED headlamps (£320), reversing camera (£363), rear side airbags (£287) and a premium sound system (£834) all inflate the Macan's price, and that's before you begin to get stuck in with ways to customise and personalise your car.

Ultimately, you'll buy the Macan for two reasons. It's still the best-looking, best-driving mid-size SUV money can buy, and that includes the 2.0-litre. That said, we won't blame you if you splash out an extra £5,520 for the even faster, better-sounding Macan S.

| | |
| --- | --- |
| Model | Porsche Macan 2.0 |
| Price: | £47,780 |
| Engine: | 2.0-litre four-cylinder turbo petrol |
| Power/torque: | 261bhp/400Nm |
| Transmission: | Seven-speed dual-clutch auto, all-wheel drive |
| 0-62mph: | 6.2 seconds |
| Top speed: | 144mph |
| Economy/CO2: | 28mpg/228g/km |
| On sale: | Now |

Next Steps

Source: Read Full Article