New Peugeot e-208 2022 review
Efficiency tweaks give the electric Peugeot e-208 supermini a greater range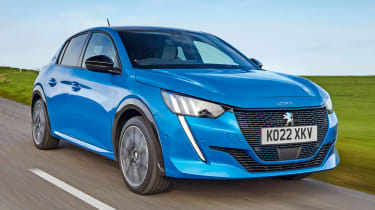 4.0 out of 5
Buy used for less at Buyacar
Verdict
This small update to the e-208 is definitely worthwhile, adding a little extra range with absolutely no drawbacks. However, given Peugeot's recent announcement that its electric supermini will get a bigger battery (and therefore offer a chunk more range again) and more power, you might want to wait for the new car arriving in 2023. We wouldn't blame you either way, however.
Peugeot announced a not-insignificant update to its e-208 electric supermini at the end of last year. This boosted the car's range and tweaked the line-up's trim structure (along with its pure-petrol 208 sibling), while introducing some style changes to higher-spec models.
But even as we're testing this new version, Peugeot has revealed still bigger improvements for its e-208.
Best electric cars to buy 2022

While the car coming in 2023 will get a bigger battery and motor for more range and power, don't discount this model just yet. Despite no increase to the battery size of the car here, the e-208's range is now up to 225 miles from 217 miles, a near-four per cent increase, thanks to a revised final drive ratio in the car's transmission.

Put simply, this reduces the electric motor's revs when cruising, in turn lowering energy consumption and boosting range. It's teamed with new ultra-efficient tyres, while a tweak to the heat pump means more efficient use of energy.

More reviews

Car group tests

Peugeot 208 vs Renault Clio
Vauxhall Corsa vs Peugeot 208 vs Audi A1
Toyota Yaris GRMN vs Peugeot 208 GTi

In-depth reviews

Peugeot 208 review
Peugeot 208 review
Peugeot 208 GTi review

Road tests

New Peugeot 208 2019 review

Used car tests

Used Peugeot 208 (Mk1, 2012-2019) review

On test the e-208 used its energy at a predictable rate; even if it was slightly more than one mile used for every one mile travelled; this relationship still means you can plan journeys accordingly, knowing in advance if you'll need to stop to charge.

The e-208's 100kW charging capability hasn't been updated, but it didn't need it, so the 50kWh battery takes 30 minutes for a 10-80 per cent charge. The home charging time might be more important to many owners; using a 7kW wallbox, a full charge from empty takes seven and a half hours.

With the motor still producing 134bhp, the Peugeot will cover 0-62mph in 8.1 seconds. Acceleration is still smooth and as swift as you'd ever need from a supermini, with good initial response that tails off towards 50mph. The flexibility the 260Nm of torque and single-speed automatic gearbox give you is great, too.

In town, the e-208 rides patchy roads relatively well. You do get jostled around a little inside, but this is to be expected to some degree because the suspension must absorb inputs and control a body laden with a significant chunk of battery mass. That can also be felt on twisty country roads, where the small steering wheel and quick steering offset some of this slight lethargy.

It still offers as much grip and bite as you'd ever need, and fairly nimble handling. Combined with the instant torque delivery and solid low-down punch EVs tend to bring, this is where the e-208's fun lies.

There's also a challenge to be had in maximising regenerative braking and trying to use the left pedal as little as possible. On this front, even in the stronger B mode we'd like a little more motor-derived retardation because it doesn't allow for one-pedal driving. But it's an intuitive set-up that's easy to get to grips with on roads from country routes to motorways. In this latter environment the e-208 is relatively comfortable at speed, although high-speed cruising still isn't its natural habitat, even with the transmission improvements; you'll still find the car consuming energy faster than you'd like at a steady 70mph.

Inside, the e-208 is as funky as ever, with a 3D digital dash and a 10-inch central touchscreen. However, the infotainment is also still flawed, with loading times that are longer than rivals' systems, even if the Peugeot's does boast plenty of functionality.

| | |
| --- | --- |
| Model: | Peugeot e-208 GT Premium |
| Price: | £34,345 |
| Powertrain: | 50kWh battery/1x e-motor |
| Power/torque: | 134bhp/260Nm |
| Transmission: | Single-speed automatic, front-wheel drive |
| 0-62mph: | 8.1 seconds |
| Top speed: | 93mph |
| Range: | 225 miles |
| Charging: | 100kW (10-80% 30mins) |
| On sale: | Now |

Next Steps

Source: Read Full Article