New Peugeot 408 2022 review
The Peugeot 408 is a striking newcomer that offers style and substance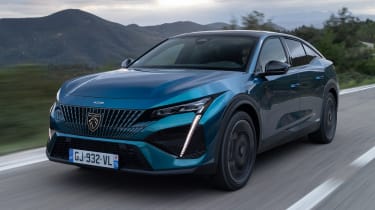 4.0 out of 5
Verdict
The Peugeot 408 is a niche but appealing alternative to traditional family hatchbacks, taking the inoffensive ingredients of the smaller 308 and reinventing them in a more practical and stylish package. The i-Cockpit layout still won't be for everyone, however, and we suspect the 408 will be a better car when paired with a powertrain other than the 225 plug-in hybrid, which we found short of both range and performance. Overall, it certainly offers something different to the 308, but without demanding any particular compromise. If you like the styling and the price is right.
Peugeot has always had a penchant for the unconventional, so perhaps the new 408 shouldn't be too much of a surprise. Peugeot calls it a 'C-segment fastback', and it's a five-door hatchback with an almost saloon-like three-box shape, complemented by a lifted, SUV-esque stance complete with protective body cladding. The aesthetic won't appeal to everyone, but you have to agree that it's a striking thing to look at.
Inside, it offers a similar-looking cabin to the 308, and the 408 shares many parts. That means a plush, stylish space with a central stack angled towards the driver.
Peugeot 308 SW vs Skoda Octavia Estate: 2022 twin test review

Within lies Peugeot's latest infotainment. There are more responsive touchscreen systems on offer, but it's much better than what came before: well laid out and user- friendly. Below sits a panel of customisable tiles, so all your favourite functions can be accessed with a single finger prod. You'll want a shortcut to the climate controls there, because unfortunately they are tweaked via the touchscreen and not physical buttons.

Peugeot's usual i-Cockpit arrangement is present, with a small steering wheel placed below a high-set instrument cluster. It takes some getting used to, because many drivers will need to position the wheel much lower than they're used to for a clear view of the digital dials. On that front, the 408 gets a 12.4-inch device with two screens mounted on top of one another to give a 3D effect. It looks great and offers plenty of information, including a snazzy animation to show the energy flow of the hybrid powertrain.

The 408's longer wheelbase addresses one of our main criticisms of the 308: its scant rear legroom. The elongated back end also gives a useful increase in boot space. There's a 471-litre capacity in plug-in hybrids, and 536 litres in petrol derivatives.

We're testing the 222bhp plug-in hybrid here in range-topping GT trim. It combines a 1.6-litre petrol engine with an electric motor and a 14.2kWh battery pack, giving an electric-only range of up to 40 miles.

Unfortunately, as we found in 308s with this powertrain, it has some issues. Firstly, it never feels that fast, and curiously, its 0-62mph time is a mere 0.1secs quicker than the cheaper 178bhp PHEV. The eight-speed automatic gearbox, meanwhile, seems lethargic, with slow responses to throttle inputs and a clunky attitude at lower speeds. The car isn't always the slickest at managing transitions between its power sources, either.

The internal-combustion part of the equation is smooth and refined, at least, even if it can sound a touch strained at higher revs. In any case, the 408 keeps you well insulated from the racket, and most noises. There's a hint of wind and road noise at motorway speeds, but overall, this is a quiet and refined car.

It's a comfortable one, too, with damping that irons out imperfections in the road surface deftly. Peugeot says the 408 isn't supposed to be overtly sporty, but is intended for those who enjoy driving. This becomes clear when twisty roads are reached. It's competent in such environments and reasonably enjoyable, without ever being genuinely thrilling.

It hides the weight of its battery well, changing direction with a reasonable degree of enthusiasm. The smaller wheel helps with fast steering inputs, which the 408 responds well to. The longer wheelbase means it's perhaps not quite as chuckable as a 308, but this is offset by a greater sense of high-speed stability.

Body roll is well contained, and while it doesn't take too much to push the front end into understeer, you can spec 20-inch wheels with wider tyres that give a bit more bite at the expense of a little ride comfort.

The 222bhp PHEV in GT trim is expected to be the biggest seller in the UK, but we reckon the cheaper 178bhp version could be better. You could save yet more money by speccing the mid-range Allure trim, which is still generously equipped.

| | |
| --- | --- |
| Model: | Peugeot 408 GT Hybrid 225 |
| Price: | £43,200 |
| Engine: | 1.6-litre 4cyl petrol turbo PHEV |
| Power/torque: | 222bhp/360Nm |
| Transmission: | Eight-speed automatic, front-wheel drive  |
| 0-62/max: | 7.8 seconds/145mph |
| Economy: | 211.3mpg |
| CO2: | 28g/km |
| Electric range: | 40 miles |
| On sale: | Now |

Source: Read Full Article